A long time supporter (and judge!) of Dorset's village shops, North Dorset CPRE chairman Rupert Hardy visits Child Okeford's success story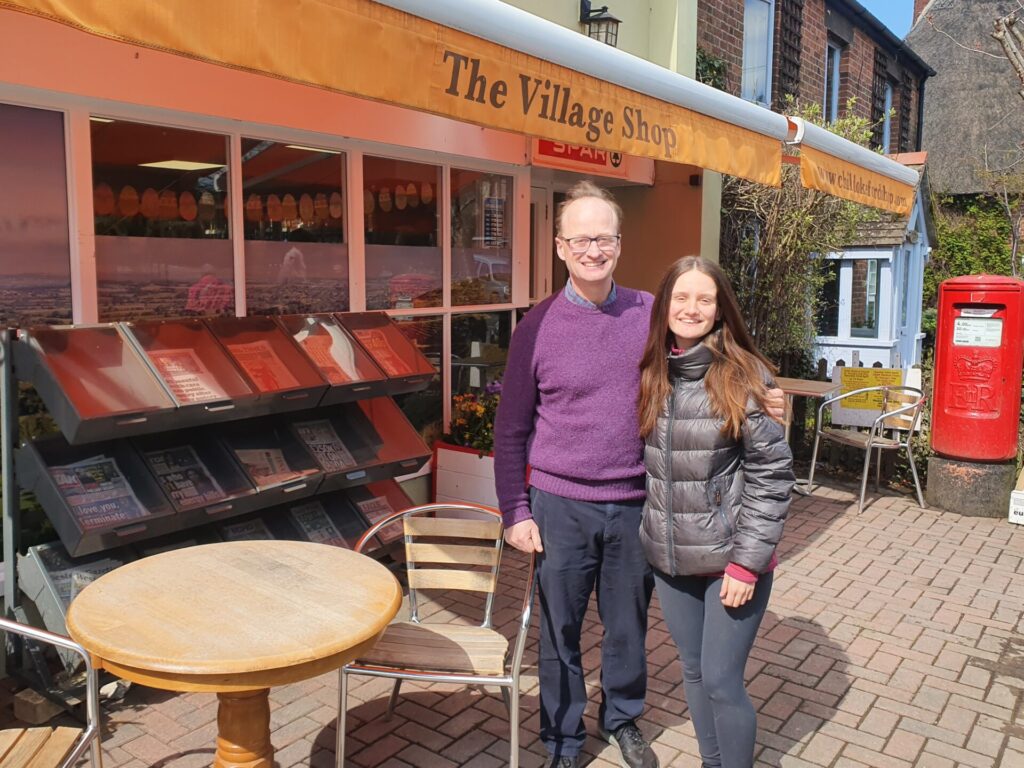 COVID was kind to village shops, which had been under pressure for decades from the relentless onslaught from supermarkets. Government advice to stay home, combined with the fear of infection, encouraged shoppers to avoid supermarkets. Village shops offered a friendly face, and benefited from the trend to support local businesses. Price was less of an issue.
Fast forward to 2023 and life has changed dramatically. Shoppers are facing a vicious cost-of-living crisis, while village shops are facing much tighter purses.
Price wars have been intensifying and we all know which supermarkets are winning: the discounters Aldi and Lidl. Village shops cannot take advantage of the clear long-term trend towards online shopping.
The steep and accelerating decline in physical newspaper and tobacco sales is another factor – in the past these were major magnets for customers.
The exception
Yet there are exceptions! The Child Okeford Village Shop is doing all the right things. Andrew Stevenson-Hamilton bought the shop in 2020, feeling he would like a more community-spirited role. It wasn't a bad proposition, thanks to a spacious shop floor, enabling a broad selection of stock. It's also in a good site, in the middle of a relatively affluent large village of 1,200 and 20 minutes drive from the lure of the nearest major supermarket.
He set about making changes. He bought an Electronic Point of Sale (EPOS) system so staff no longer needed to price up products manually. He joined the SPAR group, which helped him with stock selection and a redesign of the layout, which increased the shop floor making room for new lines. More local products were brought in.
Andrew has a broad range of clients to cater for. Retirees, an age group who are often not keen to shop online, appreciate the broad range of stock.
Being on the school run route means the shop is busy on weekday afternoons – the toys help here too!
The less privileged members of the community appreciate the competitive pricing for basic items. Tradespeople are early morning regulars, buying coffee and (profitable) pastries and using the tables and chairs outside – as do tourists visiting the village.
A community hub
Andrew listens to what his customers want and aims for the shop to be a buzzy, friendly hub for the village. Customers like the in-house bakery with its wonderful fresh smells (Andrew believes in a sense of theatre).
Latest innovations include a section for coeliacs, a book exchange, a coffee dispenser and an expanded range of greeting cards. The shop is now a destination store.
He has also brought in a loyalty card system, with the logo designed by pupils at the village school. He sponsors the school football team and also a police awareness initiative to reduce online abuse of children. The Post Office section works well too – Andrew thinks that's partly thanks to an old-style contract of a salary and bonus.
He has not been afraid to reduce costs where necessary – he cut his electricity bill in half by reducing the heating over the winter, making insulation covers for his freezers and taking out the heated food counter.
Now he is planning to host more village events, such as wine and cheese tastings.