We plotted this route on the map for one reason – we wanted to finally walk Hell Lane Dorset through to the other end which is the same path but now called Shute's Lane (between Symondsbury and North Chideock). And what an absolutely gorgeous cracker of a route it turned out to be! The route navigates mostly via ancient green lanes and spectacular holloways in Dorset. It's got huge variety – some stunning views, ancient mysterious pathways, away from the busier Symondsbury it was entirely unpopulated, there were sneaky peeks at the sea – and we can now agree that the experience of walking through Hell Lane and Shute's Lane is pretty special.
To follow this route using the Outdooractive App, please find the route here.
We elected to walk the route in a figure of eight, which allowed a grand finale walking up the spectacular Hell Lane Dorset and Shute's Lane – your choice of course, it's easy to switch, and you could take the ancient quarrying holloway as an easier downhill at the start.
Some of the green lanes are actual stream beds – do make sure you're wearing good footwear if the weather has been wet. For us, though we were walking in glorious sunshine the previous week had been rainfilled. As a consequence there were some seriously splashy sections, and the bottom end of Hell Lane was actually a fast-flowing shallow stream.
Another couple of paths ran through the centre of hedgerows and have clearly been re-routed into the neighbouring field to prevent the need for upkeep – we battled through for a bit, occasionally on hands and knees, until we gave in and used the field!
None of the hills are too strenuous, and if you're lucky with your weather like we were it'll be a spectacular afternoon's walk.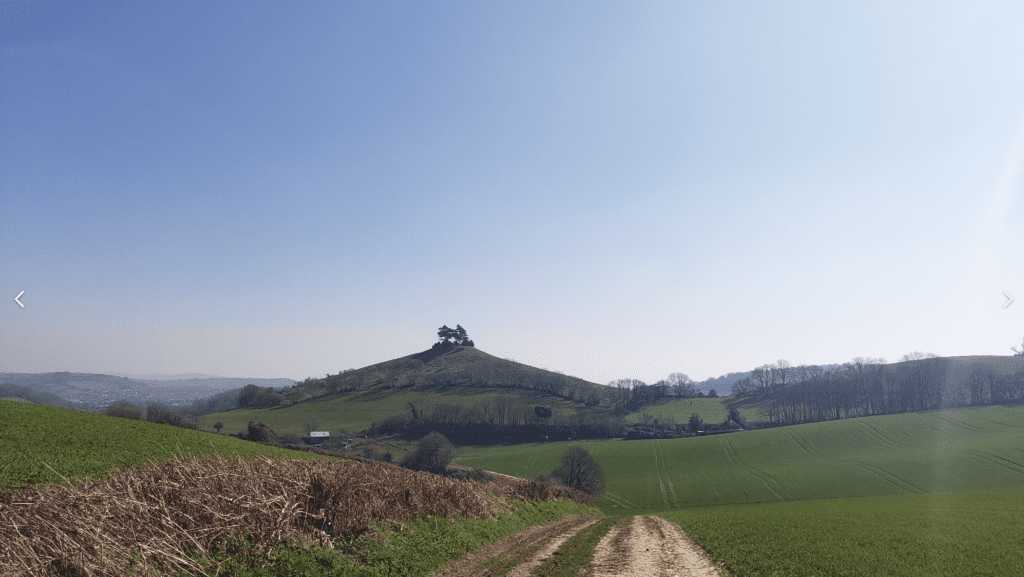 All the Dorset Walks we feature have been created and walked recently by ourselves, so you know you can trust them – we aim for unpopulated routes with as little road and as many views as possible! You can always see the route and follow it yourself via the free Outdoor Active app – see all our routes here.