Recently the BV received a letter to the editor commenting on the emptiness of Sherborne's shopping streets, with numerous empty shop fronts. Editor Laura Hitchcock investigated – and in fact found the truth a far happier tale.
Sherborne, like every high street, has struggled through the last few years. Physical shopping footfall is declining across the country, and the pandemic in many places appears to have hastened the end of many previously-bustling shopping streets.
It was with pleased surprise then that I visited Sherborne to find it busy with shoppers, and with a greater variety of traders on its main streets than I had previously noticed or expected. "We've had some empty shops during the pandemic for obvious reasons. But I don't think there's a single empty one now which isn't being renovated, or has someone ready to move in" says Jane Wood, President of Sherborne Chamber of Commerce and owner of Oliver's Coffee House for the last decade. "If you like shopping, you'll like Sherborne. And if you like unique, independent shops selling locally and ethically sourced gifts, food, clothing and more, with some great service thrown in, then you've got to love shopping in Sherborne."
A town of Indies
Independent shops are run by people who live in and around a town – and they have been the lifeblood of the Sherborne community since the abbey was built over a thousand years ago. Even during the most difficult of years through the pandemic, in the last year new names have been welcomes to Sherborne town centre with an eclectic range of goods and services:
Sherborne Antiques Market 71 Cheap Street
Regular readers will be no strangers to Craig and Philip's new antiques market – we featured the store last month, showing how the stunning and witty window displays lure shoppers through the door, and the atmosphere of fun, the genuinely warm welcome, and of course the fascinating contents keep people inside.
There are currently 42 traders displaying antiques within the market, including three TV experts – Timothy Medhurst (Antiques Road Trip), Paul Atterbury (Antiques Roadshow) and Debbie Serpell (Dickinson's Real Deal).
No website, but find them on Facebook here. Open 7 days a week: Monday to Saturday 10 till 5, Sundays 11 till 4.
Market Sundays 10 till 4. Phone: 01935 713760
Artichoke 14 Cheap Street
Arabella has been trading Sherborne for a few years from a couple of locations in town – but has finally found a terrific shop on the high street where she sells decorative antiques and brocante living.
Artichoke is another shop to lure you in for a browse, filled with a mix of items from linens to vintage French furniture – and also an Annie Sloan Chalk Paint Stockist.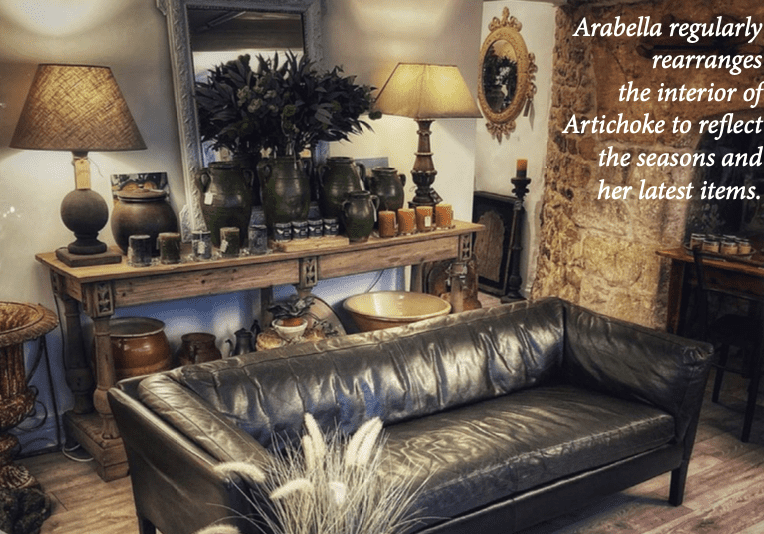 Artichoke is open 4 days a week: Wednesday to Saturday 10 till 5. No website, but find them on Facebook here. Phone: 07854 383090
Ingredients 73 Cheap Street
A family run delicatessen & gourmet fine food store with a large range of products sourced from the Mediterranean as well as local to Dorset.

The deli counter is, as you would expect, stocked full of Mediterranean charcuterie, an array of cheeses from Italy & Spain as well as a good range of local produce, and a range of Italian & Spanish antipasti. The hot pasta boxes are a terrific lunch option, as are the fresh sandwiches (Napoli salami, creamy brie, rocket & caramelised onion chutney £4.25). There's plenty for the sweet tooth too – the Bocconcini del Nonno (traditional soft Italian almond biscuits covered with crisp almond flakes) are delicious, and the Panettone & Italian Christmas cakes are a range worth serious exploration.
Ingredients are offering a range of hampers for Christmas – frankly perfect for the foodie who has everything.
Ingredients-dorset.co.uk
Open 5 days a week: Monday to Friday 9.30 – 4.30 Saturdays 9 til 4 Phone: 01935 713410
Caroline Nichols 18 Cheap Street
Caroline Nicholls isn't a new face in Sherborne, but she has recently upsized from her original shop in Swan Yard. British country clothing and accessory designer, specialising in exquisite country style. www.carolinenicholls.com/ Monday to Saturday 10 till 5, Sundays to Christmas 10 till 4. Phone: 07894 545388
Candy Cabin Higher Cheap St

An old-fashioned sweet shop, with retro classics to traditional sweet jars; pick 'n mix, freshly made instore candy floss, fresh popcorn and custom made sweet jars. No website, Facebook here 07403 289362
Lemon Vintage 81 Cheap Street

Clare has dealt in vintage clothing for ten years and has a reputation for an eye for a designer piece. Lemon Vintage is the 'home of clothing, accessories & beautiful things; ideas and pieces to add zest to life and living ethically'.

Clare stocks vintage, pre-loved and upcycled items alongside designer pieces and high quality ethical beauty products in her 'Bohemian space'.
Closed Wednesday and Sunday Otherwise open 10 till 4.30 Phone: 01935 813743
By Laura Hitchcock