Ex-commercial hens are being given a happy retirement by local volunteer Haidy – do you have room for some girls? Rachael Rowe reports
Haidy Mansfield has quite a job on her hands. She volunteers for the national charity Fresh Start for Hens (FSFH) and each year she helps rehome hundreds of ex-commercial chickens from her collection point near Sturminster Newton. Haidy is one of around 100 volunteers at the charity. 'I am part of the farm teams going in to collect hens that would be going for slaughter. The charity works hard to build relationships with producers, asking them to consider giving their hens a chance at retirement.'
It started with self-sufficiency
Haidy and her partner originally decided to rehome some hens to have their own steady supply of eggs, to be more self-sufficient. The hens happened to come from intensive commercial cages, and the chickens did not look good (see video below). Fleur had been trampled at the bottom of a crate and Belle wasn't expected to survive the night, Haidy said. But both made a dramatic transformation in Haidy's care, and were the start of her journey to creating Belle & Fleur from her Sturminster Newton home, raising awareness and working to rescue intensively farmed chickens. There will be some who are puzzled by a 'retired' hen; all laying hens are slaughtered at the age of 72 weeks, just as their production ability decreases.
The carcasses are worth very little and are usually sold for dog food, or cheap processed meat products. FSFH works closely with British farmers to buy the hens from the caged, barn and free range systems just before their slaughter date. They are then rehomed with volunteers to live out their lives in comfort.
Is there a reason a lot of these hens don't end up in our supermarkets?
'Laying hens do end up in the human food chain,' said Haidy 'usually as cheap reclaimed meat or baby food and also as pet food. But the hens from the intensive commercial systems are rarely in decent condition. Consumers often have misguided perceptions of happy hens in fields and open barns. That simply is not the case for the majority of commercial egg-laying hens. As a result of tight margins and the low driven pricing, feed quality is often reduced over the laying cycle so by the end all the nutrition goes into producing eggs, and not into muscle (meat) or feathers.'
So how many hens are there to potentially rehome?
'FSFH rehome about 70,000 hens, 3,000 ducks and 1,000 cockerels each year. In 2019 the industry estimate was 42 million laying hens in the UK; chickens being rehomed through charities is a drop in the ocean.'
FSFH only rehomes to people wanting hens as pets or companion animals. The lucky ones find new homes in gardens, allotments, and even residential care homes. While the hens obviously appreciate their new-found freedom, living it up in style, the rewards for their new owners come in the form of entertainment as well as the companionship you might expect from a more typical cat or dog pet. You may even get some eggs. The charity will not rehome to people using the hens for commercial purposes, or those selling them on.
A hen's needs
If you are tempted to rehome a few hens, you'll need some space and they do like company. 'We advise a minimum of three hens are rehomed together.' said Haidy 'For three birds I would say a minimum of 3mx2m for a run, with a height of 2m. That way you can have levels and some cover overhead. Also, access to some free range time as often as possible.'
Haidy currently has ten rehomed hens herself, and is clearly an advocate for the rehoming movement. 'It is an amazing experience. These rescue hens have taught me so much and have led me on this journey to raise awareness of the truth of the intensive egg industry. I am now vegan and proud that this transition has been inspired by learning the truth of what it means to be a laying hen in an intensive commercial system.'
The charity has Animal and Plant Health Agency approval for rehoming chickens and has reduced numbers in the light of current biosecurity restrictions.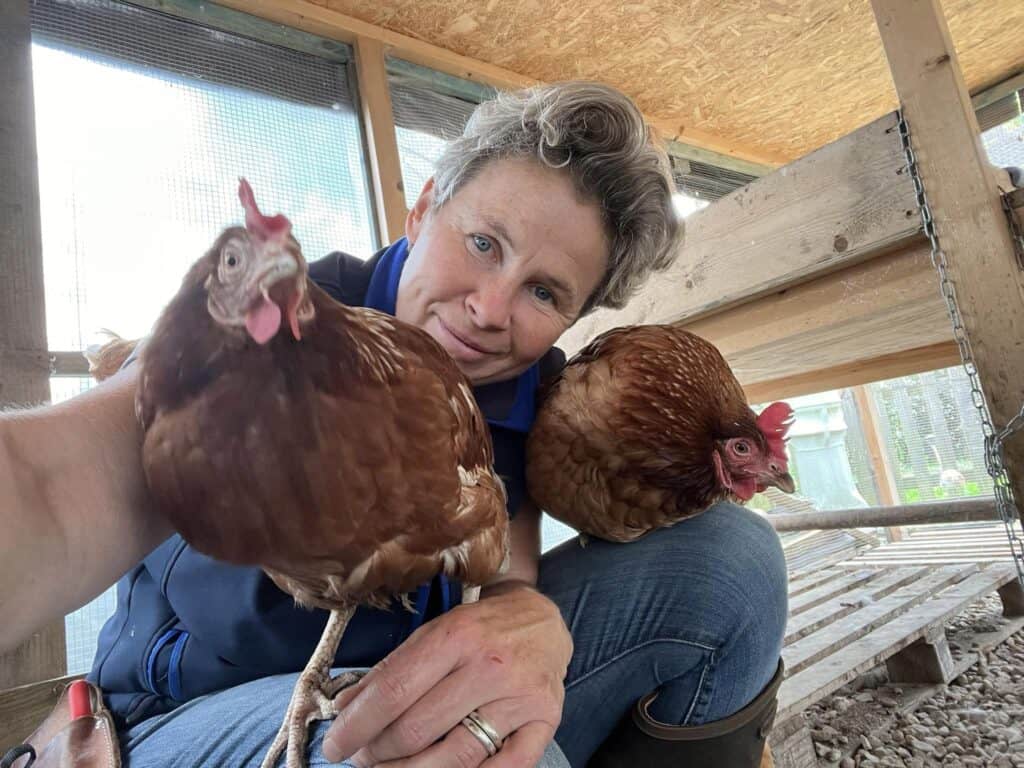 If you are tempted to welcoming some ladies into your lives, Haidy's next rehoming date is 26th November. Feel free to contact her with any questions or register your interest on the Fresh Start for Hens website:
freshstartforhens.co.uk