At first glance Barry Cuff may simply be the expert veg-growing BV columnist. But eagle-eyed readers will also have spotted old pictures of Dorset are usually accredited to 'the Barry Cuff Collection' – editor Laura finally pinned Barry down to talk about his remarkable archive of almost 10,000 postcards of 'Old Dorset'.
"Even as a young teen in the 60s, I was always stopping in to Dorset Bookshop in Blandford – or Longmans of Dorchester if I got the chance – to see if I could find a new Dorset book I hadn't seen yet." Born in Blandford and raised in Winterborne Whitchurch (where he lived for 30 years), Barry was always a collector; stamps, matchbox labels, cigarette boxes… and he was always fascinated by his beloved Dorset. But in 1974 he received a gift which began his old postcards of Dorset collection.
It began with three albums
"Our elderly neighbour gave me three Edwardian postcard albums, filled with Dorset images, especially from around the Winterbornes. She'd never married, her brothers had died, and she knew I was fascinated by
the old pictures, so she handed them on to me. It was fascinating to look through the albums with her – she knew everyone in them. She'd point at a person, raise her eyebrows and whisper "love child" at me… course I didn't know what that was back then!"
Those three albums started Barry on the journey to collate probably the largest existing collection of old
postcards of Dorset. He started off by spending his spare time hunting for them in junk shops:
"I used to pay 20-30p a card.
At 50p I walked away – far too much!"
When postcard collecting became more popular, it was a double-edged sword "all of a sudden there were fairs popping up, and I could go to Bristol, Brighton, Cheltenham, Twickenham… but it did mean the prices went up too!"
So what is it about postcards?
"It's not just the photographs themselves, though they're always the main interest, of course.
There are the stories around the photographers too – Nesbitt from Blandford who photographed locally between 1890 and 1920. Chapman who came up from Devon and only photographed Sturminster Newton, Lyme Regis and Wimborne Minster; the late Victorian French brothers who came across the channel to photograph the whole of the south coast; Clarke from Sturminster Newton, who never got his fixing solution right so all his postcards are very faded now… And of course the ones which have actually been written on have their own story to tell"
Lost conversations
Many of the postcards were sold for locals and tourists simply to add to their own picture albums in the days before personal photo albums were possible. But many were also sent in the post, giving tantalising glimpses into past conversations (although being England, Barry acknowledges many of the postcard messages are spent discussing the weather…):
"we shall be very pleased to see you Monday next. Come to supper if you can. MRW."
(July 26, 1910)
or – in Mr Mitchell's case in Shroton – to complain:
"Dear Sir, I do not think your 2 lots of wheat quite good enough for me. If you have anything better would buy them at market price." (Nov 22nd 1902)
I presumed with almost 10,000 images currently in his collection, there must be a state of the art filing system to keep the archive organised and easily accessible?
"Well… they're in albums? I do have individual albums for each of the main towns – Poole, Stur, Weymouth, Portland, Blandford etc. And other albums are grouped by area."
So how does Barry ensure he doesn't duplicate a postcard when he goes to a fair?
"Oh, I remember them, pretty much. I'm not saying doubling up hasn't happened – probably about 15 times over the years…"
Fifteen times he's duplicated an image, in 50 years of collecting almost 10,000 postcards, based on just his memory?
Barry looks nonplussed by my bemusement at this (I have trouble remembering what film I saw last week…)
"I just… remember them".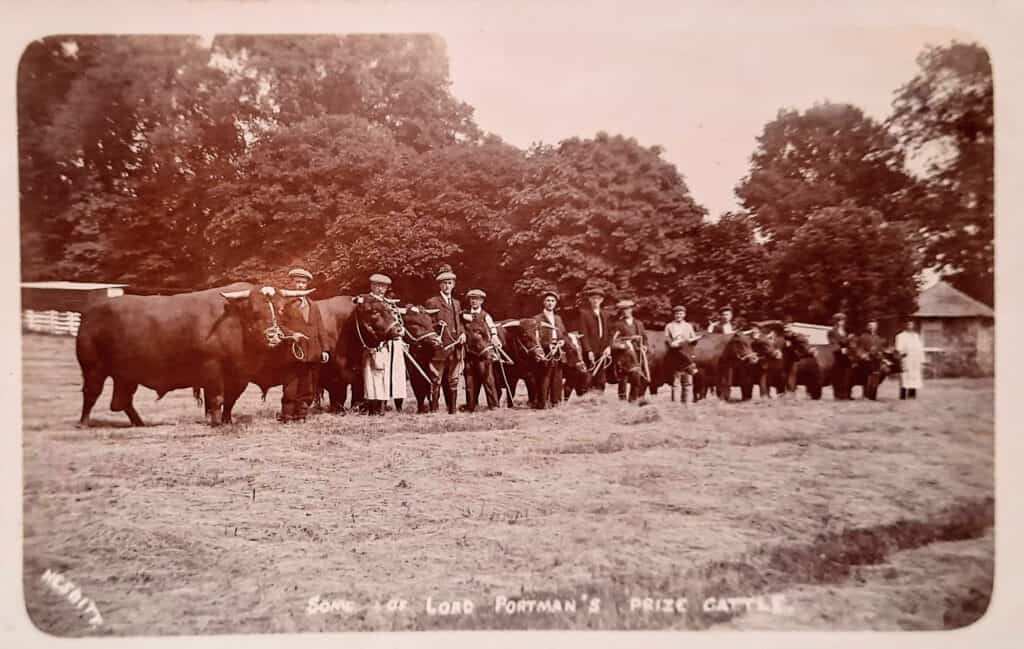 The day job
Barry's lifelong career as a Seed Analyst began by accident – introduced to the owner of local agricultural company Blandford & Webb by the father of a friend, Barry started as a 16-year old, not actually knowing what a seed analyst was. He trained at the National Institute of Agricultural Botany in Cambridge, and has
spent his life running a lab, visiting Dorset farms, growing, assessing and certifying seed. He has been involved in bean breeding, and was responsible for multiplying ancient Spelt and Einkhorn seeds for the Eden Project.
Despite passing official retirement age Barry is still working for Sherborne's Pearce Seeds "who wants to retire?".
Barry the lawbreaker
Barry was great friends with Rodney Legg, the late campaigner, author and publisher, and joined him on
many adventures through the 70s as Rodney led the campaign to restore public access to the army-occupied Lulworth Ranges, including the village of Tyneham (evacuated by the War Office in 1943 and never returned to its former residents).
"In 1974 we announced that'Tyneham Post Office had re- opened'. Rodney took some pictures which we had made into postcards. We opened up all the barbed wire on the Bank Holiday weekend and sold them from the old Tyneham Post Office. Loads of people showed up… as did the Army and the Police…" An unrepentant Barry grins at the memory.
Known as the Tyneham Action Group (later known as The 1943 Committee), the campaign eventually resulted in access to ten square miles of land that were also secured from being ploughed or developed.
View the collection
If you'd like a peek into the Barry Cuff Collection, a good place to start would be his books in partnership with author David Burnett. The first (currently not available – worth hunting for) is Lost Dorset: The Villages
& Countryside 1880 – 1920, containing 350 photographs chosen from Barry's remarkable collection, few of which have been published before. This was followed up at the end of last year by Lost Dorset: The Towns. Again, few of the 375 postcards chosen for this book have been published before, and they form a unique portrait of urban Dorset between the invention of the postcard until just after WWI.
Quickfire questions:
What's the most expensive postcard you've bought?
£40 – it was by Nesbitt, of Lord Portman's prize cattle (see above)
And the one you want to find?
I know there's one of the Giant's Head Inn, above the Cerne Giant where the caravan & camping site is now. It showed the landlady standing outside the pub, pre WWI.
Your favourite postcard?
A friend of my father gave me the postcard 'Post Office, Owermoigne' – because it's from him, I treasure it (above)
The saddest?
A card of Spetisbury. The message reads 'Mr Hunt committed suicide this morning by drowning himself.
Awful isn't it.'
interview by Laura Hitchcock