We all appreciate our local independent shops – but are we using them properly? Rachael Rowe asks just what your local butcher can do for you.
North Dorset is fortunate enough to have good butchers shops in most towns. But, do we appreciate them as much as we could or should do- and how often do we tap into their knowledge and expertise? Here's why we should spend more time at local butchers shops.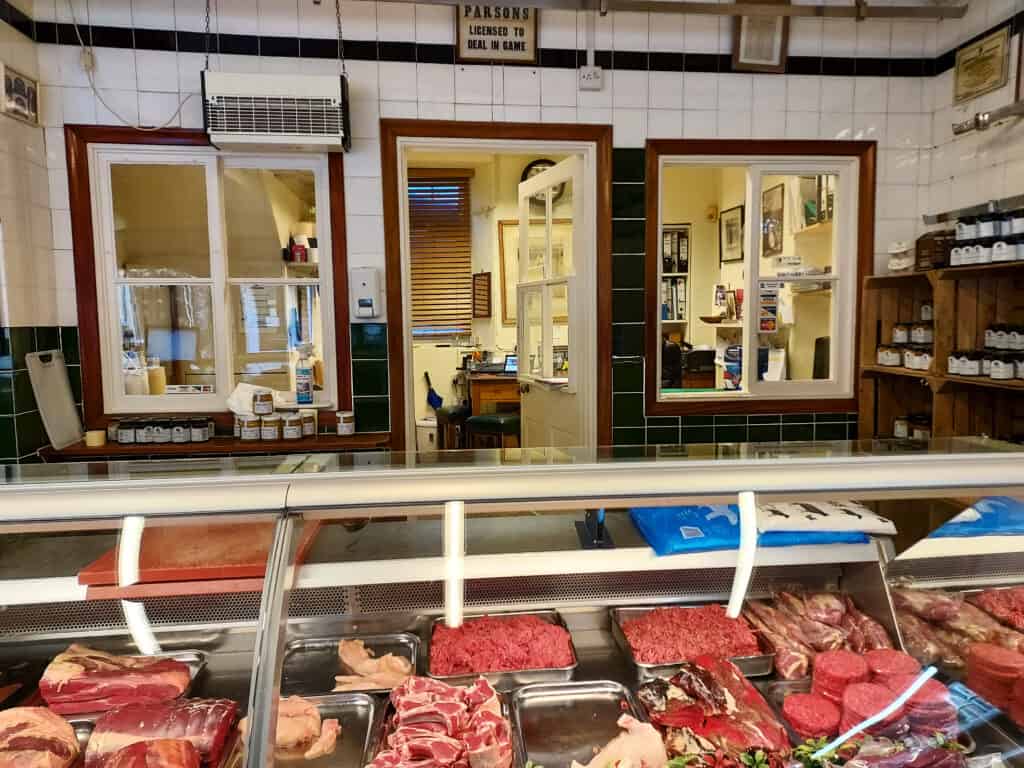 Food miles and provenance
One of the best things about a local butcher is provenance. A large board proudly displaying a list of farms where the produce is sourced is common to see. Quality is the priority – ask a local butcher where their meat comes from, and they can usually name the farm, the farmer and often the breed of animal.
Some Butchers Rear their Own Meat
We're fortunate in the Blackmore Vale. Some butchers don't just know the farm – they own the herd!
Several local butchers rear their own beef and other meats. Holebrooks in Sturminster Newton, the Udder Farm Shop at East Stour, and Rawston Farm Butchery all have their own herds. They know the animals' life, how they are fed and cared for and choose small, skilled, local slaughterhouses to reduce stress and enhance quality of the meat.
You Can Get Britain's best sausages
Ludwell's claim to fame is that T Buttling Butchers won the coveted 2020 Britain's Best Sausages. The prizewinning traditional pork and sage sausages are on sale in their shop along with other quality meats. You really can't get better than that in Dorset (or the whole of Great Britain, for that matter…).
Advice on cheap cuts of meat
You can learn a lot from local butchers. I'm always curious about different cuts of meat and how to cook them. Farmers like Kimbers have patiently advised me on what a bread and butter joint or hogget is, and also how to cook it. Cuts of meat you can't find outside of an independent butchers, and it's not only cheaper, but the quality is evident when you buy locally.
Their Online Shopping Works
If you ever used online supermarket shopping and got an odd substitution, you'll know what
I mean when I say it doesn't always go to plan. Some Blackmore Vale-based butchers have online services and deliver what you order. The Dorset Meat Company is an innovative, award-winning quality online business with a vast range of local food.
Local Milk (and less plastic)
In fact, you don't just get any milk but really local milk. Some butchers, including Parsons of Sherborne, have a Dorset Dairy Co milk station in the shop. Customers can buy the milk and refill their bottles, reducing plastic waste and helping even more local farmers. Talking of plastic waste – there's significantly less packaging when you visit a traditional butchers shop.
Good customer service
You can get good customer service in supermarkets, of course, but local butchers Paul and Andrew in Parsons, Sherborne (which was established in 1840) were keen to emphasise it is something integral to their work.
With expert customer advice, taking care of the provenance and quality, there's a lot the butchers do to drive up standards in the food industry. And we can do our bit by supporting these great local businesses.
by Rachael Rowe