The 1950s green 'wonder foam' for flower arrangers is not actually green at all, says flower farmer Charlotte Tombs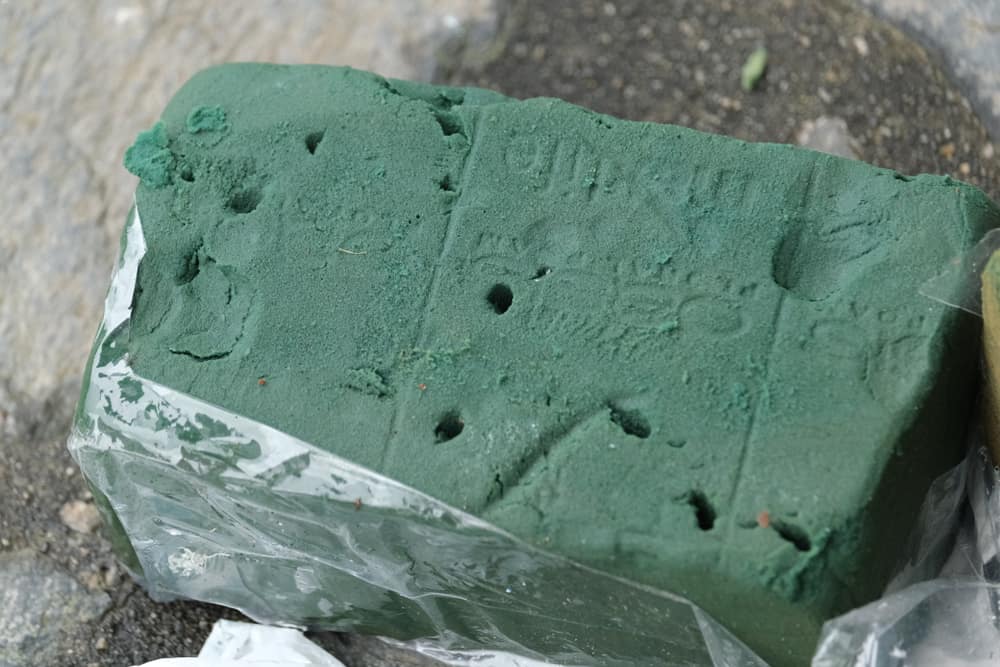 Oasis. No, not the 1990s Brit band but the green blocks of crumbly square foam much-loved by flower arrangers. This squeaky plastic monster was a revolutionary wonder-product back in the 1950s, when it replaced those metal spikey frogs our grannies all had under their sinks.
Oasis is made from the reaction of phenol and formaldehydes which are turned into foam when air is passed through. This is then treated with detergents to give it the ability to soak up water. It's a chemical nasty which just keeps on giving. As it ages it either breaks into tiny pieces which run down your plughole, or it goes in to landfill. And although it crumbles, floral foam doesn't fully dissolve in water or degrade in landfill or soil. Instead, it breaks down into smaller and smaller micro-plastics. These can take thousands of years to completely revert into natural elements and are a real menace for the environment by contaminating our marine life and food chains.
Its horrors are now so widely accepted that The Royal Horticulture Society (RHS) banned the use of floral foam at all its shows from 2021. A 'single use, non-biodegradable, micro plastic that can't be recycled' is frankly a sentence of expletives to any green gardener. The Church of England's legislative body has also been asked to consider a ban on floral foam in their churches.
Please ditch the foam
As a flower farmer, I grow my flowers in the most sustainable way I can. I grow a huge variety in all different shapes and forms to try and cater for as many pollinators as possible.
It feels so wrong, then, that a plant I grow would be jabbed into such a toxic product. Luckily, a lot of florists have seen the light! There is an ever-growing array of great ideas for supporting cut flowers: in cucumbers, tightly packing moss into chicken wire (which can then be moulded into the shape that's required), a grid made with compostable tape on top of the vase, filling the vase first with stiffer foliage … All of these methods take time to get used to but are equally as effective as using floral foam. And as a bonus you can have that warm fuzzy feeling that you are doing the right thing.
Obviously, before the 1950s and the invention of floral foam, flowers were arranged and displayed using all of these methods. Search Google for 'eco-friendly flower arranging' for a host of inspirations, and try charity shops, antique stores or eBay to find your own vintage options. Failing that, they even now make those vicious metal frogs in plastic. At least they are not single-use.
How can I dispose of my own used floral foam properly?
Oasis is hard to dispose of environmentally and can seriously contaminate compost, garden waste and water when its fragments end up in the wrong place. So here's what you need to know about its disposal:
Don't put it in the compost or garden
Water containing bits of foam should never be poured down sinks, toilets or drains: pour it through an old pillowcase, cloth or tea towel to capture as many of the fragments possible. Place the remnants in landfill-bound rubbish and pour the strained water into a hole in the garden.
Charlotte offers workshops throughout the year – please see northcombe.co.uk for further details.