One of the commercial stories of the 20th century centres on the gradual decline of the village and corner shop as supermarkets took over in the post-war decades and grew ever larger.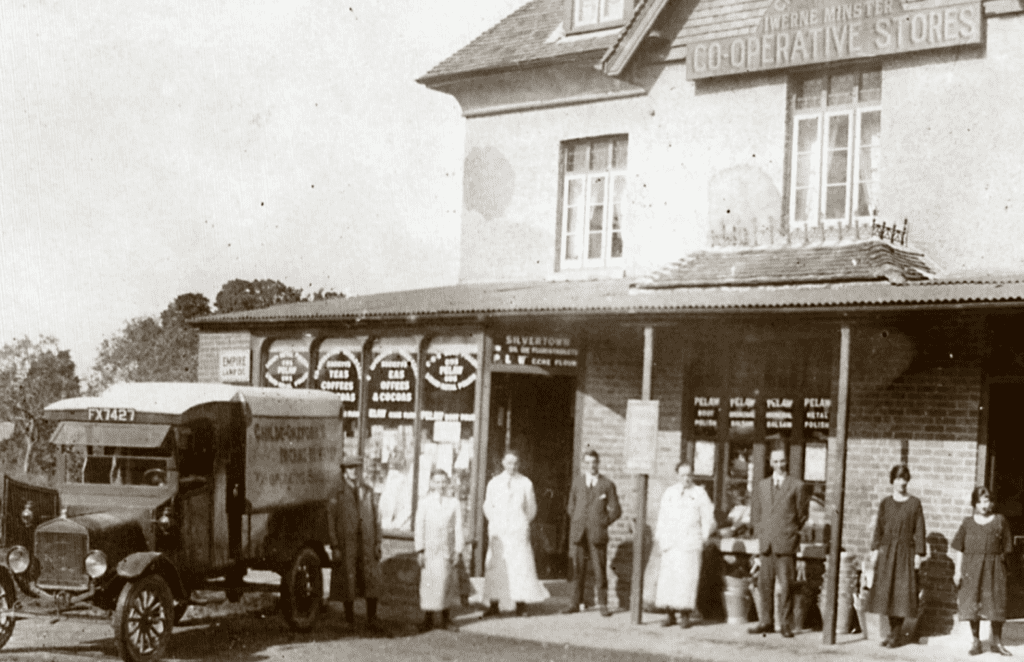 Today's Bartley House near the corner of Upper Street and The Hollow at Child Okeford was once a thriving village shop, known as the Child Okeford and Iwerne Minster Co-operative Stores.
It opened as a store in 1883 following an earlier spell as a coffee tavern. The 1911 census names 29-year- old Ernest William Ainsworth as secretary and manager of the Co-operative Society. His wife, Violet, 24, and shop assistant John Ryall, 20, also lived at the address.
Calling number eight
By 1931, Kelly's Directory of Dorset was listing Arthur Moore as the Co-op Stores manager. The shop was now prosperous enough to have its own telephone number: 'Child Okeford 8'. 'Child Okeford 1' belonged to Bertie Diffey, whose grocer's shop doubled as the post office. As post offices and telephones were run by the same organisation, the GPO, village post offices usually had the first phone in their communities and shared both line and number with the call-box outside.
This was the case for my maternal grandparents, Jim and Jane Ridout, at nearby Fiddleford Post Office, whose number in my childhood was 'Sturminster Newton 65'.

Other traders in Child Okeford in 1931 included
• grocer James Woolfrey
• butcher Robert Turner
• baker Arthur Fox
• Miss Bessie Adams, who kept refreshment rooms
• saddler and harness maker
Ernest Cuttle
• boot maker Arthur Hart
• beer retailer Robert Hart
• publican Mrs B M Pride at the
Baker's Arms
• the Woolfrey Brothers, blacksmiths.

The older picture, from the Barry Cuff Collection and David Burnett's book Lost Dorset: The Villages and Countryside, shows the Co-operative Stores in about 1920.

The Co-op delivery truck's registration number is FX 7427. FX was allocated to the county in the early 1900s to replace BF which, as I explained in this column two issues ago, caused offence to some, who thought
it implied that Dorset motorists were 'bloody fools'.

Barry Cuff tells me FX was chosen because those in authority considered it impossible to misinterpret.
The picture features an impressive line-up of eight Co- op staff. Products advertised on the windows include Empire Lamp Oil; biscuits, teas, coffee and cocoas; and several forms of Pelaw Polish, Pelaw being the brand name for the Co-op's own range of polishes. The prominent former store is now a private house tucked away behind hedges. The verandah is long gone as are the shop windows to the left, replaced by a brick extension. But the house is eminently recognisable and the original porch roof survives together with its ironwork.
by Roger Guttridge