Hayley Foy is a 36 year old female farrier from West Dorset. Having completed a four and half year apprenticeship with well known Abbotsbury farrier Ian Marchant, Hayley qualified in 2006 and now has her own business.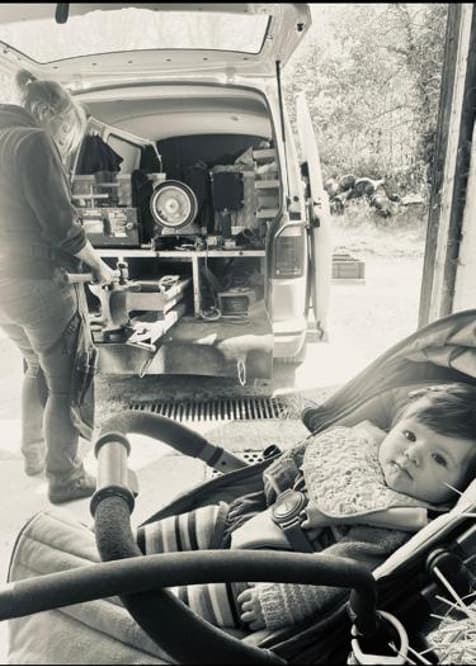 Farriers specialise in what happens from the knee down on a horse, learning the bones of the foot, how the hoof grows and how to trim and shape hooves.
Then of course the different types of shoes, and how to correctly shoe different horses with particular jobs – a racehorse will have very different shoe needs to a working heavy horse.
A Farrier will also learn about remedial shoeing:
"I like the remedial side of it all" says Hayley "working with out of balance horses, solving problems, sometimes even making lame horses sound."
"I shoe all different types of horses from Shires to Shetlands, lots of show jumpers, eventers, hunters and happy hackers. Whatever the horse, it is always so important to make sure they are moving as straight as possible. This is done through foot balance, and supporting the whole leg not just the hoof.
I feel very passionate about this, and really enjoy working with local vets to sort out hoof problems.
Over the years Hayley has built up a great client list purely through word of mouth – she hasn't ever had to advertise, and has no website or social media.
Being a female in a man's world has always just made Hayley very determined – showing that whatever sex you are you can do it.
Being successful in a job that you love has it's problems though
"I love shoeing horses so much it took me a very long time to work out how I could still be a farrier and have a baby!"
In November 2020 Hayley had her first child, managing to shoe very sensible calm horses nearly to the end of her pregnancy thanks to some help from a great farrier friend who would go out shoeing with her.
"Now I'm a mum and a farrier, I just needed to get very organised with how to fit it all in.
But it is so great to be able to be shoeing with my baby sleeping in the van, happily watching in the yard or going on a walk. I'll be flexible until she is ready to go to nursery for a few hours and I can get back to shoeing a few more horses in a day!"
Farrier or Blacksmith?
Historically, the jobs of farrier and blacksmith were practically synonymous. A farrier's work in pre-Industrial Revolution Europe would have included shoeing horses, as well as the fabrication and repair of tools and so on. Modern-day farriers specialise in horseshoeing, focusing their time and effort on the care of the horse's hoof. For this reason, farriers and blacksmiths are considered to be in separate, though related, trades.