Maggie Ollerenshaw, a proud Mancunian now resident in Stalbridge, is perhaps most famous for playing comedic Northerners, particularly in the sitcoms Last of the Summer Wine and Open All Hours (and Still Open All Hours). She has also appeared in various other television roles such as Holby City, Doctors, Heartbeat and Midsomer Murders, but off-screen has demonstrated a versatile ability, playing intense American leads in Who's Afraid of Virginia Woolf and A Streetcar Named Desire, as well as Shakespearean roles in The Merry Wives and King John. In addition, she has toured internationally in her own show Sincerely Yours, a tribute to singing legend Vera Lynn.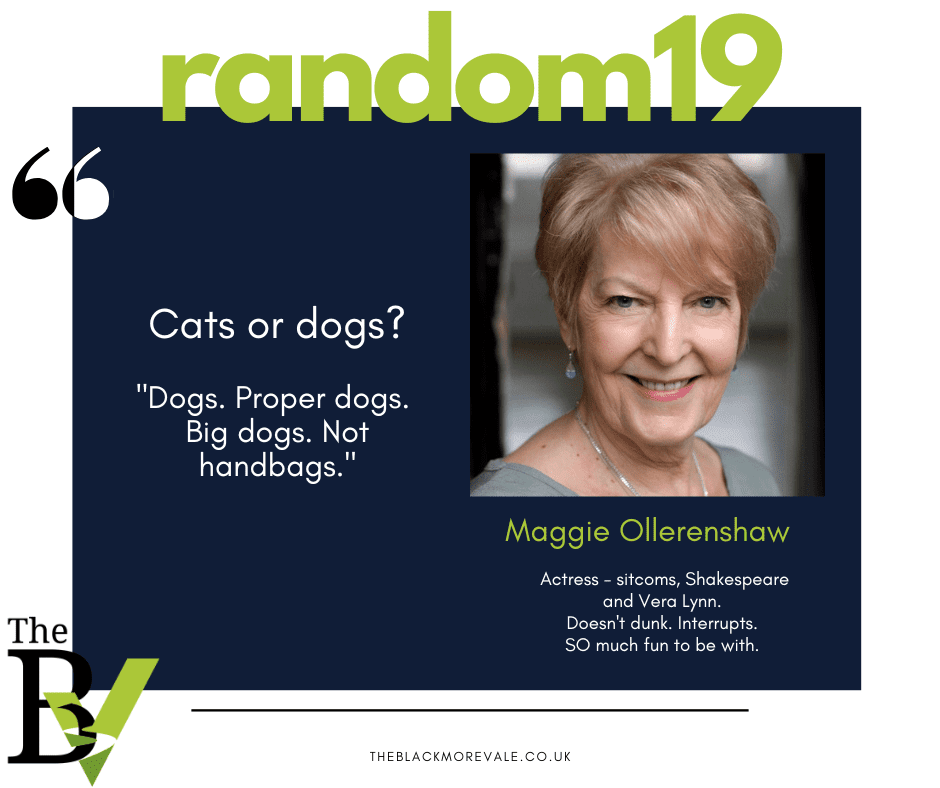 1. What's your relationship with the Blackmore Vale (the North Dorset area, not us!)?
It all began with my husband (actor Geoff Leesley) and his son, Sam, who is autistic. When we got together in the early 2000s, Sam was at the Forum School in Shillingstone. Geoff lived in Sussex, I was in London, and we were looking for a home together. We instinctively headed west and first of all we came across Frome. We bought a house there in 2002, but we couldn't find the house we really wanted. In 2016 we finally found the house of our dreams – and moved to lovely April Cottage in Stalbridge, opposite the church. It's so quintessentially English!
2. What was the last song you sang out loud in your car?
It was (Make me an) Angel from Montgomery – it's a country song. Bonny Raitt is the singer most associated with it – she didn't write it but was a great friend of John Prine, who did.
My musical taste is quite eclectic – I certainly wouldn't call myself a Country and Western girl. But the lyrics to this are just fantastic. It's like a play. The character is a middle-aged woman who feels older than she is, and she wants to get away from her life and where she lives, which is Montgomery, Alabama. It's wonderful.
I discovered it when BBC4 ran a repeat of an old concert from the 80s when Bonny Raitt was over here doing a tour. It was at the Shepherd's Bush Empire, I think. This was one of the songs she played, and I just thought 'that's amazing!'
3. What was the last movie you watched? Would you recommend it?
It was a film called Cyrano, based on Cyrano de Bergerac. It stars Peter Dinklage, the small actor people will know from Game of Thrones. The original story is that Cyrano has this enormous nose – he's in love with a beautiful woman but it's all hopeless, and instead she falls in love with a very handsome man. Cyrano has a wonderful way with words, however, and he ends up writing the handsome man's love letters to Roxanne. Brilliantly, instead of using Cyrano's enormous ugly nose, the film uses Peter's height. So clever! It's sumptuous to look at, too. It's a musical, but I would hesitate to describe it as one because the song interludes are so integrated into the narrative you almost don't notice.
The other thing I love is the message – especially in this age of celebrity. The story emphasises that it isn't what you look like that's important. It's really not. And it's a message that needs saying over and over.
4. Your favourite quote? Movie, book or inspirational? We won't judge, but would like to know why.
It's by John Guare, the American playwright. He was once asked to go to his old college to talk to leaving students. He said (I'm paraphrasing) "the world doesn't need more lawyers and bankers, we need dreamers, we need people with imagination. Please don't get up in the morning and hate your life and hate what you do."
5. It's Friday night – you have the house to yourself, and no work is allowed. What are you going to do?
Okay, I'm going to cook myself something. Some veggie pasta, maybe. Have a nice glass of red wine. And watch a Bette Davis movie. Or maybe Joan Crawford. But something black and white, certainly.
6. What is your comfort meal?
Egg and chips. DOUBLE egg and chips. With a little Heinz ketchup.
7. What would you like to tell 15-year-old you?
Life will get better.
8. What shop can you never pass by?
No such shop exists!
9. What book did you read last year that stayed with you? What made you love it?
Small Island by Andrea Levy. I was made aware of the book by watching an episode of Alan Yentob's Imagine series, in which he interviewed her. I didn't know anything about her at all, but she sounded such an interesting woman, and this book in particular. I absolutely loved it. It just gave me a totally different perspective on my own country.
10. Favourite crisps flavour?
Cheese and onion (swift and unhesitating!)
11. And the best biscuit for dunking?
Well. I don't dunk. Why spoil a good biscuit, and why spoil a good cup of tea?
12. Cats or dogs?
Dogs. Proper dogs. Big dogs. Not handbags.
We can't have one due to our lifestyle, and our place in London is three floors up with no outside space. But we always invite our friend's dogs to stay – we're very dog-friendly!
13. What are your top three most-visited, favourite websites (excluding social media and BBC News!)?
Guardian
IMDB
Manchester City!
I'm a BIG football fan. I come from Manchester and have supported them since I was yay high.
14. What's your most annoying trait?
Well, I say it's interrupting people. My husband says it's impatience. I guess it's probably the same thing!
15. Who's your celebrity crush?
Idris Elba.
I was at a busy function at the BBC once and he entered the room. It was quite a large room, he came in on the far side, and suddenly you saw virtually everybody notice him. He's one of those people who just has an aura. The only other person I saw with the same effect was George Clooney. I wasn't even that close to him – it was a Q&A after a film, in a big cinema in the West End, and he was right down on the stage and I was way up in the circle. But again even from up there I could feel it. So charismatic …
16. What was the last gift you gave someone?
It's a slight cheat – it's for my husband's birthday next week, so it's not been given yet, but I know it'll be perfect! There's a wonderful traditional barbers in Curzon Street in London. I'm sending him for one of those superior shaves with hot towels – the full works
17. How would you like to be remembered?
Well. I should probably say 'as a really good friend, someone you could rely on, having had a useful life' but that all sounds terribly worthy. I think I'd actually just like to be remembered as someone who was good fun to be with!
18. What in life is frankly a mystery to you?
I have two answers – am I allowed to be political? My instinctive response is simply people who voted for Brexit and/or the Tories.
But if you prefer, my non-political answer is golf. Is that any less controversial?
(not much – Ed)
19. You have the power to pass one law tomorrow, uncontested. What would you do?
Universal income.
It would solve so many problems at a stroke. And obviously would save money. Isn't it crazy that it's just not happening?