"I sold her for just over 8,000 sterling – and then she won her first time out, and was sold again for £110,000!"
Rachael Blackmore made racing history last month when she became the first female jockey to win the Champion Hurdle at Cheltenham with her victory on Honeysuckle.
But the connection to our little area of north Dorset is far closer than the jockey's name – Seven-year-old Honeysuckle is from Glanvilles Wootton, just outside Sherborne, bred by Dr Geoffrey Guy and Guy's co-owners and managers of The Glanvilles Stud, Doug and Lucy Procter
"It's funny" laughed Doug Procter, when I caught up with him last week "I tried to sell her as a foal at Doncaster, and didn't get a single bid. She wasn't by a fashionable stallion, y'see. Then as a three year old I took her to the Derby sale in Ireland, and got €9,500 for her."
He held a polite few second's silence when I innocently enquired if that was far below what he would have hoped for, and then couldn't hold back.
"It was a thumping great loss! And to make it worse, the following Spring she won the first time out by 15 lengths, and literally four days later Mark O'Hare sold her on again at the Punchestown sale to Peter Maloney, who bought her for owner Kenny Alexander for £110,000!"
(In case, like me, you're wondering, if she'd been by a fashionable stallion Doug would have expected to get £20-£30,000 for her himself as an untried 3yr old).
Honeysuckle has stayed in Ireland, trained by Henry de Bromhead – and she's never been beaten. She's won 11 races under rules, including the Mare's Hurdle at Cheltenham last year.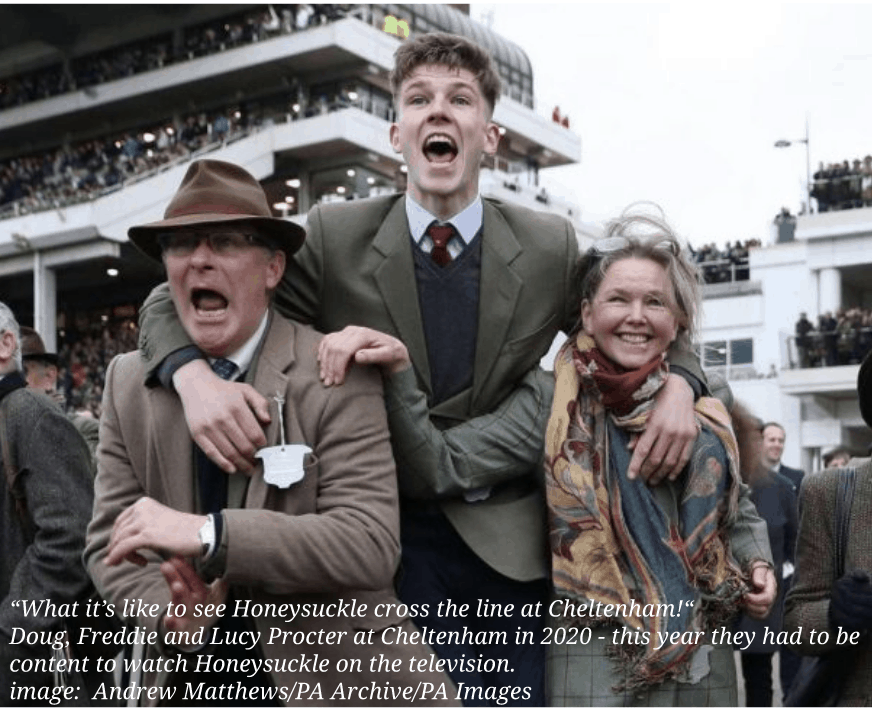 "It was the way she did it!"
said Doug after the Champion Hurdle race at Cheltenham two weeks ago
"The way she jumped and pulled clear at the second last and then just kept on going, that's quite a way to win a Champion Hurdle.
"I always remember people saying of Desert Orchid, 'he's a marvellous horse, but he hasn't won a Gold Cup'. But as soon as he ticked that box, it cemented him up there at the top.
"What else can you say about the mare? She's never been beaten. 11 races on the trot, six Grade 1s on the trot and seven in total. She is just fantastic. I was clearly having a good day when I planned that mating!"
At first glance, one might think Glanvilles Wootton ("population not-a-lot" Doug quipped) is an unlikely spot for a Champion Hurdle winner.
And yet there appears to be something in the grass that racehorses like: where the Blackmore Vale meets the chalk downs seems to be perfect land for rearing Thoroughbreds.
Glanvilles Stud was originally an organic dairy farm, and the land with its beautiful mature hedges and trees has created 60 acres of safe paddocks.
Doug & Lucy Procter have produced two Grade 1 winners:
("the horseracing equivalent of a football team winning the European Championship." explained Doug)
Sam Spinner won the Long Walk at Ascot in 2017, and of course now Honeysuckle. Believe it or not, the 1959 Grand National winner Oxo was also bred in the tiny village. And just over the hill, Rooster Booster, who won the Champion Hurdle in 2003, was bred in the Piddle Valley.
Another random chance connects the Honeysuckle story to her Dorset roots – Henry De Bromhead came to visit his aunt in Sherborne, and whilst there he visited Robert Alner (himself a Dorset dairy farmer who turned his hobby of point-to-pointing into a successful training career) because his aunt owned a horse being trained at Lockets Farm in Droop, nr Hazelbury Bryan. He came for a couple of weeks, stayed for the whole season and has been training horses himself ever since.