"We've been in trouble" admits Craig Wharton as he shows me the broad window displays of the new Sherborne Antiques Market on Cheap Street. "But that's the point. It needs to intrigue you, excite you, or shock you"
Sherborne's former Edinburgh Woollen Mill finally re-opened its doors this summer, reborn as an antiques market under the experienced and talented eyes of dealer Craig Wharton and Phil Traves, formerly Duke's Toy Expert who ran Duke's General Saleroom.
The two men had a long-held ambition to open their own antiques market, combining their long years of knowledge and expertise to create the perfect location for vintage shopping. When Edinburgh Woollen Mill closed its doors early in 2021, the pair decided it was too good an opportunity to miss; a complicated series of events followed to track down the owner of the property, and persuade her they were the right business to take on the lease.
Thankfully they succeeded, and Sherborne Antiques Market opened its doors this summer. "It almost didn't – 24 hours before we opened there was an apparently blocked drain right under the front of the shop. We thought the floor would need to be dug up." said Phil "In the end it was fine – but it was a stressful start. What was wonderful, however, was how everyone reacted. It felt like a disaster, but all the dealers simply said 'we're here to help, what do you need?'. It was amazing"
It's never gin o'clock
That unexpected spirit of cheerful community infuses the entire building – those stunning and witty window displays may lure shoppers through the door, but it is the atmosphere of fun, the genuinely warm welcome, the disarming comfort and of course the fascinating contents that keep people inside, exploring ever deeper.
The shop floor is divided up into 'rooms', each filled by an independent dealer. Along with the standard legal requirements such as PAT testing and no pre-1947 ivory (how do they date ivory, I wondered? "the style, the patina, the colour… it's where experience tells. And if it feels wrong, we refuse it"), there are some basic house rules:
• no Harry Potter boxes
• no fake vintage 'gin o'clock' signs
• kitsch is fun, but tacky is bad. What happens to any 'tacky' that might make it to a dealer's shelves? "We remove it!" came the swift reply.
A forbidding reputation
From two esteemed and well-connected industry experts, you might be forgiven for expecting a serious antiques shop – filled with expensive, precious items where a casual browser may be afraid to loiter and explore. And you'd be right – Sherborne Antiques Market is filled with serious antiques.
But it's also filled with items for every pocket, and every style. Thanks to their rigorous accessibility testing ("a friend in a wheelchair and her assistance dog came shopping before we opened, and we made sure she could access everywhere"), the space is uncluttered and airy, with a surprising atmosphere that seems to invite you to slow your pace, to idle, to chat, and to sit on the strategically welcoming furniture.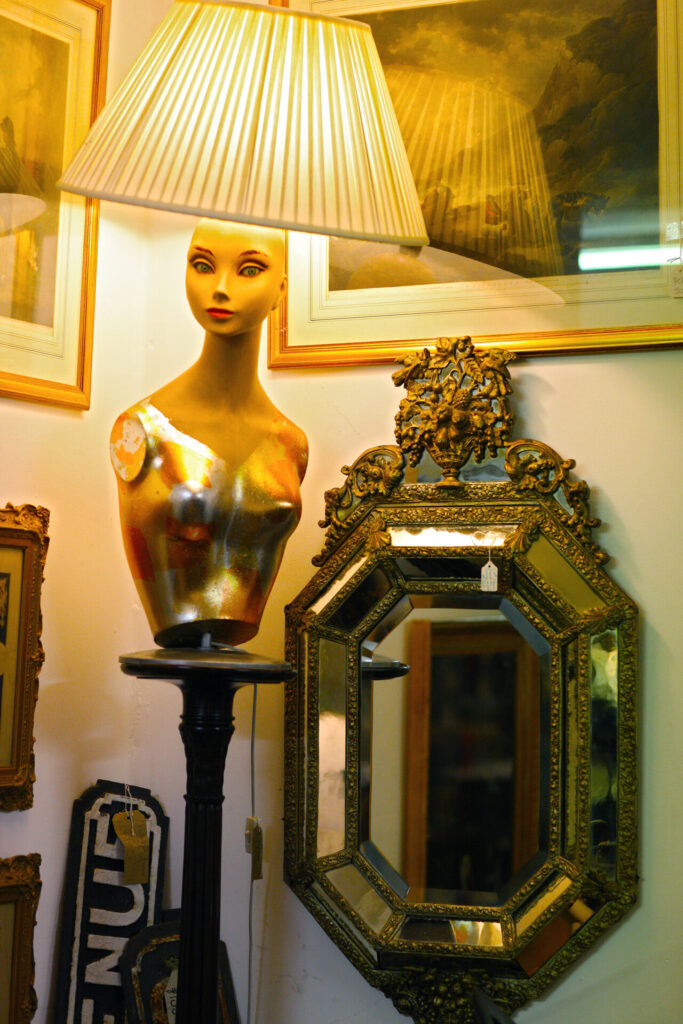 Eclectic collaboration
There are currently 42 traders displaying antiques within the market, including three TV experts – Timothy Medhurst (Antiques Road Trip), Paul Atterbury (Antiques Roadshow) and Debbie Serpell (Dickinson's Real Deal). Breaking yet another misconception, the youngest dealer is 21-year old-Tom Hurst, an expert in African Art, and Country House items. "We've created an eclectic mix" explained Craig "Every dealer decorates their own space, but it all works together so well." Elegant furniture is laid out in minimalist fashion on beautiful flooring, while another space is billowing with the colours and textures of vintage soft furnishings.
Harshly lit cabinets of Saxon and Roman coins sit adjacent to the soft pastoral scenes of local painter James Budden. Phil said "What's terrific is that the dealers are already starting to work with each other – one furniture dealer has offered his wall space to an art dealer. The vintage clothing dealers don't compete – instead they have opted to be side-by-side to create a personality-filled corner that complements each other. It's working better than we could have dreamed."
Dr Frasier Crane
When asked what is their current favourite item in the market, both looked around uncertainly. Craig said "the trouble is, there's so many things – but they all move on so fast! Oh, it has to be Dr Frasier Crane – he's a crested stuffed South African Crane. We both adore him. And the pair of William Yeoward lamps – I'm surprised they're still here. We have them at £1,600 for the pair – in London they'd be more than that each."
The two experts are clearly enjoying their new venture, and are brimming with plans. Phil said: "we're not going down the obvious 'coffee stop' route – Sherborne has so many fabulous independent coffee shops, we'd rather offer our customers a voucher to pop into one of them. We do have a huge, untapped upstairs space – it's so useful. It needs a lot of work, but one of our plans for next year is to run courses; from pottery to furniture restoring."
Those window displays
In just a few months the Sherborne Antiques Market has established an enviable reputation for its window displays, making the most of the huge double-fronted shop display. From a life-sized Meghan, Duchess of Sussex, in front of a wryly-placed antlered stag head to 'live windows' with gogo dancers launching the new Jo Burt Album, the windows have quickly become a talking point, and a staple of Sherborne's Cheap Street experience – and are clearly doing their job to intrigue, excite or shock the passersby into walking through the door.
Sherborne Antiques Market is on Cheap Street, and open 7 days a week: Monday to Saturday 10 to 5, Sundays 11 to 4 (Market Sundays 10 till 4). Phone: 01935 713760. They rarely use Facebook, but their Instagram account is busy and beautiful here.

(Editor Laura investigated more new shops on the block in thriving Sherborne – from vintage clothing to gourmet delicatessen here)
By: Laura Hitchcock