Last weekend Stalbridge teenager Ruby Else-White competed in the England Boxing National Schools Championships, and once again was crowned champion. Twice-national champion Ruby was also selected as Female Boxer of the Tournament by the England Talent coaches.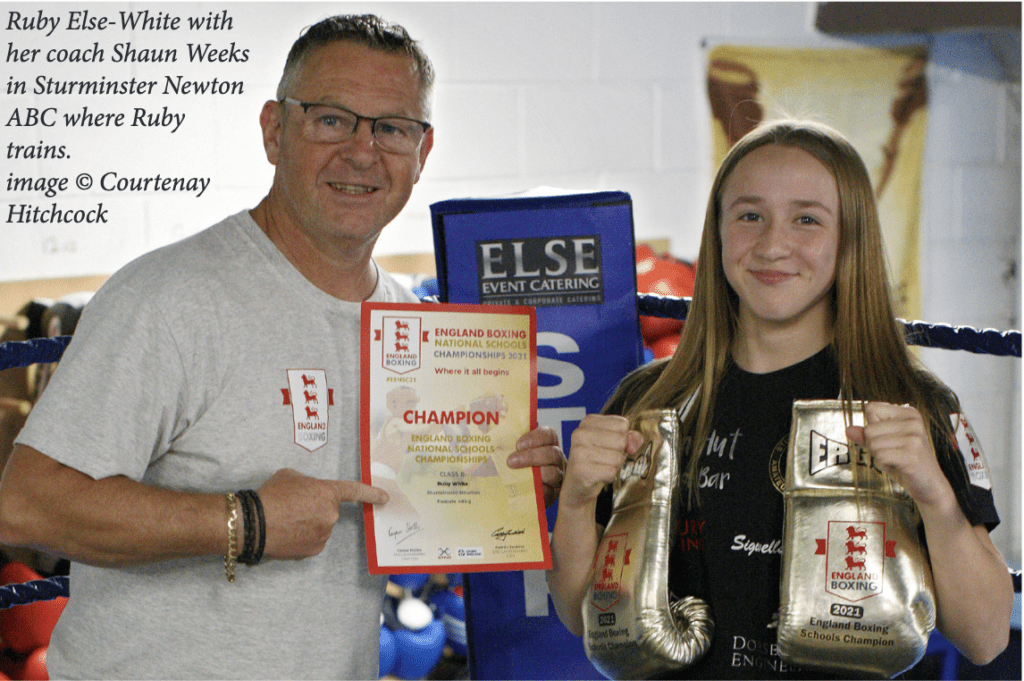 Earlier this year we reported that 14 year old Ruby Else-White from Stalbridge has earned recognition as one of Europe's top boxing prospects. As she boarded the flight to Newcastle Ruby admitted that she felt confident for Saturday's semi- final, with a game plan that she stuck to. But the Sunday final saw her nerves jumping. "I didn't know my opponent; she'd come from nowhere so I hadn't had the prep I usually do. I was proper nervous. We knew nothing about her – I just managed to watch her semi-final after my own.
Winning the title
Did she feel like she'd won? Ruby grinned again. "I thought so. I keep a count in my head of the punches they land, and the ones I do. Plus Shaun tells me at the end of each round how I'm doing" I wondered if her coach Shaun Weeks would really tell her mid-fight if she was losing? "Yes he does! It's 'fight harder, do more, be smarter, you're not working hard enough!' So if he says I've got it, I know I'm doing okay. But nothing's ever guaranteed."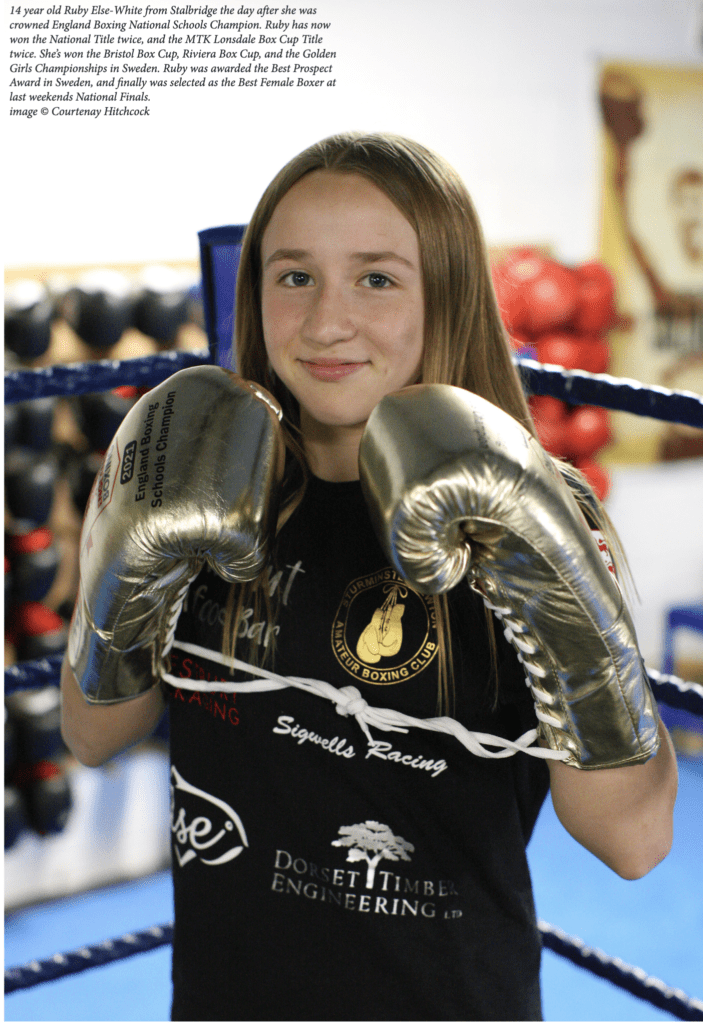 The Team GB pathway
The England Boxing National Schools Championships has now been running for a century and gives young boxers their first taste of competitive action on the national stage. More than 200 boxers took part this weekend – and though Ruby was thrilled to win her class (female 48kg), it was being selected as 'Female Boxer of the Tournament' – from all classes – by the England Talent coaches that really made her grin as we chatted. "it means I've been noticed!" Those who won Classes A and B titles are now invited to train with the England Talent coaches later this month. In March next year Ruby plans to make it 'Three Times National Champion': "If I make the final of the National Junior Championships, I'll compete for England in the Tri Nations European Championship. If I win that then I'm put forward to represent GB in the Junior European Championships next summer. Next stop Olympics
2028!" Shaun cautions that Ruby would need to continue winning National Titles over the next four years in progressive age classes, to be in a very strong position to be selected by the Olympic committee: "there is a lot of hard work, commitment, dedication and sacrifices to be made to get there" She's a girl with a very clear plan; it's easy to think that the drive and determination might be all-consuming. And yet hearing her complain about the 'huge bruise' on her cheek ("I never get hit!"), and seeing her checking her hair in the gym mirrors before posing
with her golden gloves, blithely ignoring the older male boxers waiting for her to be done, it's easy to see she's just a 14 year old girl who loves to box.
By: Laura Hitchcock