Rupert Hardy, Chairman of North Dorset CPRE, shares his thoughts on current planning applications for two huge solar farms in Dorset
A few months ago in this column we compared the merits of rooftop solar panels, which CPRE wholly supports, with the damage caused by huge greenfield solar farms – or industrial power stations, which they are, and their potential to desecrate our beautiful Dorset countryside (Rooftop panels vs. solar farms, The BV, Jan 23).
We are currently awaiting a planning hearing to determine the outcome of the Mappowder/Pulham greenfield solar application in North Dorset. There are also two other large greenfield solar proposals in Dorset – one situated around Horton in East Dorset and the other north of Chickerell in West Dorset – which, if approved, would be one of the biggest solar farms in the UK. It will take all your support to stop them.
Horton/Woodlands Solar
The Horton/Woodlands solar farm envisages two adjacent sites, covering an area up to 260 acres, within open sight of the nearby Grade II* listed Georgian folly, Horton Tower.
A lot of the site is classified as best and most versatile land, which currently grows crops vital for national self-sufficiency at a time of very high food price inflation.
The Cranborne Chase Area of Outstanding Natural Beauty (AONB) adjoins the proposed site. It will suffer significant adverse effects both to its views and its setting. There is a public footpath, much used by residents and visitors, running through the site. These are all excellent reasons to object to this development, which is expected as a formal application imminently. There is a very proactive opposition group, as many local residents are aghast at the damage it would cause.
Chickerell Solar
Last year Statera Energy announced they wished to build a huge solar farm and battery storage facility covering 1,400 acres between Chickerell and Hardy's Monument, close to the UNESCO World Heritage Jurassic Coast. The development would be nearly as large as Dorchester.
Curiously, it appears the company has no previous experience of installing solar farms and yet here it is proposing one of the biggest in the country. The location is close to an existing National Grid substation, which was designed partly for a traditional power station that never got built, so it may have spare capacity. It has already received severe criticism from the local MP Chris Loder, as well as the Dorset AONB, the Thomas Hardy Society, Dorset CPRE and local residents. Ironically, the government has just paid £116m to remove pylons and bury overhead cable to transform views of the beautiful protected landscape in the adjacent AONB!
Three miles of solar panels
The developer proposes that a third of the site would be within the AONB, despite the damage it will do to the setting and views. The site includes land classified as best and most versatile, used for arable as well as pasture. Again, therefore, food security is a major issue. There are Grade I and II* listed buildings in close proximity; heritage is another area of concern.
The footpaths that criss-cross the site are a valuable amenity; many tourists visit the area each year – more reasons to object. Imagine expecting a pristine view of Thomas Hardy's Wessex rolling out in front of you from Hardy's Monument only to see miles of industrial glass panels – equivalent to 885 soccer pitches (quite literally miles of it – the planned area runs 1.86 miles east to west, and more than three miles north to south). The landscape is the very one that so inspired Hardy, with his Budmouth (Weymouth) and Isle of Slingers (Portland) close by.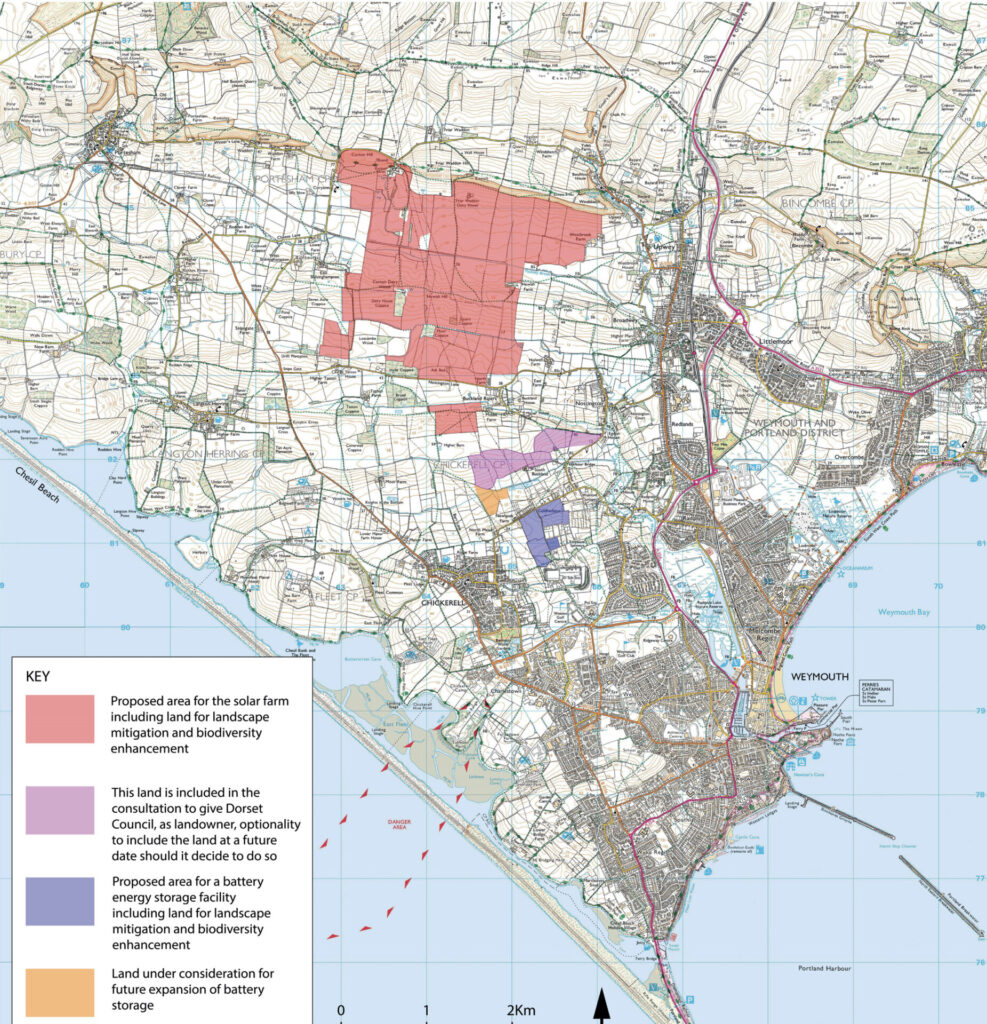 Recommended not to submit
Residents are also concerned about the fire risk, with possible toxic fumes, posed by a battery storage unit being sited so close to Chickerell, as well as the appalling congestion construction will cause. Access to the site will be via typically narrow country lanes.
It is interesting to note that the AONB has stated that 'the envisaged proposal will be unable to achieve consent, and therefore recommend that an application is not submitted.'
Astonishingly strong words for an AONB to use!
The reasons given by the AONB included key protective policies, a previous refusal of a much smaller solar farm on the site, and a need to demonstrate exceptional circumstances.
The battery storage facility will be assessed by Dorset Council, but the huge solar farm qualifies as a Nationally Significant Infrastructure Project (NSIP) due to its scale, and will be handled by the Planning Inspectorate, with the decision passed to the Secretary of State. The NSIP process is lengthy and complex, so a decision would be unlikely to come until 2025, at the earliest, unless the development is recommended for rejection by the Inspectorate at any early stage, which is possible, given the many reasons for objections.
The only NSIP proposal thus far in Dorset has been the Navitus Bay offshore wind farm, which was halted after concerted efforts by local authorities and campaigners. An action group is now being formed to fight this monstrosity.
We (CPRE) ask anyone wishing to help stop these two solar power stations from desecrating our countryside to email me on ruperthardy1@gmail.com so that I can forward on action group details. Remember these developers are motivated by profit, and NOT by protecting the planet.