This month we've been chatting to Doune, who runs the Queen's Arms in the village of Corton Denham, just three miles north of Sherborne, with a focus is on good food and a comfortable night's sleep in one of their ten refurbished rooms.
How did you end up at
The Queen's Arms?
We have lived in Corton Denham for 14 years, and the Queen's Arms was always our local. We always dreamed of owning it one day but never imagined we actually would do. When it came up for sale it was too good an opportunity to miss. We finbally signed the contract in July 2020, just as the first lockdown lifted. Thankfully the previous owners stayed on to help show us the ropes until December, and then in January we shut and carried out a refurbishment ready to open early July 2021.
It's been a rollercoaster year!
How big is your team?
We have a new manager, as I knew I'd be unable to do it with 3 small children. He prefers to be low key, but he's in charge of the day-to-day running and comes with a wealth of experience. He is ably assisted by Danny who
is in charge of front of house, and who has a welcome smile for everyone. Kyle the former owner's son has stayed on to help with the transition, and we also have Cathy who is a former air hostess and is utterly charming and wonderful. We have lovely Fred who is a tree-surgeon by day and glamorous bar man by night (his parents have been regulars of the pub for years). The rest of the team are sparky, bright young adults who are eager to learn.
Is there a pub pet?
Yes – our dog Aggie (see Aggie with the family below).
She has roamed the pub for years begging for scraps! She's getting on a bit now so likes to lie by the fire.
The previous owners bought Aggie's puppy, so her daughter was a real pub dog too.
What's your favourite local place to visit on an afternoon off?
We love the walk along Corton Denham ridge, looking out over the Somerset levels. We can walk along the ridge from our house straight to the pub, so it's a great commute to work. My favourite hill is Parrok hill, with the 7 trees on the top, which can be seen from miles around, I love it so much I've put in our logo. I also love going to Sherbone and looking at antiques that may work for the pub, which we are adding to all the time.
There is also so much creative talent in the area, I love Circus, and Caroline Nicholls, and I'm excited to see that the former masterchef winner, Matt Follas has moved to Sherborne; he's on my list to sample his lovely food!
What's been your biggest challenge since taking over?
It's hard to not include covid as it has defined the whole purchasing and opening of the pub. We faced a second and third lockdown after purchasing, and the impact on getting supplies to build, decorate and furnish the pub and the delays with planning permission because there was no one in the office had their effect. The challenges haven't stopped now we've opened; the knock-on effects from fuel and suppliers, to staffing post furlough/covid on hospitality have been huge, and something we didn't anticipate or appreciate fully.
What are you most proud of so far?
The overall look of the pub. It's been a labour of love, and the bit I was most involved in. We've still got lots of bits to add, but I love that the vision has materialised in to a reality.
We have added a 'Pub-hub' – the building to the right of the piub – where there is a coffee bar and I hope to build this up so that we will have bread, newspapers and a few items for sale which will be useful for the village, as there is no village shop.
What part of the building is your absolute favourite?
There are lots of parts of the pub I love; I dreamt of having the flower wreaths and now they are hung they are just as I imagined them – they are beautiful and make a real impact when you walk in. They were made by the skillful hands of Deborah Bain of Lunaria in Bruton.
I also love the arched windows in the coach house – they let in so much light.
Which meal is your most popular? What do people drive from afar to come specifically to you for?
Our most popular dish is our Jalapeno chicken. The chicken is crispy and light with a real kick from the jalapeno sauce, chilis and spring onions on top, it works for children too (when we take the sauce off – then it's a bit like KFC but a 100 times better!). Our pork belly on the Sunday lunch menu is a huge hit, and we had some amazing sirloin steaks from the butcher Walter Rose in Wincanton, everyone who tried one said how good they were.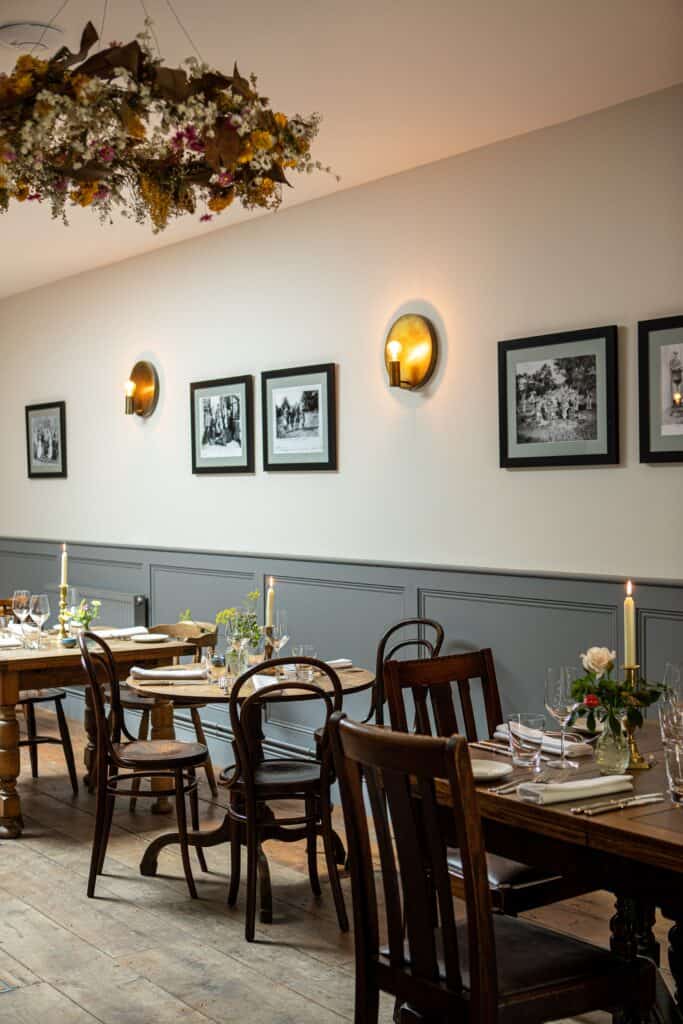 Tell us about any of your really local suppliers?
Our favourite and most local suppliers are The Story Pig at Sandford Orcas, the next village on from us. They have lovely Tamworth pigs and we use their produce as much as possible, from their sausages to their chops.
What's next?
We do have big plans for the horizon – my background is cookery and I hope to build a cookery school that is linked
to the pub. The idea would be people could stay in the rooms and do a class in the morning then have the afternoon to relax. I also want to develop the back garden so we can grow more of our own produce.
We are planning a big New Year celebration, tickets are almost sold out but there are a few
left. We'll also be doing amazing brunches over the festive period, on Christmas Eve, Boxing Day, and New Year's Day: think Bloody Mary's, pub classics, bacon rolls and much more after a hearty walk across Corton Denham ridge.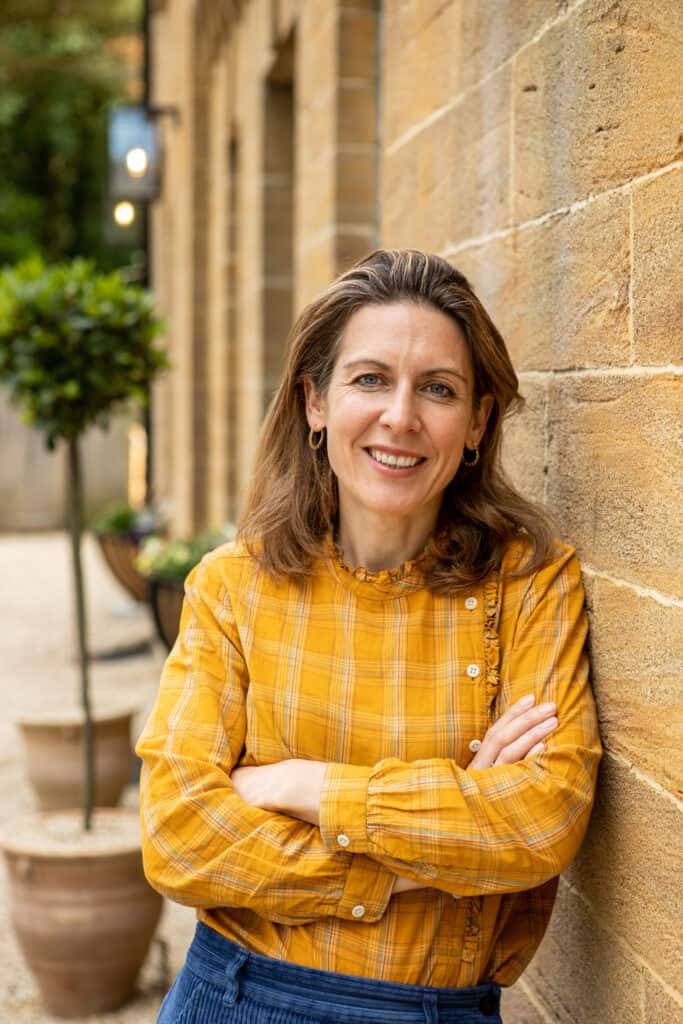 The Queen's Arms are open Wednesday to Sunday 8am – 11pm. Food is served 12 – 3.00 pm and 6.00 – 9.30pm (9pm on a Sunday). For the month of November they are closed for lunch Wednesday to Friday, but are offering bar snacks.
To book a table or room at The Queens Arms call 01963 220317 or click here: www.thequeensarms.com/