Kingcombe Meadows – and adjoining Powerstock Common – have just been designated a National Nature Reserve (NNR), recognised as nationally and internationally important landscapes.
An early form of crowdfunding bought the farm for the Dorset Wildlife Trust in a rundown condition in the late 80s – Dorset Life covered the story on the 30th Anniversary, do take a read here it's a wonderful story.
It's an amazing place to explore – the public are welcome to wander freely thought the Kingcombe Meadows reserve, not restricted to public footpaths only. You are simply asked to respect the crops.  And this is one of my all time favourite Dorset walks, with the start and finish winding through a series of ancient-feeling meadows all filled with a vast array of native plants and wildlife. Whenever I follow this route, I feel like I'm stepping back through time.
To follow this route using the Outdooractive App, please find the route here.
Every month in the BV Magazine we publish Dorset walks under the heading 'Take a hike' – you can see them all here. Not always in the heart of the Blackmore Vale perhaps, but always within reach for a day's walk.
We have created and then walked them all ourselves – we always aim to create interesting, unpopulated routes with as little road use as possible and of course as many beautiful views as we can squeeze in.
You can always see the routes we take and follow them yourself via the Outdoor Active App – see all our routes here. – Click on contents tab.
We usually aim for between 10 – 15 miles, although due to many requests and to keep everyone happy we have now added some shorter routes between 5 – 10 miles in length.
Above all, we hope you enjoy reading about the walks that we do and enjoying the pictures of course, but if you are taking them on yourself, we would love to receive your feedback on how you found the individual route and any suggestions you might have. Oh and of course we would love to receive your pictures to share as well!
Kingcombe Meadows Nature Reserve Walk- 13 miles
(for shorter versions there's the obvious pinchpoint in the middle of the route – the Jubilee Trail joins the two sides and you can enjoy the full route as two shorter walks )
This is a beautiful and varied walk through Dorset's stunning AONB, covering some ancient and untouched parts of the county – it's one of the most 'Dorset' of our Dorset walks.
The route covers woodland, protected nature reserves and holloways. If you've never visited Kingcombe Meadows, it's a wonderful step back in time with flower rich grassland, ancient hedgerows, rough pasture and wet woodlands, almost untouched by artificial fertilisers and pesticides, with a handy cafe & water point at the car park. Definitely worth a visit and explore.
There are a lot of streams on this route (a favourite is the streambed section as you leave South Poorton, it's truly magical on a sunny day) – beautiful in a dry spell, but probably quite sploshy in the wetter months!
All paths are clearly signed, and all stiles/gates easy to navigate.Number of people encountered – zero. Utterly unspoilt and tranquil walking, with just the birds and the odd cow for company.
The wonderful valley sitting between South Poorton and Loscombe Nature Reserves. The climb up is lung-burstingly STIFF – but the view is definitely worth it.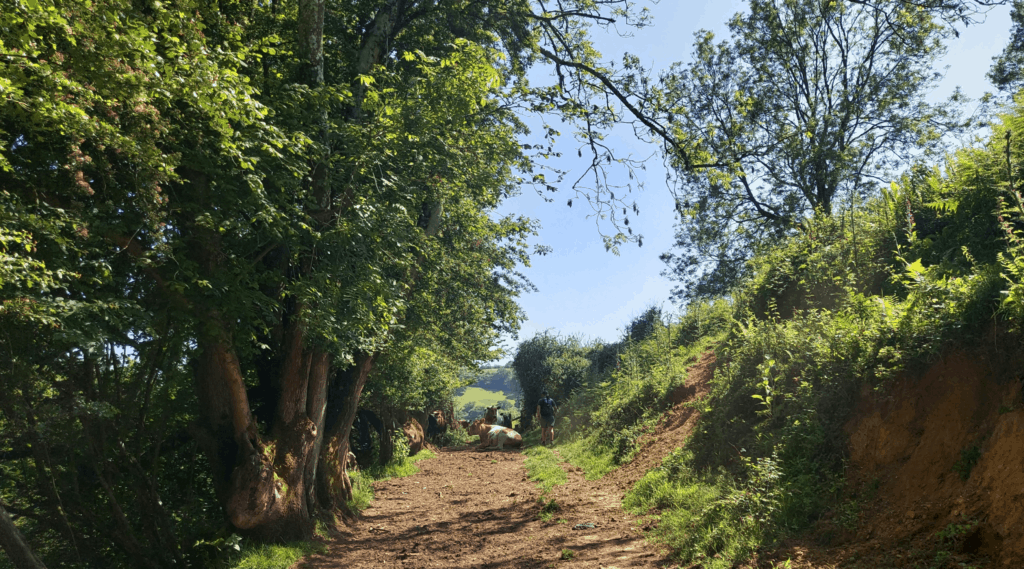 The track through South Poorton Nature Reserve is just a footpath but feels like an ancient drovers way.
My favourite path; C always has to stop and wait for me along here. I adore this track along a deep, secret streambed from South Poorton, overgrown with ferns and the water burbling across the stones underfoot.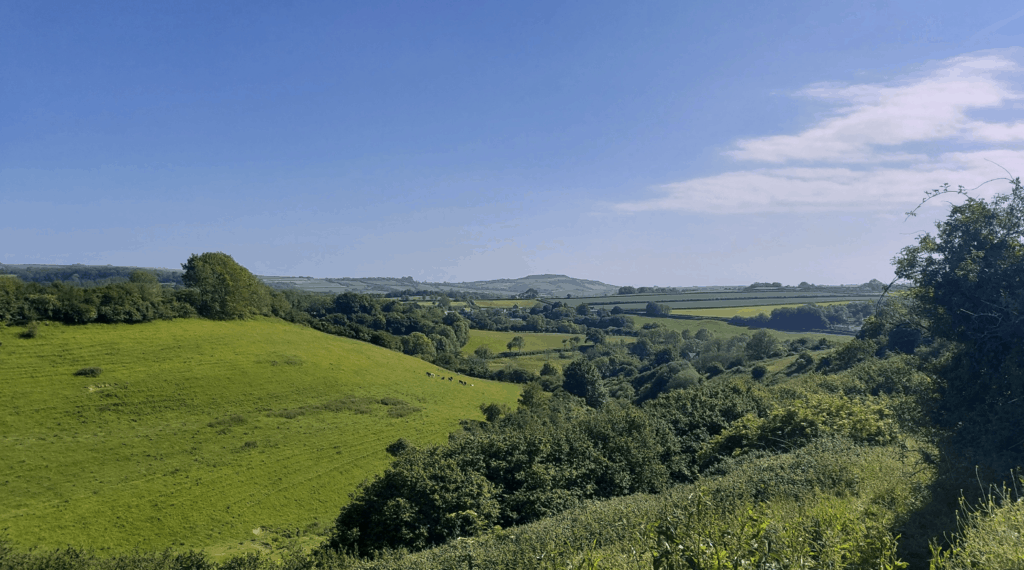 Stop to appreciate the views across the Dorset AONB before you descend into Powerstock.
Another slice of secret Dorset – the grassy lane approaching Wytherston Farm.