It is with great sadness that the family of Robert Frith announce his sudden and untimely death. A wonderful family man and successful businessman, a man of great humour, integrity and loyalty, Robert had an enormous passion for life and lived life to the full until his last breath.
Robert was born in Whitton Middlesex when the first doodlebugs fell in June 1944. With his parents George and Doris and older brothers, Brian and Michael, he spent his formative years growing up in Twickenham. Robert attended Chiswick Grammar School followed by studying Optometry at City University, London.
At an early age, Robert (or Bob as he was known to many of his friends), demonstrated an interest and prowess on the athletics track. He became an active member of Kingston 'Poly' Harriers he went onto represent his country in the 100 metre sprint and relay at the 1966 Commonwealth Games in Jamaica. His many accolades included winning the 60m silver medal at the 1968 European Games in Madrid and the Bronze in 1969 in Belgrade. He held the world record for 50 metres and was four times National AAA champion over 60 metres.
Whilst still at university Robert met Christine, a nurse, they married and set up home in Twickenham. It was here that Robert opened his first independent Optical practice with Mum Doris as Receptionist. Whilst living in Twickenham Robert and Christine's three children were born, Adam, Zara and Abigail.
In 1977 the family relocated to Dorset, it was the pretty village of Marnhull that Robert affectionately called home for the rest of his life.
In 1981 the Optometrist Robert embarked on achieving his dream of opening optical practices across Dorset and the South West. Maintaining Twickenham as the first flagship practice he went on to develop a strong network of independent Optometrist businesses, the first opening at Goldhill, Shaftesbury. Currently, with Twickenham there are twelve Frith Opticians practices.
Robert was a man of many talents and interests. Beyond running a chain of Optometrist practices his dynamic entrepreneurship went further. When visiting his daughter Abbi in South Africa, an initial hobby creating homemade wine, became an opportunity for Robert to develop a guava orchard into a vineyard. The result, award winning wine, with gold achieved at The London International Wine Fair and 5 stars in Platter's South African Wine Guide.
At home in Marnhull Robert spent much of his spare time in his garden, producing beautiful roses and plentiful fruit and vegetables. He was a renowned exhibitor at both the Marnhull and Shaftesbury and Gillingham Shows, with many cups and Awards. Latterly he proudly supported the Shaftesbury and Gillingham Show as a wine judge.
After his successful athletics career Robert dusted down his running shoes and from 2003 – 2005 he completed three marathons, two in London and New York, achieving a personal best in 4 hours 41 minutes at the 2005 London marathon. His brilliant effort raised an incredible £20,000 for sight related charities.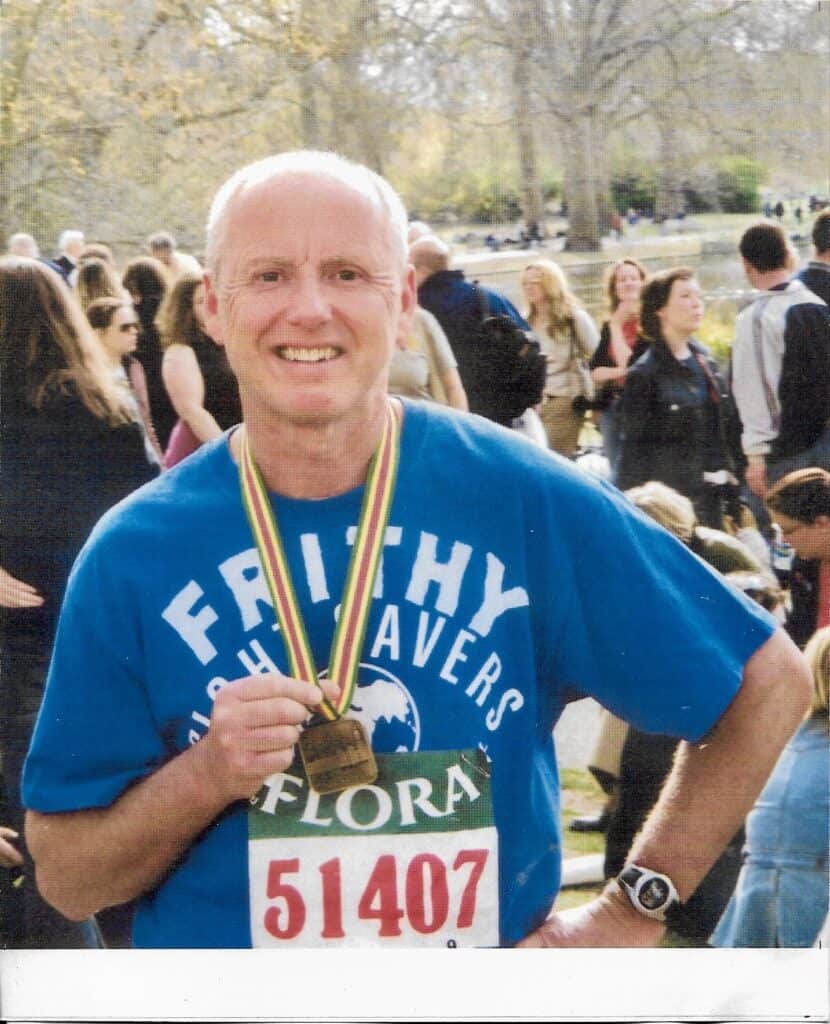 Robert lost his wife Christine to cancer in 2009 after 40 years of happy marriage. He later found happiness again with his partner Sue. Robert is survived by his three children, seven grandchildren Sue and her daughter Sophia. Robert will be sadly missed by his family and all who knew him, professionally and personally. He was a force of life that will never be recovered.
Following his sudden death Robert's wish to donate organs has been respected and, as was fitting for someone whose professional life was all about improving and aiding eyesight, his corneas have been donated so that someone else can see. A fitting tribute to a man who always did whatever he could to help and support others.
Robert's funeral will be held at St Gregory's Church, Marnhull on Friday 21st May at midday. The funeral service will be in accordance with Covid rules. Anyone wishing to remember Robert is welcome to be present outside in the church grounds and locality. Family flowers only, but Robert can be remembered by visiting the 'Just Giving' Website: bit.ly/robertbench set up in his memory to raise money for charities and causes close to his heart.