We here at the digital Blackmore Vale magazine are really excited to be working with the team at Dogs Dogs Dogs – and we're kicking things off with a giveaway of this amazing heavy duty Waterproof Dog Bed; depending on the size you need, it's worth up to £114!
If you win you get to choose the size you need, obviously: if you have a Jack Russell in a tiny cottage, then you'll probably not be wanting the jumbo sized option… We, on the other hand, had a Rottweiler; we would definitely have needed the Jumbo dog bed. Good grief that dog could take up some room!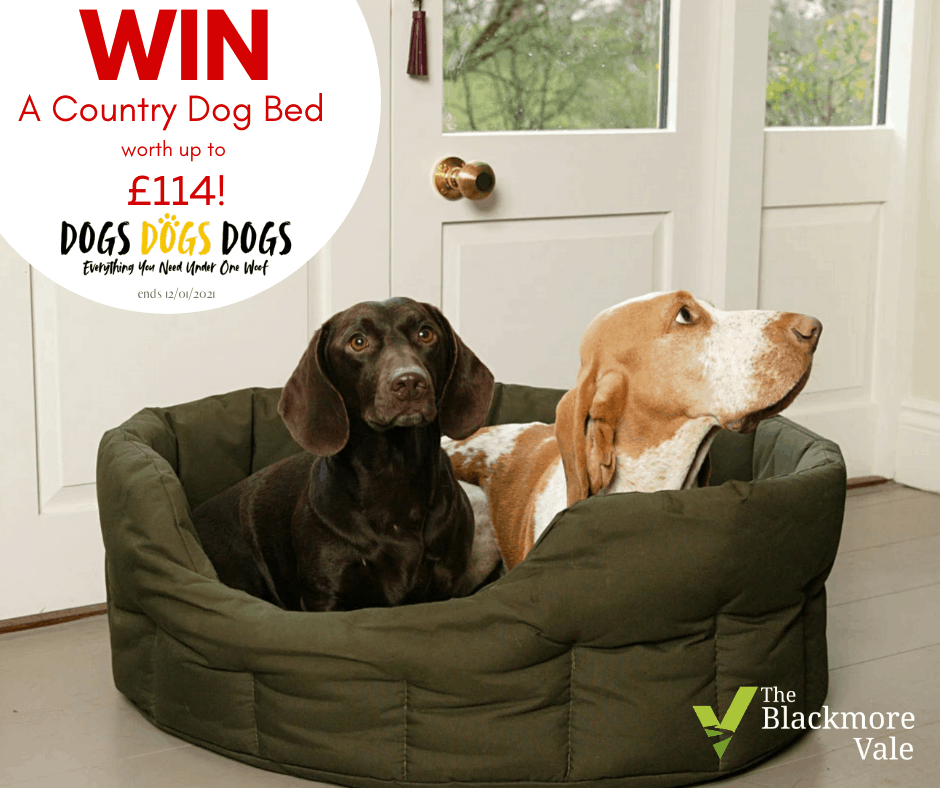 Dogs Dogs Dogs are a local company with a national reputation, with a website which is quite strict on its product range – naming it was a tricky one:

"After many hours thinking up names for the company they had a brainwave and decided on Dogs Dogs Dogs. It's a bit of a giveaway but they wanted to be sure absolutely no cats would get the wrong idea and visit their website. All of the products on here have been carefully chosen by the pair to suit DOGS and not cats."
And we're thrilled to be giving away one Country Dog waterproof dog bed – 100% Waterproof Dog Bed, heavy duty, thick and comfortable for one lucky winning dog to luxuriate in this winter.
No more uncomfortably damp and lingeringly smelly beds – you can just give this one a wipe over and it's good to go again, even if they clamber in straight after a long wet walk in January.
To be in with a chance to win, just answer the first four questions in the widget box below. There are more chances to win by completing the other entry options if you so wish – they're entirely up to you! The closing date for this competition is 12th January 2021 and only entries received on or before that date can be included. The prize will go to the first randomly chosen entry. Good luck!
(competition opens when the December issue of the magazine publishes on the 4th December)
Win a Country Dog Heavy Duty Oval Waterproof Bed worth up to £114