The Plough at Manston is run by husband and wife team Peter & Karlene.

How did you end up at The Plough?

I had worked in hospitality in the Caribbean for the last thirty years and it was time to return home. Both Karlene, my wife, and I love the hospitality business and wanted to continue to be involved in it. My family was from Devon and I was born in Salisbury, so the South West was a natural place to look for an old Country Pub to restore and run. After much searching we found the Plough at Manston and quickly realised that the location, the community and the building itself offered us exactly what we were looking for.
We arrived in December 2019 and after a few nights in the wonderful Tick Tock Cottage in Marnull settled into the newly delivered and locally made Plankbridge Shepherd's Hut, where we lived during the renovation and expansion of the Plough. We had hoped to complete the work and open the Pub before the end of 2020, but the project was delayed by the Covid lockdown and the discovery of the inevitable problems which will be familiar to all who have
worked on three hundred and fifty year old buildings.
Surprises included correcting a dramatically leaning West Gable, installing a sewage treatment plant, and filling an old well we found when digging the foundations for the additional dining area, the new kitchen and the bathrooms.
We are finally complete from a practical point of view, and plan to open on the 18th May in the evening. We have built a fantastic team and look forward to many happy years looking after the Plough's customers.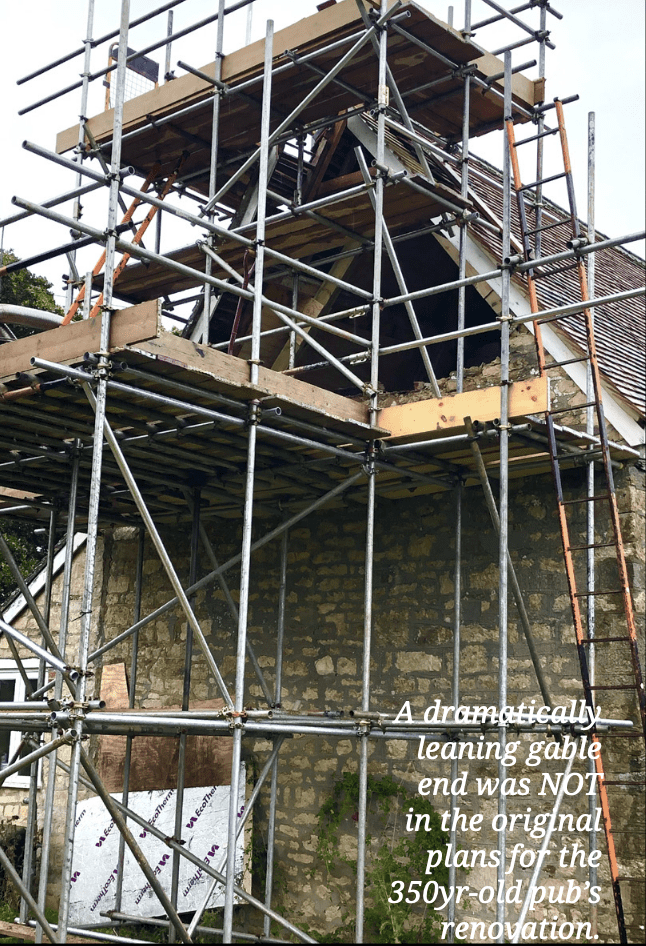 What are you most proud of?

That Karlene and I are still talking to each other after sixteen months in a Shepherd's hut!

Which part of the Plough is your absolute favourite?

That would have to be the Snug and the bar. We are very happy to have been able to make subtle, practical improvements to this area yet still retain the original features and character which will be so familiar to all those who made the Plough their local…
Karlene did a fantastic job achieving this. I am sure we will be learning about the Plough's history for a long time and hope to obtain copies of old pictures from people's photograph albums. It would be fun to assemble the pictures and stories into a booklet.
Which dish do you think will be your most popular?

I hope our Shepherd's Pie will be the best ever and we trust everyone will agree. But all our food will be freshly cooked and our menu planned to offer something for all appetites.

What's next?

The Shepherd's Hut will become guest accommodation and the old barn will be converted into a guest room. But most importantly, we will be getting to know the local community that has been so welcoming and supportive during this difficult time for all of us.

Future plans?

We want the Plough to become a favourite destination for classic car drivers, and will be offering discounts and other special offers, at certain times, to those who arrive in one. The definition of what is a car and what is classic being at the Landlord's absolute and sole discretion!