When nine year old Tim Medhurst's grandmother showed him a Victorian Crown coin she kept in a little music box, a lifelong passion was born.
As well as being a familiar face (and the youngest-ever expert) on BBC One's Antiques Road Trip, Tim runs Timothy Medhurst Coins and Antiquities, and also offers an Auctioneering Service for charity events, Fine Art, Antique, and General Auctions. He has worked for two leading auction houses, developing two successful coin departments from scratch.
What really excites Tim is the fascinating history and stories connected to the coins, antiquities and antiques he handles every day.
"Coins are one of the closest objects linked to social history; something in all people's pockets, in all periods of time. Imagine the stories they hold and the hands they have passed through. They are wonderful pieces of history in the palm of your hand."
1. What's your relationship with the Blackmore Vale (the loose North Dorset area, not us!)?
I am lucky enough to live and work in this beautiful part of the country.
2. What was the last song you sang out loud in your car?
I have become a fan of Country music in the last few years – admittedly though it was probably a Taylor Swift song that got me singing.
3. What was the last movie you watched? Would you recommend it?
I am more of a series watcher these days. The Last Kingdom on Netflix is quite something. I have always been fascinated with the Saxon Period, and this series brought it to life for me. I am sure it's embellished but thoroughly exciting! Highly recommended.
4. It's Friday night – you have the house to yourself, and no work is allowed. What are you going to do?
er…
(What happens if your work is also your hobby?)
5. Who's your celebrity crush?
Marion Cotillard.
6. What would you like to tell 15yr old you?
Keep on loving and researching antiques and coins, it will pay off!
7. If you were sent to an island for a year and could only bring three things, what would you bring
(the island is already equipped with a magical power source and a laptop)?
Wife (brownie points) 
a book on Anglo Saxon Sceatta coins. It's bound to be quite a read 
a Bear Grylls manual
8. The best crisps flavour?
Salt and vinegar by Two Farmers; delicious and most importantly plastic free!
9. And the best biscuit for dunking?
You know the thick chunky chocolate-covered sort-of hexagonal Fox's ones with a hole on the middle in a Christmas mixed tin?
Those.
10. What book did you read last year that stayed with you?
Wilding by Isabella Tree. It's the story of a pioneering rewilding project in West Sussex, using free-roaming grazing animals. It's a must-read, giving an optimistic view of what's possible if we re-think how we work with nature, giving it a chance and working with it again.
11. What's your secret superpower?
Telling the age of a book by its smell.
I am a bit out of practice, but it is true.
12. What was the best thing before sliced bread?
Bread that you can slice yourself into nice thick slices.
Having the choice of politely thin or a comforting thick doorstop depending on the mood is important.
13. Your favourite quote? Movie, book or inspirational – we won't judge.
Ernest Hemingway:
"The earth is a fine place and worth fighting for."
14. What's your most annoying trait?
I probably have many, you may have to ask my wife.
15. Chip Shop Chips or Home Baked Cake?
Chips, with lots of salt of course. I am a savoury kind of man!
16. What shop can you not pass without going in?
Other than every other antique shop in the country?
Sherborne Antiques Market on Cheap Street. Our good friends Phil and Craig have opened the Market this year and it is full of lovely old things.
(did you see our interview with Phil and Craig here?)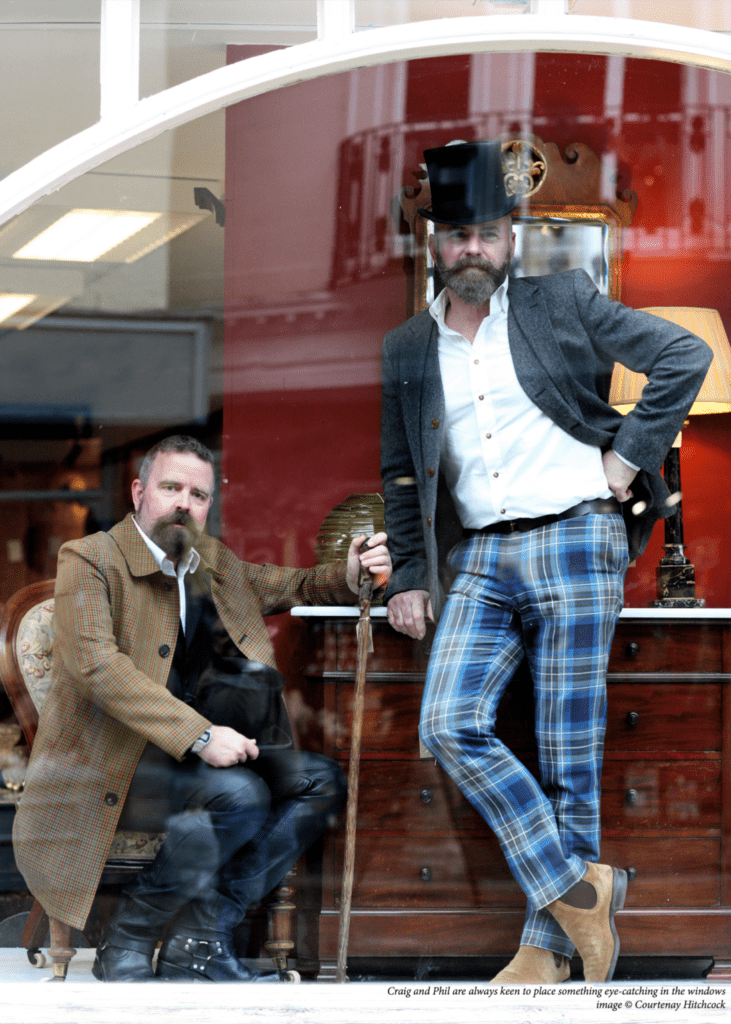 17. Your top three most-visited, favourite websites (excluding social media & BBC News!)?
17. What in life is frankly a mystery to you?
The need for so much waste.
19. You have the power to pass one law tomorrow, uncontested. What would you do?
Ban unnecessary mass production, including single use plastics.