An artist's life from fashion to ceramics – for more than 60 years, Sally Tuffin has been at the forefront of British design. By Fanny Charles
If you took a magical mystery tour that began in Swinging Sixties London, went to the potteries in Stoke-on-Trent and to a specialist pottery shop in Stratford-upon-Avon, you would not expect to end up in Somerset's hidden village of Shepton Beauchamp. The journey that began in the vibrantly exciting fashion scene of Biba, Mary Quant, Barbara Hulanicki, Ossie Clark and Foale and Tuffin was serendipitous – and serendipity has always played a big part in Sally Tuffin's life. It still does.
Now in her mid-80s, she continues to design for Dennis Chinaworks, the art pottery she and her husband Richard founded in 1993 – this year they are celebrating the 30th anniversary of the business which they run with their artist son Buchan at their home, Shepton House, in the tiny village near Ilminster. They bought the characterful Victorian manor more than 40 years ago, and now the house and its outbuildings house their various interests, including a glassworks and Richard's publishing business.
With their skilled team of potters and decorators, Richard and Sally create beautiful and unique vases, pots, bowls and teapots, with inspirations that range from tigers to penguins, from Greek myths to Elizabethan textiles, from traditional Japanese geishas to the Austrian artist Gustav Klimt, who was a leading light in the Vienna Secession movement.
Sally, who is not only still working but also learning Italian 'just for the joy of it', trained initially at Walthamstow Art School, where she met Marion Foale. They went on to the Royal College of Art, where their fellow students included David Hockney, Peter Blake, and Paula Boty, the outstanding female Pop Artist who died tragically young, aged 28. Sally and Marion recognised they were 'like minds' and decided they would work for themselves rather than for a company.
'We never thought about money,' Sally recalls.
After graduating from the RCA Fashion School, Sally and Marion started their design business, with a £200 loan and a sewing machine, in a rented bedsit. Their style was dressing down not dressing up, looking as if you hadn't tried too hard – a style that is still effortlessly cool.
They were trail-blazers at the start of an era that would see Britain become the youth fashion capital of the world, leaving the staid and male-dominated hot-house of haute couture in their wake.
Shoe designer Manolo Blahnik says the pair 'represented the revolution that was happening in London in the 60s.'
Foale and Tuffin rapidly became one of the leading design houses of the 1960s. In Iain Webb's book profiling the two designers, he describes them as 'two cocky, feisty, bolshy, arty, clever-clogs young women who at the beginning of the 1960s just happened to collide with fashion at the split second that they were needed.' You certainly wouldn't describe Sally in quite those terms now, but she is undoubtedly still feisty and very, very artistic.
Cloth for clay
It wasn't only clothes that got the Foale and Tuffin treatment – they were also commissioned to design the Sindy doll, England's answer to America's pink and perfect plastic Barbie. Sindy was, says Webb, 'the doll with the hippest clothes' but she was also 'the girl next door,' according to Marion, who knew that Barbie was too sexual for English girls.
After leaving London in 1972 and having a family, Marion went on to run a successful knitwear business for many years, but has very recently retired – after all, both women are in their mid-80s. They met most recently at the memorial service for Mary Quant, held in the Chapel Royal at Hampton Court Palace.
For three years after Marion left, Sally continued to run the fashion company, but, she says, 'it was lonely without Marion.' By now she was married to Richard, who at the time was an antiques dealer in Kensington, and they moved to Shepton House. In the mid-1980s, Richard got involved with the famous but ailing historic Moorcroft Pottery. They bought a share in the business and Sally became art director, 'substituting cloth for clay.' She showed the team how to use the pattern-cutting approach to design that she learned at art school, and also encouraged the designers to sign their own work.
Moorcroft once again became a success, and in 1992 Sally went on to work briefly at Poole Pottery, where her designs included a commission for a British Airways tailfin – Blue Poole was a beautiful collage of dolphins and seagulls.
In 1993 Sally and Richard set up their art pottery business at Shepton House. She says she is 'not a natural potter' and she was worried about the challenge of running a pottery.
Support came from the ceramics specialist Barry Thornton, who sells Moorcroft and other famous names at his Stratford-upon-Avon business. 'He told me, "Sally, if you make them, I will buy the lot." So I started making!'
She may not be a natural potter, but her designs and creativity have been central to the lasting success of Dennis Chinaworks, even in times of austerity and uncertainty. The business has 'grown like Topsy,' she says. 'There was nothing planned – there never was anything planned in our lives. It has just been serendipity.'
As well as their permanent small team, Dennis Chinaworks has a long record of training potters and designers. Sally says: 'We have trained about 20 people. Most of them have later gone off to do it themselves. I feel we have put back something of what I got from an amazing free education.'
She and Richard are also proud that their business has its succession in place with Buchan, who studied painting at art school. He is grateful to be able to work in the family business: 'I feel lucky to be in the arts and making a living. We weren't taught anything about business at art school.'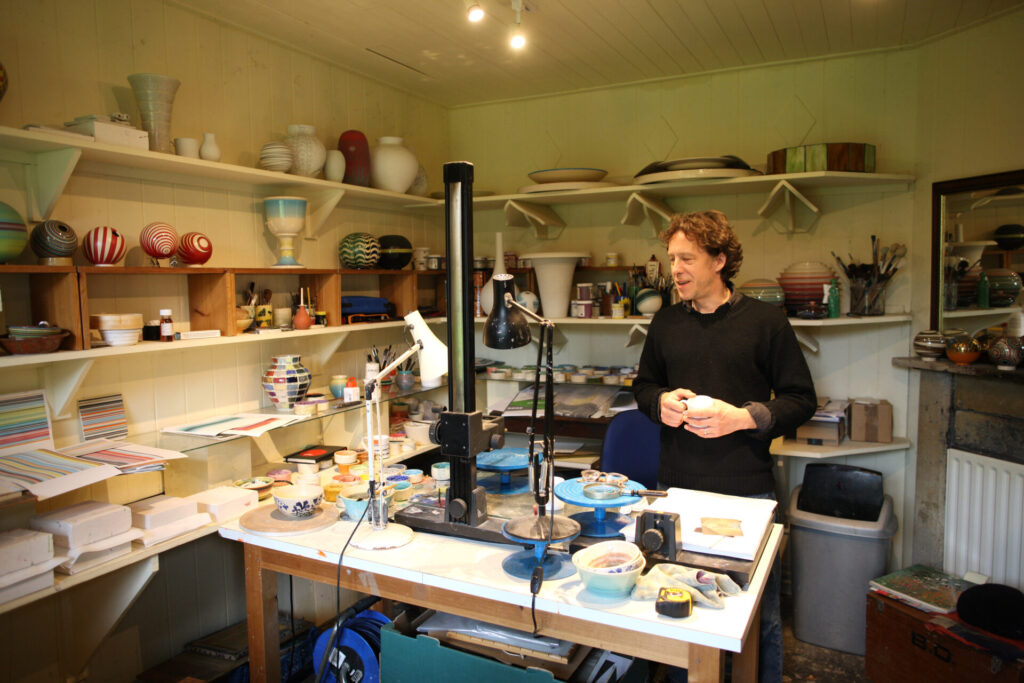 Unique commissions
Dennis Chinaworks has a huge archive of designs showing many influences, and is constantly producing new work, sometimes to commission. Most of the designs come from Sally's endlessly inventive imagination, with her vast artistic knowledge and particular love of late 19th and early 20th century Art Nouveau. Buchan is responsible for some of the more contemporary pieces with their vivid colour palette – look out for his distinctive horizontal rainbow stripes in particular. Occasionally, there have been pots, vases or plates by other artists – the quirky cartoonist Glen Baxter designed a series of six plates, featuring some of his best loved illustrations ('Uncle Frank would keep us amused for hours' with his saw and his sawn-off leg) and some Delft-blue style plates featuring exotica such as tennis played from the backs of an elephant and a tiger!
The very small and highly skilled making team includes the decorators Vanessa Thompson and Theresa Blackmore and potter Rory Mcleod. The pots are thrown and turned on the wheel. Colour is spun on the leather-hard earthenware and decorated by incising and slip-trailing the designs. Further colour is added using underglazes and natural oxides, then the pots are finished with a clear glaze. From beginning to end each pot is the work of a single decorator, and their signature joins the number, company name, date and thrower's mark on the base.
Hero, Titan and a teapot
The vases, bowls, boxes and dishes are bought by collectors and lovers of decorative pottery not only across the UK but around the world. The company has made commissioned work for galleries, museums and organisations and for individuals, as well as special sales or events, such as the British Art Pottery and Design sale at Woolley & Wallis's Salisbury showroom on Wednesday 29th November. For this important auction, Dennis Chinaworks has made three unique pieces, a tall square Art Nouveau style vase called Hero, a gloriously colourful Klimt-inspired Japanese teapot (below, right), and Titan, a lidded bowl with Buchan's distinctive fine horizontal stripes.

Other commissions have included work for the Andrew Lloyd Webber Collection (Royal Academy of Arts), the Pugin exhibition at the Victoria & Albert Museum, the Durer exhibition at the British Museum, the Cult of Beauty exhibition, also at the V&A, and the Duncan Grant exhibition at the Courtauld Gallery.
Richard Dennis trained with the auctioneers Sotheby's before establishing an antique glass and ceramics business, together with a publishing house producing specialist books for collectors. His business acumen has obviously been a key part of the success of the company, and he continues to run Richard Dennis Publications, publishing a wide range of art books, with a particular focus on historic and contemporary ceramics and pottery, including Moorcroft, Royal Doulton, Crown Derby, William de Morgan, Wedgewood, Midwinter and the Martin brothers, but also including jigsaws, cartoons, design, glass and furniture.
Richard also published 'Foale and Tuffin – The Sixties, A Decade in Fashion', Iain R Webb's portrait of his wife and her design partner, with contributions from leading figures of the period, including Jean Shrimpton, Terence Conran, Barbara Hulanicki and Manolo Blahnik and images from the top photographers of the day, including David Bailey and Helmut Newton.
And finally … a bit of priceless advice from a fashion icon. If you worry about the cost of a clothing item you want to buy, Sally recalls the Foale and Tuffin motto: 'Divide the price of the garment by the number of times you wear it.'
This year the Dennis Chinaworks Open Day will be two days: Saturday 2nd and Sunday 3rd December, from 11am to 4pm.