The rural day out is a celebration of community, countryside and tradition – and it's a feast for the eyes, ears, and taste buds!
While the livestock, pristine rows of tractors and huge farm machinery signal it is very much still an agricultural show, there's something about the Gillingham & Shaftesbury Show that is a lot more – even for those who have never set a wellied foot in a farmyard.
It's the sense of community and the passion for the countryside that make it an unmissable event in North Dorset's August calendar.
An eclectic mix that works
The G&S Show spans the generations, from a weather-beaten man giving a terse nod to a neighbour to an excited child leading a calf into the Main Ring for the first time.
Small children in long white coats carefully lead sheep around a ring, seemingly not bothered by the crowds. Others trot ponies through their paces or help parents feed and brush livestock.
Over in the marquees, perfectly-shaped vegetables compete alongside glorious dahlias in a riot of colours as inspirational flower arrangements filled the horticultural tent.
Fresh eggs are presented on plates, once again sadly unaccompanied by their feathered producers, thanks to Avian Flu. Wander into the Wool Village to see sheep being shorn while you learn about the value of British wool.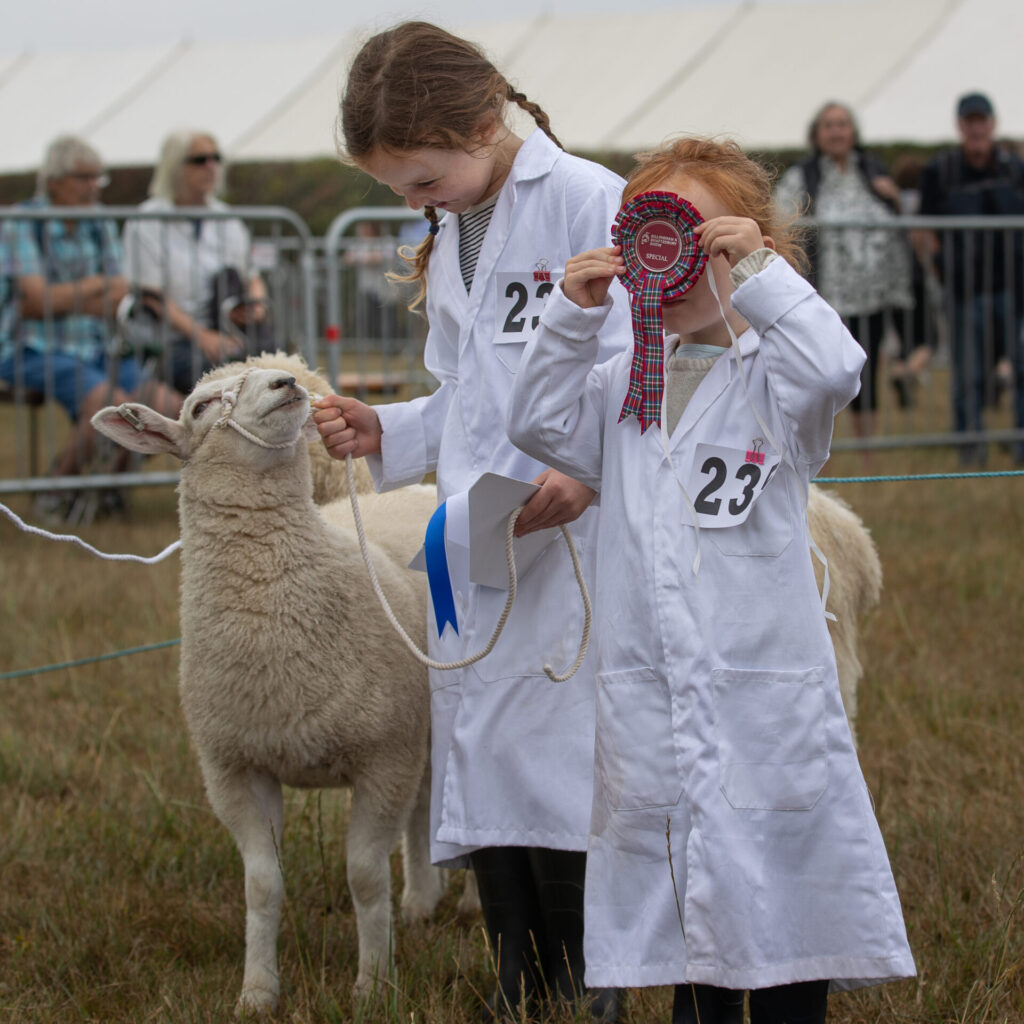 Steam to ferrets
The adrenaline will be pumping this year with the headlining SquibbFreestyle Motocross Arena Stunt Show in the Gritchie Brewing Co Main Ring.
And over in the Turnpike Ring, laughter always signals when the ferret racing starts – the furry creatures race down drainpipes, and it's tails out first, not the nose, that wins!
The speed of the Shetland Pony Performance Display team is something to see as they hurtle around the Main Ring – hugely entertaining, it's worth finding a seat to stop and watch them.
And the Terrier Racing is unmissable – regulars aren't there for the dogs so much as for Harold Galpin's commentary.
Over in the steam section there always seems to be someone working on the engines, polishing and making sure the paintwork was gleaming. And what a joy it is to see them rumbling into the Main Ring for a circuit or two.
A Grand Parade
The relaxed atmosphere of the day is at times juxtaposed with the strictest formality. Bowler hats in the judging ring, elegantly dressed ladies driving carriages, and pristine white-coated families leading livestock. Some things at the G&S Show have never changed.
Last year the Grand Parade made an important and oh-so-welcome return after a 15 year absence, and it's back to stay – we strongly suggest you don't miss it, 3pm both days.
And eyes to the sky on Wednesday morning when the Lightning Bolts Army Parachute Display team will land in the middle of the show.
All the Food
It's at places like the G&S Show that you realise just how much food and drink is produced in the towns and villages of Dorset. From local beers to the gin distillers' botanicals there's a drink for everyone. And you certainly won't go home hungry – expect hog roasts and ice cream stalls, endless choices at the fudge stand, local sausages and world foods. Make a picnic from tasty salami, a mountain of regional cheeses and there'll be plenty of local bread and cakes.
The great thing about the G&S Show is that you never know who you might meet as you make your way round. You may bump into old friends and colleagues, and for generations of local farming families it's a regular annual get together.
And if you've never been before, be aware you'll soon be marking the third Wednesday in August on your calendar every year!
Quick show tips:
Advance ticket prices end on 15th August:
Family (2 Adults & 2 Children): £38
(Gate price £43)
Adult: £17
(Gate price £19)
Child (aged 5 to 15): £3
Under 5's go FREE!
BUY YOUR TICKETS HERE
Gates open at 8.30am on both show days. They close at 8pm on Wednesday 16th, and at 6pm on
Thursday 17th August.
Be sure to download your ticket in advance – data signal on show days is always very limited!
The free shuttle bus runs between both Gillingham and Shaftesbury and Turnpike Showground.
Stops will be Lodbourne Roundabout and High Street (by the old Co op) in Gillingham and on Bell Street, Shaftesbury.
Polite dogs are of course welcome – they must be on a short lead, and NO dogs are permitted within the livestock areas, or in any marquees.
Bring a picnic! There are three designated areas for picnicking – we just ask that you don't sit too close to marquees, so as to not block any emergency exits.
Save on plastic – bring your water bottle to the Show! Drinking water points sponsored by Battens Solicitors will be available around the Showground, and will be marked on the map.