On the first day of his first archaeological dig, CPRE's Rupert Hardy made a major discovery and uncovered a sad mystery
'As I carefully scraped away with my small trowel, I became aware that what I was unearthing looked very like a human skull…'
I have written about prehistoric Dorset but was aware I had never actually got my hands dirty doing a 'dig'. So I signed up as a volunteer for the Durotriges 2023 Big Dig organised by Bournemouth University, to spend a week excavating the Iron Age site on downland at Winterborne Kingston. I was one of 15 to 20 volunteers working alongside more than 60 students, all of us armed with just a tiny archaeological trowel and a kneeler. There were also more than a dozen staff from the faculty, all unfailingly helpful and keen to share their knowledge.
On the first day, after the obligatory introductory talks, we set to simply cleaning the chalk site. On the second we were allocated a pit or trench to dig. That second morning was rather disappointing – I watched other people's 'finds' trays filling up with fragments of pottery, shaped flints and animal bones, while mine stayed sadly and resolutely empty.
Little did I know my luck was about to change.
About seven inches down from the surface I found a large fragment of pottery. On examination, its cross-hatched decoration suggested the Bronze Age, rather older than the Iron Age fragments others were unearthing. A few inches deeper still, I found not more pottery but what looked very like part of a human skull …
The passing supervisor got very excited and suddenly my storage pit became the centre of attention on the site (I'm keen to point out this was not down to skill – it was pure beginner's luck of course!)
The body with a pot
Progress slowed somewhat – dealing with human remains requires dignity and respect, as well as considerable record taking, with much input from bone specialists.
We made drawings and then I worked with Shelley, a mature second year student, using wooden tools and brushes rather than metal trowels to gently prise away the earth from the fragile bones of what was clearly emerging – a full skeleton buried in a foetal position, with a good set of teeth. Their fragility meant the bones could not be lifted. Alongside the body we discovered a large pot, containing the incinerated remains of a young child.
There were no signs of jewellery or weapons – this was no rich tribal leader. Rough estimates suggest the date as around 1,800 BC, but this will be confirmed later by DNA testing.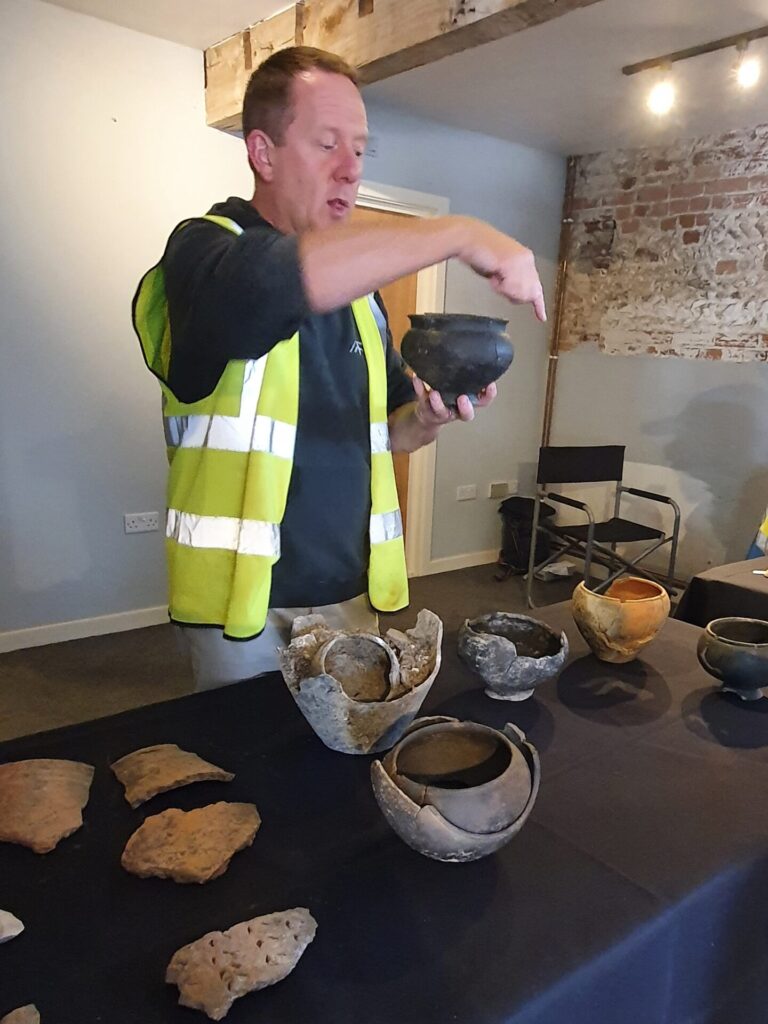 The other finds
Finding a skeleton in such shallow ground is clearly a rarity. Others spent the week digging out storage pits and trenches as deep as two metres – they needed to wear helmets for protection from falling rocks – and were finding sheep skeletons, cow heads, a copper brooch, chalk spindle whorls and a virtually-intact Iron Age pot. The animal remains were not there just for food, they were possibly offerings to the gods. Mine was the only human skeleton discovered that week, although there was another, found in last year's dig, was being excavated. Five were found at the site in 2022. More will probably be discovered later as the digging gets deeper. Apparently last year the team found hundreds of frogs at the bottom of some pits, suggesting the climate was somewhat wetter than today when the nearest watercourse, the North Winterborne, is nearly a mile from the site, and doesn't flow at all during the summer.
The Durotriges Project
Established in 2009, Bournemouth University's Durotriges Project is a programme of archaeological fieldwork designed 'to investigate the nature of the native cultural footprint and objectively assess how Britons and Romans interacted'. Investigating the prehistoric and Roman societies of central southwestern Britain, The Durotriges Project is studying the role that Dorset's ancient Iron Age societies played in networks of production, exchange and communication with the rest of Britain and mainland Europe. The main focus of excavation began at a number of sites to the north of Winterborne Kingston near Bere Regis.
Of all the Iron Age tribes identified from pre-Roman Britain, the Durotriges were the most culturally distinct. Occupying an area that equates with modern Dorset (one of the best-preserved archaeological landscapes in Britain), with parts of southern Wiltshire and Somerset, the pottery, coinage, settlements and burial practices of the Durotriges clearly mark them out from other tribes.
The project was a chance to move away from the traditional interpretation of historical events, with the Durotriges actively resisting the Roman invasion of AD 43, before being defeated in a series of battles, and their culture and identity being subsequently eradicated. Instead, it aimed to discover whether a more rigorous examination of the archaeological data could throw light on the true nature of later Iron Age society, both before the arrival of Romans and its evolution afterwards.
One of the most significant discoveries was in 2015 when a major Iron Age settlement of 200 pre-Roman houses was found, dating from 100BC, and named Duropolis after the tribe. Dr Miles Russell from Bournemouth University says: 'There was nothing on the surface, just ploughed land. It was a town with a large, dense population and a lot of organisation.'
It may have been the first planned town in Britain, and its presence on open unprotected downland underscores the view that the Durotriges lived a relatively peaceful life then, with no need to live in the hillforts which were increasingly being abandoned before the Romans arrived. Other excavations have uncovered an Early Bronze Age cemetery, Later Bronze Age and Early Iron Age settlements, a Middle Iron Age enclosure and a Late Iron Age burial ground and settlement, as well as a Roman villa and cemetery.
There was a Public Open Day on this dig on 2nd July.
Rupert Hardy,
Chair North Dorset CPRE