They look glorious in a vase, but flower farmer Charlotte Tombs is also learning how our garden flowers provide for the table too
Flowers that you can eat! Perfect in my book – and if you grow your flowers from seed, you know exactly what's on them. For me that means I know there's no pesticides and no nasties … but perhaps the odd greenfly …
Do note, there are many edible flowers and, as with all foraged food, you do need to be 100 per cent certain what it is that you have picked!
Most people know about the common garden nasturtiums – they are deliciously peppery in flavour. The flowers look wonderful on a plate, and you can add the leaves to a salad or make them into a pesto. The seed pods stored in vinegar can be a replacement for capers.
Calendula petals are also slightly peppery and can elevate a green salad into a work of art (calendula is also used for its herbal properties, made into soothing balms and lotions).
Cornflowers have a peppery-clove aroma with a mild sweet spice flavour – add them to a salad, and they are also delicious dried and used as a tea.
Violas are probably one of my favourites to add to a green salad – with their little faces they just look so pretty!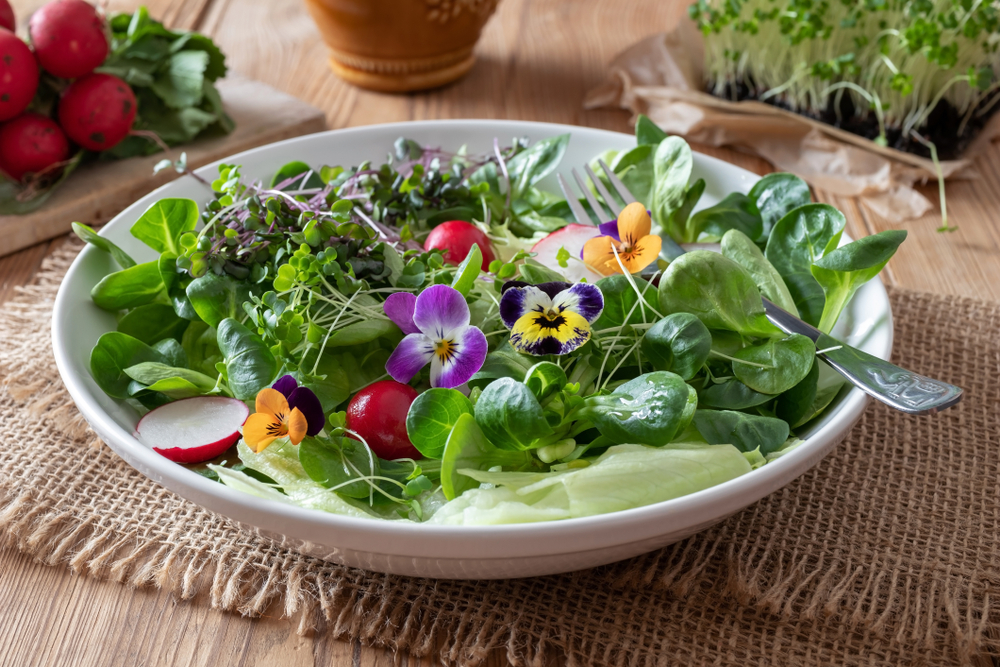 For years chefs have used lavender to flavour sugar; my mother used to make lavender shortbread and there was always a jar of sugar with lavender heads in the larder. From personal experience I can confirm it is not very nice on your cornflakes in the morning!
Geranium flowers can also be used and the flavours tend to correspond to the scented leaves. Lemon geraniums are wonderful: try sprinkling them over cakes, they make an unassuming lemon drizzle cake oh-so-glamorous.
Chive flowers, coriander flowers, basil flowers … they can all be eaten. In fact, there are so many that once you start Googling, the list feels endless. I've just seen that dahlia tubers are edible, as are the flower petals. I'll let you know how I get on with a tuber!
Charlotte offers workshops throughout the year – please see northcombe.co.uk for further details.