Edwina Baines visited the Sky Arts' Landscape Artist of the Year 2023 finalist to learn more about her work
Her son's secret submission of Helen Lloyd-Elliott's Dorset landscape painting Summer Haze catapulted her into the popular television series Sky Arts' Landscape Artist of the Year 2023 contest. In each of the first six episodes, eight artists competed, choosing their preferred medium, to create a plein-air painting in just four hours. Throughout the day the judges assessed progress and chose who would advance to the semi-final. The overall winner, Finn Campbell-Notman, won a £10,000 commission from the Royal Museums Greenwich.
Round one
For Helen's first episode, the artists painted the beautiful landscape around Strangford Lough in County Down, NI – it's the UK's largest sea loch and one of Europe's most important wildlife habitats.
When Helen landed in Ireland she not only discovered that her driving licence was out of date, but she had left half her painting equipment on her Dorset kitchen table. A kind local taxi driver drove the now-panicking Helen to his friend's art shop, which opened up just for her to buy what she needed.
She found that first experience of television fascinating, if not a little daunting. She had to get used to painting with a camera constantly over her shoulder while the producer and presenters asked questions. However, the subject matter – full of soft greens, duns and greys – happened to suit Helen's style and palette and she was a worthy winner.
The barrier
For the semi-final, the artists were challenged to capture the Thames flood defence barrier. Again, Helen triumphed with her sensitive oil painting of the iconic piece of engineering. The three finalists – Helen, Stefano Ronchi and Finn Campbell-Notman – were then taken to Dungeness in Kent, one of the largest expanses of shingle in Europe. It is internationally recognised and protected as a site of conservation and special scientific interest.
Each artist had a different view-point and was instructed to produce a landscape. Instead of the previous four-hour time limit, they had a week at home to complete the paintings.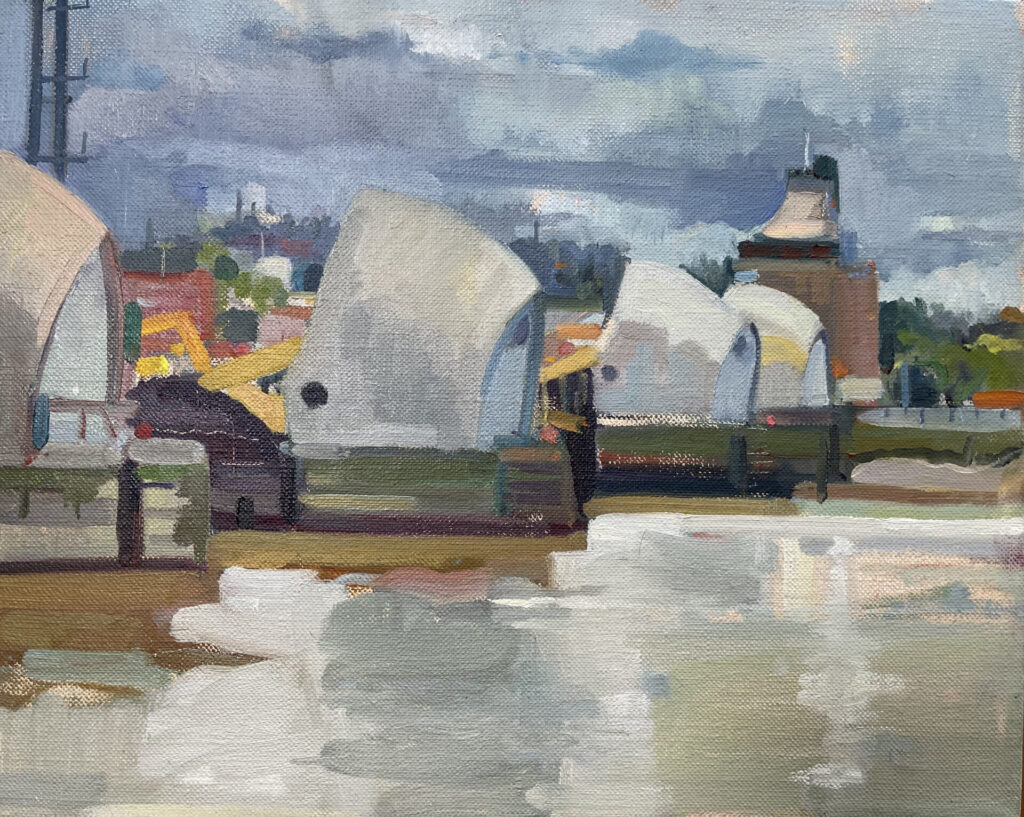 Helen was given an area of industrial fishing shacks and boats which did not immediately appeal to her.
Instead she chose an inland view with, as the judges said of the painting, "a glorious sky".
'I would never have normally painted that landscape but it ended up being my favourite location. I'm now planning to go down to Cogden Beach near Burton Bradstock to paint the sea kale, which is becoming increasingly rare around Britain's coasts,' she said.
The final was battled out on a hot summer's day at the Italianate Welsh village of Portmeirion.
'It was like being on a film set … totally discombobulating and mad … magical and strange,' said Helen. Painting with such a large audience around her was somewhat distracting and one of the hosts, Stephen Mangan, kindly bought Helen an ice cream to cheer her up when she felt the painting wasn't going well!
Judge Tai-Shan Schierenberg said of her work 'the way she places colour makes me think of music'.
Despite not winning, Helen enjoyed being pushed to do something different and was thrilled to get so far in the competition. She said: 'Everyone was really kind. It just didn't
feel competitive.'
Finn and Stefano remain friends and will be visiting Helen and staying in Dorset this summer.
A muralist
Helen was brought up in the London suburbs. Art was her favourite subject at school, so she followed the natural progression to a foundation course. However, like many others she was hesitant to follow on with a Fine Arts degree and instead studied Anthropology and Geography at university.
After graduating, she returned to her first love of art and began work as a muralist, painting shop fronts, salon walls and ceilings. She and a friend took a year's contract in Hong Kong to work as assistants to a muralist and wallpaper painter – and they ended up staying for eight years, setting up a company, gilding and painting large-scale murals in hotels such as the Mandarin Oriental and working as far afield as Taiwan, Shanghai, Cambodia and India. Eventually moving back to England, Helen worked as an artist's assistant, painting cruise ship murals and massive ceilings in dry docks in Finland and Germany. In her mid-30s, Helen completed a portrait diploma at the Heatherley School of Fine Art in London.

Marriage, children and a move to Dorset meant a necessary change to painting local landscapes, as well as commissioned portraits, from her converted stable studio near Chard.
Helen was completing several paintings when I visited, from portrait commissions to huge charcoal landscapes. Although most of her work is in oil, she enjoys charcoal work as much as colour and will sketch with charcoal, finding it much more forgiving than pencil. The unfinished portrait of her husband Martin demonstrates Helen's keen powers of observation – painted in just an hour.
A main palette of yellow ochre, ultramarine, cobalt blue and raw sienna were evident in her studio, though she admitted that 'sometimes cobalt turquoise or magenta is added to the mix.' Preferring to work without distraction from emails and the telephone, Helen will paint from early morning until the evening. 'It's better when I have a really long stretch.'
The day will be broken for walks with spaniel Rosie or plein air painting before a welcome return to the studio.
'The alchemy of painting is quite clever. You put one thing next to the other and you're sometimes surprised how it works out.
'Ultimately I just enjoy colour. I just enjoy painting.'