Dorset's ancient hill forts may offer stunning views to their thousands of visitors, but they bring a challenge for farmers. By Andrew Livingston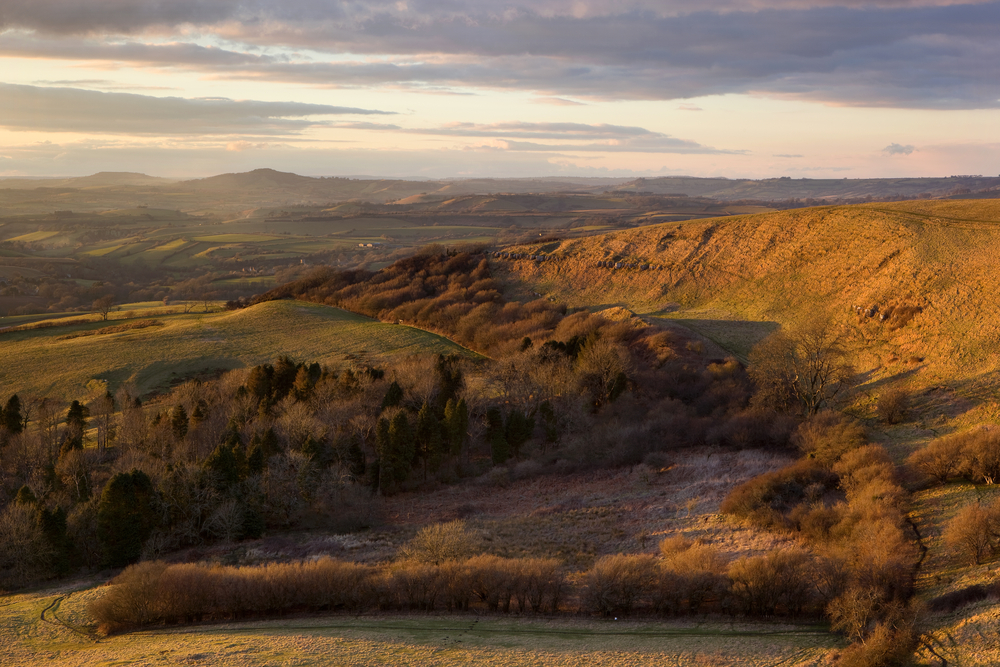 With the King's Coronation, the month of May this year has three Bank Holiday Mondays. Many will spend these days in the pub, some will head to the beaches … and a lot will flock to visit some of Dorset's most famous landmarks – the hill forts.
Dorset's hill ranges were once home to Iron Age settlers who built on the high ground to defend against invaders. These landmarks are popular with visitors –usually offering easy access, stunning views and an opportunity to connect with Dorset's ancient history.
The hills are farmed as they have been for thousands of years. As the weather improves, more and more locals and tourists will visit the hill forts – but, like those earlier invaders, they can be unwanted guests for the farmers.
'It's a hard piece of land to farm,' says Cameron Farquharson, the tenant farmer of Eggardon Hill. 'When we had that Beast from the East, we had about a metre of snow because of the drifting. You just couldn't get to animals, and for us, it was a nine-mile round trip. Eggardon is a complete nightmare.'
Eggardon Hill, just off the A35 between Bridport and Dorchester, could lay claim to the best hill fort views in the county. However, the combination of its 252-metre elevation above sea level and the steep land decline toward the coast might create staggering vistas – but also means that it's entirely open to the elements.
'You've always got a wind. Even on the hottest day, ' says Cameron. 'Last year we were having temperatures of 40º but there was always that breeze – it was like roasting in a fan oven!'
Gladis's Law
Archaeological work in the 1960s on the National Trust site revealed burial mounds (also known as bowl barrows) that date back as far as the Bronze Age. For visitors, the attraction at the top of Eggardon Hill is the Iron Age earth ramparts that are still visible.
''Obviously no machinery is allowed to work on that particular piece of ground and animals have to graze it in a certain way. The cows are on it spring and summer and then we have the sheep up there from October through to 1st March.'
For 16 years Cameron has run his sheep and Highland Cattle over Eggardon Hill, and during that time he acknowledges his single biggest issue has been with the general public.
'We've always lost sheep to dog-worrying – we used to lose maybe three or four sheep a year to it. But the winter just gone, I've lost 23 sheep and ewes that were in lamb. The year before that we lost 17 and the year before that we lost 19. My losses have suddenly grown since lockdown.'
Cameron has been vocal in the media since one of his Highland cows died due to dog worrying in 2021.
'Gladis hit the national headlines. She was chased by dogs – two Labradors, so witnesses said – and she went over the top of the embankment. Of course, she went down, heavy in calf, and broke her neck.
'That's the next step above the sheep; there's always problems but there has never been an issue with the cattle before.'
Since then, Cameron has been campaigning for the laws to be changed to ensure dogs are kept on a lead when in fields with livestock. The Bill is currently being discussed in Parliament and Cameron hopes it will shortly pass into law.
A human problem
Unfortunately, dogs aren't the only problems on Eggardon Hill.
Cameron and his family have also had issues with members of the public – predominantly, in his experience, with older people, who, he says, are often 'disrespectful towards the ground and the livestock.
'We've had walking sticks smacked over our quad bike, smashing the light. We've been spat at. We've been sworn at … not just me, it's also aimed at my children.
'I love Eggardon Hill. It's very similar to where I grew up in Scotland, a rugged, rough piece of ground. But at the end of the day, I can't afford to farm it when it causes these losses and this much trouble.
'If I could find another piece of land in Dorset, I'd be gone,' he says.
The badges
North-east of Shaftesbury, in the small village of Fovant just over the border in South Wiltshire, there is an iron-age fort, like Eggardon, that would once have been home to a settlement. Chiselbury Camp hill fort is more than 10 acres in size, 200 meters above sea level.
Chiselbury, however, is not the landmark that visitors come to see on this hill.
As you drive on the A30 between Shaftesbury and Salisbury you will see the peculiar sight of large regimental badges carved into the hill chalk. The badges were initially created during WWI. Soldiers were garrisoned in the fields outside the village in 1916, and they carved their own regimental insignias into the hillside as they waited to go to France to fight.
Twenty badges originally stood on the hillside, and nine remain today. Every year, a Drumhead Service is held there on the closest Sunday to the 1st July – the first day of the Battle of the Somme in 1916.
Edward William's family have owned East Farm, whose land includes Chiselbury Camp hill fort and the badges, since 1961. He explained that the badges were recently classified as ancient monuments.
'They're looked after and maintained by the Fovant Badges Society. But as they are now classed as ancient monuments they are ultimately in the hands of English Heritage. No one is allowed to touch them, even for maintenance, without detailed permission from English Heritage.
'Fovant Badges [Society] have a rolling contract for their upkeep. They'll submit their plan for which badges are to be cleaned or re-chalked, and English Heritage has to approve it before any work starts.
'We just run cattle along the side of the downs – it's too steep to do anything else with it. If you walk on the footpath through the badges they look like nothing at all. Each one is about half to three-quarters of an acre. When they re-chalk one – every three or four years –they need to transport 30 tonnes of chalk for each one.'
The badges are maintained each year in June, in preparation for the Drumhead Service, at a cost of £30,000 a year to the Society.