Sherborne Abbey played host to a magnificent evening celebrating student success as The Gryphon School held its annual prize giving ceremony for last year's Year 11 and Year 13 students.
More than 100 students received awards during the evening, and the Abbey was full to capacity as parents and family joined the students to celebrate their achievements.
The awards were presented by Colin Sinclair, CEO of the Sherborne Area Schools' Trust, of which The Gryphon is a founding member. Students performed a number of musical interludes, including Josie W. who sang a solo, Holly M. who played a flute solo, and Esme E. on piano.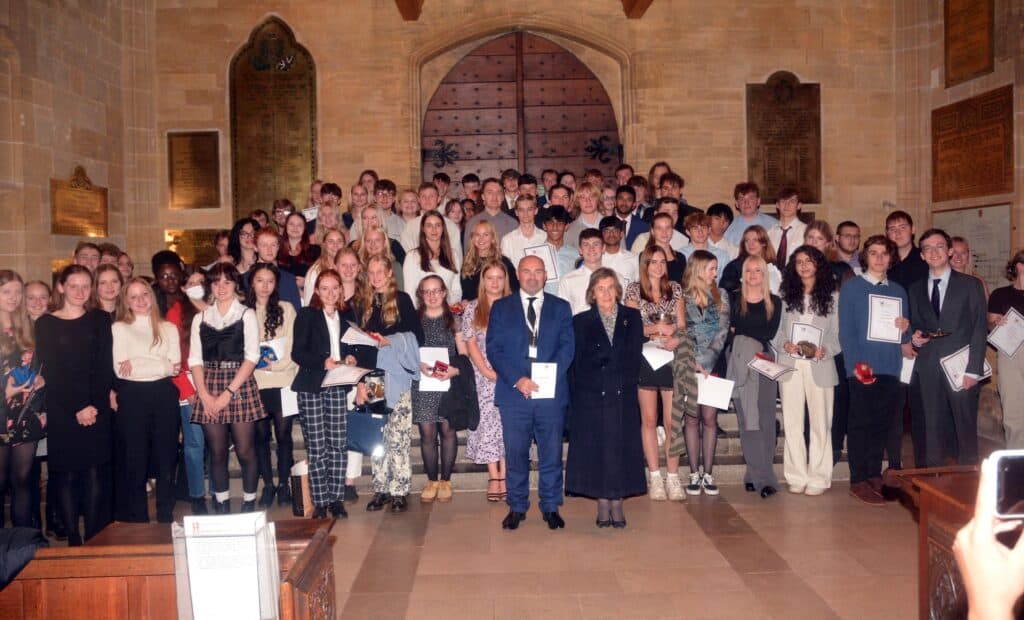 Not just academic excellence
A huge range of achievements were recognised in the ceremony, including awards for subjects, academic achievement, contribution to school life, and personal achievement where students have excelled despite difficult circumstances.
The Year 13 students have now left The Gryphon to take their next steps and Head of Sixth Form Paul O'Donnell said 'It was fantastic to see all our amazing Year 13 students again – they performed utterly superbly in their A levels and BTECs and this was just a small way for us to say well done. It is fantastic to see students going on to such a wide variety of courses and locations at university, apprenticeships in really varied fields, or taking a gap year before progressing onto further study. The results were superb across the board, but the fact that so many students achieved straight A* and A grades was unprecedented. Aidan Hoggan, Bella Whitmore, Lucy Jones, Oliver Barrett and Katie Copp even went a stage further and achieved three A* grades. All our Year 13s have been a credit to the school and I look forward to hearing about their many successes in the future'.
Special atmosphere
Headteacher Nicki Edwards said 'Our annual prize giving is a true celebration of our Gryphon ethos of living life in all its fullness. The atmosphere in the Abbey is so special, and we were delighted that so many students joined us as we recognised their academic achievements and personal progress. We would like to thank Sherborne Abbey for their support in delivering this truly memorable event for our students.'