Edwina Baines visits equestrian artist Katie Scorgie in her Dorset studio to discover her intriguing change of direction
Many thousands of years ago, cave art provided some of the earliest depictions of the horse. Although these wild animals were probably hunted for meat, once horses began to be domesticated their likeness also appeared in Egyptian, Roman and Greek art, their anatomy and movement being studied in detail.
The numerous rough but exquisite sketches of horses produced by Leonardo da Vinci have a magical lifelike quality, and his perseverance to capture detail shows the challenge of the subject matter.
Horses move so quickly that many early artists struggled to understand and depict the different gaits; George Stubbs even dissected a series of horse carcasses to greater understand their anatomy. However, in 1878, pioneering photographer Edward Muybridge took a series of images of a rider on a galloping horse, the photographs confirming that, at the gallop, all four hooves may simultaneously be off the ground and not extended – as sometimes depicted in earlier paintings.
In order to convey the accuracy and beauty of a galloping horse, I believe one must have a passion for the animal – and artist Katie Scorgie has spent most of her life surrounded by horses, riding from an early age.
A horse-mad secretary
I interviewed her at her home in the old Blacksmith's Forge at Hinton St Mary which is also her studio. The rough-hewn stone walls were lined with studies of racing and military horses, polo ponies, dogs and the occasional landscape. Through Katie's accurate drawing and fluent handling of the paint, each scene is brought vividly to life.
Although she is known as an equestrian artist, I would hesitate to label Katie as such. During our long and wide-ranging conversation, it became clear that she is seeking to emerge from that description.
As a little girl I too was fixated on ponies; as a six year old, I shared the same excitement for her weekly riding lessons that Katie describes: 'My mother had always loved horse racing and my parents had shares in racehorses right up to the present day – even though my mum is now 90! It was her dream to have horses, so perhaps I was fulfilling her wishes. We had a Connemara pony and a cob when my father retired and we moved to Dorset. Horses are quite spiritual. Touching a horse is therapeutic. It's like a comfort blanket.'
Although she applied to art college, Katie ended up doing a secretarial course before working for the Jockey Club and in the City for several years, returning to Dorset at the weekends to team chase on Coriander, her mare. She managed to buy a flat in London with her sister, but her passion for riding continued; she started training as a point-to-point rider and ended up spending seven seasons in the saddle, notching up a win and some sound results. What better way to study the action of a galloping horse?
Art rediscovered
In her late twenties Katie moved out of London and began to reconsider the future. It was a turning point in her life and she told me that when anyone talked about art: 'I would get a knot in my stomach because I knew I should be painting. I had neglected any drawing during my time in London. But I realised that the time was right and finally I decided to go to art college. I was offered a place at the University of Plymouth in Exeter. I was the only student to have a pet racehorse! Although I was mainly painting landscapes at that time, in my final year I worked on some atmospheric monochrome images from my racing days.'
After graduating, Katie sold her London flat and was able to buy a cottage in Hinton St Mary where she continues to live and paint. However, with two teenage daughters, an ageing mother in need of care, two horses, a dog, a cat and a household to run, life is a constant juggling act. Understandably, these numerous commitments sometimes keep her away from her work which is why she says: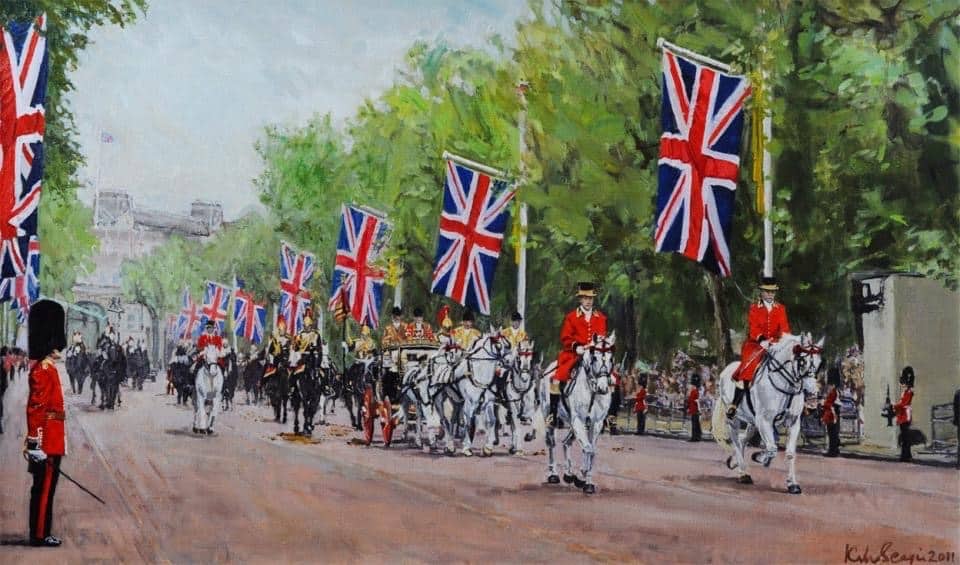 'I love a deadline which forces me to put one foot in front of the other and make my way to the studio.'
Additionally, Katie runs life drawing classes on the last Friday of every month at Marnhull Village Hall. Recently she even welcomed a work experience pupil from Sturminster Newton to join her for several days to absorb life in a professional artist's studio.
The Household Cavalry
The Forge is open daily for visitors and Katie has recently taken part in the successful Dorset Art Weeks. Much of her work comes from commissions of landscapes, equestrian-themed work and dogs. Several years ago she was lucky enough to be introduced to the Commanding Officer of the Household Cavalry Mounted Regiment. She was then able to visit the Hyde Park Barracks as an artist in residence, culminating in an exhibition at the Barracks, attended by 'a smattering of royalty!'. A series of prints from this time has proved to be popular – especially since the Platinum Jubilee celebrations.
Back to the land
Katie went on to explain: 'Recently I am beginning to feel more drawn to the landscape. My style lends itself to the freshness of plein air painting and I want to do more of that. I have recently returned from a three-day, action-packed working holiday in Lundy, gathering material for a series of paintings which I have been asked to complete of this beautiful place. I loved it there, it's so remote. I walked a great deal and made lots of sketches. I am hoping to return to Lundy as this type of work has given me immense satisfaction. When people look at my work, I want them to think they could be there in the moment and enjoy the painting in its own right.'
Kate's affinity with horses will always remain – but the dramatic skies, spontaneous brushstrokes and freedom of expression in her recent landscape work will perhaps mark an intriguing change of direction.
Katie's studio is usually open on weekdays between 11am and 3pm, and by appointment.