A favourite spring flower is a surprise stop this month, and expert Carl Mintern has the real reason for those pucker-up sour blackberries right next to the sweet ones
Those of us with younger children will be only too aware of the need to fill voids created by the school summer holidays. And what better way to occupy them than with excursions out into the vast array of public footpaths and woodlands that surround us in the Blackmore Vale? And if it's your own free time that needs filling with something healthy and rewarding? Well, the sentiment stands! We spend so much of the year here in the UK dreaming of what we will do in the heady days of summer – let's not let it slip past us without really making the most of the opportunity a little sunshine and and open space afford.
Back to the elder
I want to start this month by revisiting a plant I discussed last month – the elder (Sambucus nigra). If you took my advice in July, you have already harvested the flowers and are no doubt sipping on some delightful homemade elderflower cordial while reading this edition. Well, now we return to this bountiful plant for our second elder shopping trip of the season – to harvest the berries.
As stated last month, elder is one of the most abundant hedgerow harvests we have, with many landowners opting to use it to form the hedges that border our country roads. As a result, Elderberries are extremely abundant and very easy to find.
They can be used for jams, jellies and crumbles but these juicy, sweet berries can also make liquor and syrups (our nutritionist Karen Geary shared her recipe for elderberry rob
bomb' and suggests taking a daily spoonful during cold and flu season – Ed).
Used for millennia, the elderberry's distinct flavour can also make a simple puree to serve with meats.
Be aware that all parts of the elder are mildly toxic when raw, so be sure to cook them, (please see last month's column for my slightly extended thoughts on this). Elder trees have feathered leaves that grow in opposite pairs along the stem with a terminal leaf. The berries are deep purple and formed from the same sprays of flowers we target earlier in the year.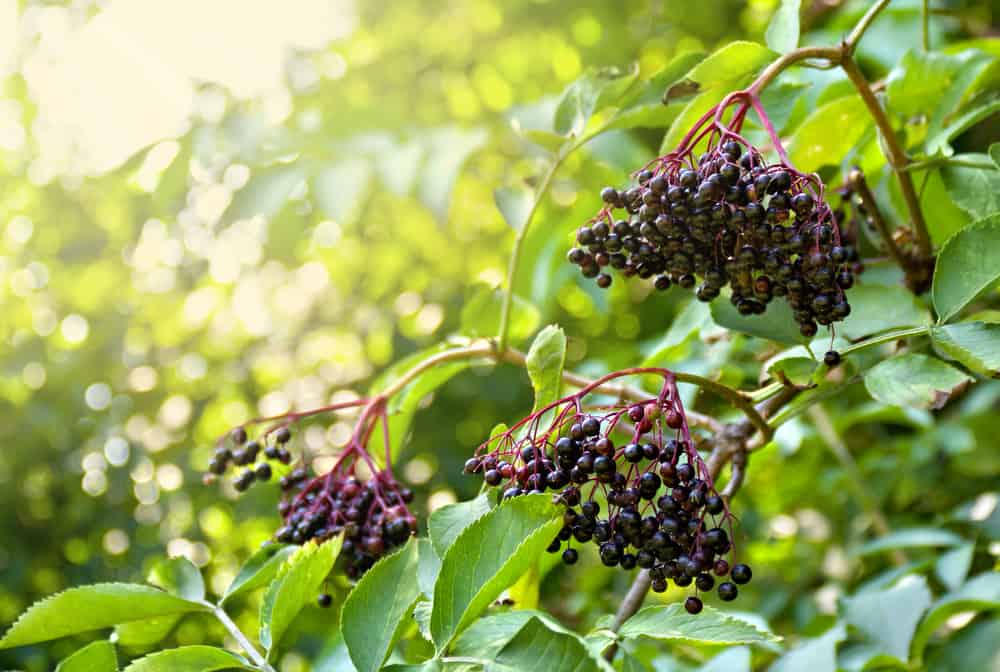 Primrose
Next, I wish to continue my crusade against boring-looking salads and bring you the common primrose (Primula vulgaris). A plant most walkers will already be familiar with, primroses don't tend to grow in shade, so be on the lookout for sunlit areas of meadows and forest clearings.
The whole plant is edible; the roots, stems, leaves and petals have all been consumed for culinary and medicinal purposes by our ancestors, as they contain a wealth of vitamins and minerals. Their petals are yet another way to brighten a salad, although these are more likely to have been found in spring. But in August the roots can add a crunch and the leaves can also be included.
Be aware that if you plan on harvesting roots, you will need the landowner's permission. To harvest the rest of the plant, our rights are protected in statute, which allows us to forage the four Fs, – flowers, fruit, foliage and fungi – on public land.
Not your average blackberry
Finally this month I want to talk to you about a plant many people think they know … but I assure you, most do not.
When I am out leading foraging walks, I know from the look on people's faces that no-one wants to 'learn' about blackberries. Everyone has been picking them since childhood, collecting them from the hedgerows with their parents.
So stick with me – there is a secret layer to be uncovered here that will change your understanding of this quintessential foraged harvest. When out picking blackberries we have all eaten a tasty fruit straight from the bush and remarked to our fellow pickers 'try these, they're delicious!', only to follow up a few minutes later taking another from a different spot just a few metres away and finding it so tart it makes our eyes water, or so bland as to be inconsequential.
So what is going on here? I have heard many versions over several years of how the taste is being affected by the weather, or the soil conditions, or some other capricious act of nature affecting this plant this year. In fact, this seems to be the prevailing thought among most novice foragers. However there is a far more interesting and predictable component to this mystery.
Vegetable gardeners are familiar with the idea of picking a specific variety of plant to grow in their garden – we choose to grow a certain tomato variety for its giant fruit, small fruit, yellow fruit, blight resistance or huge yields … and yes, of course they all taste different.
You may be surprised to learn, though, that we also have hundreds of varieties of blackberries growing wild in the UK. It naturally follows then that your hedgerow harvest contains a huge variation in flavour!
So, what can we learn from this? I would suggest that instead of a haphazard wander along a hedgerow, try making a blackberry map and marking the locations of the tastiest fruits. Harvest from those plants every year, and you can reliably collect the perfect fruits for eating fresh with desserts while avoiding the sourface lottery!