This month Rachael Rowe visited Semley's community-run village store, which has just celebrated its tenth anniversary, and chatted to founder Anne Everall
There's a continual buzz at Semley Village Stores. People file in and out, picking up fresh bread, other essentials and treats.
But there's a lot more to this shop than initially meets the eye – the more you look, the more you see – including several items that you just wouldn't expect in a village.
How did you get started?
Anne Everall, one of the community shop's founders, explains: "There always was a shop here, last run by a young couple. When they left, we saw an opportunity for the community to buy it, to set it up as a community shop.
"The Plunkett Foundation was particularly helpful and held our hands all the way through. They were marvellous. We did a share issue to raise money and we had some very generous donations from within the village.
"We also managed to attract people with expertise such as graphic design and those working in the food industry – and we made use of them all!
Just before lockdown we expanded heavily in our fresh fruit and vegetable section (an entire shed). We couldn't use the inside cafe during lockdown, obviously, so we used tables outside, which is where they remain today. During lockdown, our turnover tripled. Everyone was at home, people didn't want to use supermarkets and we quickly expanded what we were selling."

How big is the team?
"We have 30 volunteers. We also have four or five teenagers whom we pay to work here, so they get experience and life skills. Our paid manager, Lal Poynter, is also brilliant and has an excellent relationship with suppliers."
Tell us about your 10th anniversary?
"We had a party to celebrate! We also used some of the profits we made during lockdown to give back to the community. We helped expand the library in the village school, assisted the village hall in getting Covid safe and funded the maintenance of the church. We also paid for swift boxes, bird boxes and footpath maintenance. And we also supported Semley Music Festival."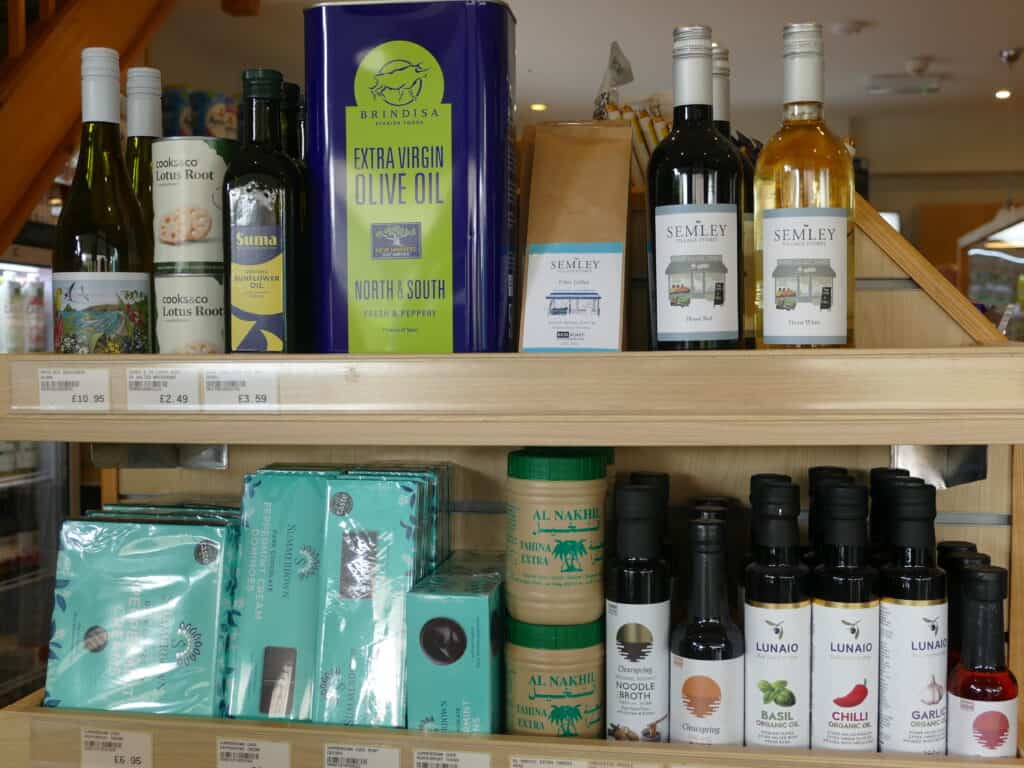 What's been the biggest challenge?
"I think for us, when we got a paid manager. Some of our volunteers found it hard to differentiate between volunteering and being a professional manager. Lal is excellent and does things we would be unable to do."
What are you most proud of?
The funds going back into the community have been really important. We also have customers who use the shop because they want a chat. It's a hub for people, and they can socialise here."
What's flying off the shelves?
"We stock a lot of items from Spanish Brindisa, they have the best olive oil. They also do a really popular gazpacho."
Tell us about some of your local suppliers.
Rosanagh (Rosie) Catherwood, secretary who is also responsible for volunteers, took me on a shop tour where the extensive range of suppliers became apparent. On the counter, an impressive selection of fresh loaves of bread from Taylors of Bruton and Lievito near Wincanton looked mouthwatering.
"We try to include the best of Dorset, Somerset and Wiltshire and other quality suppliers. There are Isle of Wight tomatoes and three types of asparagus here. Our beef and lamb are from Cool's Farm here in Semley. We have Ivy House clotted cream butter (clotted cream butter? I never knew it was a thing).
"There are Whitelake Cheeses (Driftwood, Glastonbury Tor, Burrow Mump), Bath Soft Cheese, and produce from Mere Trout Farm and Chalk Farm Trout. In addition, we stock Bini Indian frozen foods and coffee roasted in Semley. We also have a lot of Seggiano artisanal Italian produce and Garofalo pasta."
But there's more. Rosie shows me shelves containing tahini, agave nectar, and blackstrap molasses.
"We have a lot of cooks in Semley so we stock lots of ingredients. We try to stock everything people ask for.
"And then there are our sandwich makers. A team of volunteers makes beautiful fresh sandwiches each day in the upstairs professional kitchen, which is really popular. Egg and cress are the best!"
The shop also has a wide selection of gift ideas, such as locally made Bramley bath and soap products and books by local authors.
So what's next?
"People request products and we try to stock them. But we're also looking to give more profit back to the community."
There might be lots of unusual and high-quality food items in this delightful shop, but the small things make a difference here. From fresh flowers, grown by a volunteer, on the tables outside where people gather to the staff offering delivery drivers a cup of coffee, this shop takes pride in its role in the village. And that's what makes it such a special place at the heart of this Wiltshire community.
Semley Village Stores, Semley, Shaftesbury SP7 9AU
www.semleyvillagestores.co.uk/
by Rachael Rowe