This is an old favourite which we'd not done for a while. The below map is our original route (with all its 5* reviews!) but we walked it again during May just to double check all the paths, and it's still stunning (you can see all 34 photos from the more recent 2022 the duplicated route here).
It's an up-and-down walk as you cross the hill range and back again, and it took us three hours and 40 minutes at a steady pace. The route really makes the most of those spectacular chalk downland valleys, but the expansive views across the Chalke Valley are interspersed with shady routes through green lanes.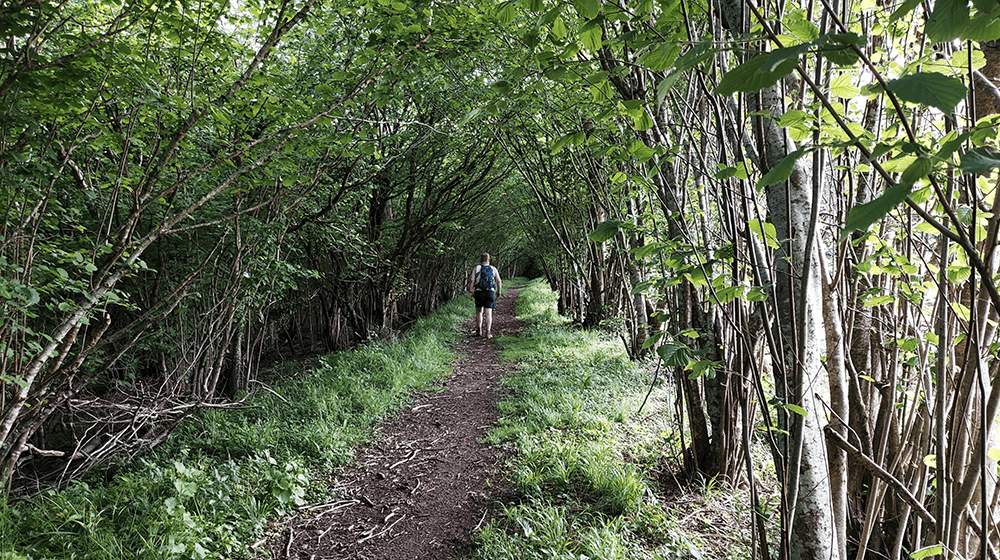 There are three steady climbs but they are suitably rewarded, I promise, with big skies, and sights across to Salisbury cathedral, coupled with hidden green lanes and ancient woodland. Walk it on a summer Sunday, and you'll descend from Marleycombe Hill into Bowerchalke to the sound of cricket on the village green. Perfect.
Do watch out for hares in early summer – we saw so many on this walk in the middle of May.
*There's easy free parking at the start at Vitrell Gate car park.
All the Dorset Walks we feature have been created and walked recently by ourselves, so you know you can trust them – we aim for unpopulated routes with as little road and as many views as possible! You can always see the route and follow it yourself via the free Outdoor Active app – see all our routes here.