Well, after five months of planning and then long hours stripping out the old Legends nightclub, we are getting closer to opening Gillingham's biggest new attraction in 20 years.

The Gillingham Community Leisure Trust (GCLT) have been working with Thrive Services CIC and key
stakeholders towards funding and managing the new inflatable world with the under three's disabled interactive area.
The competition to name the new venue has closed, and the winner chosen – congratulations to Marie Amos! We are proud to announce that the venue 'Space Inflaters' is due to open on Saturday the 2nd
July. The opening date will totally be dependent on the inflatable world itself arriving from China – something we sadly do not have any control over! Menwhile, planning permission has been approved for a new building which will host a brand new gym complementing the Riversmeet gym, and these works will follow the opening of the new indoor inflatable world. We are hoping for a potential opening in 2023, and will of course keep you all informed as the next project evolves.
Exciting times ahead for the local community and we are proud to be playing a pinnacle part in Gillingham.
The town businesses that have helped make this happen are proud to be part of this new venture, and we hope the whole community will visit when we open. We're aiming for the new 'Outer Space'-themed world to literally blow your minds! The new venture will cater for ALL user groups, ages and abilities – unusually, the inflatable world is also designed for adults with children in hand. The new team will focus on the safety of your visit, of course, and will always strive to create an atmosphere where fun and enjoyment are second nature.
GCLT, who also manage Riversmeet, are really proud of what we have achieved so far, and we look forward
to you coming to the new venue. We are confident that through hard work, community and a real commitment to the people of Gillingham and the surrounding areas, that we can offer you something
very different.
In terms of basic facilities, there is ample free parking, child changing rooms, toilets and a buggy store on site, along with CCTV for security.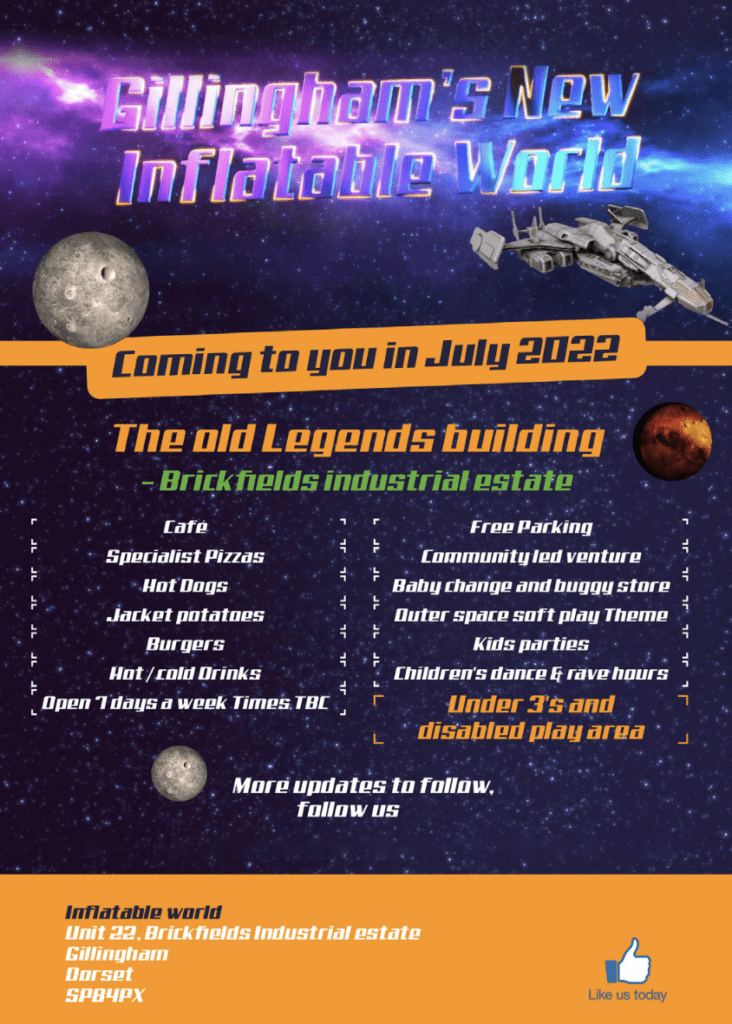 We're hiring!
As part of this new venture we are also needing to employ more staff – please see the ad below and on the jobs page of the BV here, to see if you might be who we are looking for. The new team will absolutely make this venture – it's a fabulous opportunity to really make your mark on the new inflatable world, café and bar. We are hoping for the new staff to start two weeks before we open for training, so if this attracts you to a career change or you fancy a change apply online by following the details in the advert.