Dorset NFU County Chair George Hosford reacts to the recent comments of Environment Secretary George Eustace on not needing artifical fertiliser.
I hope George Eustace, the Secretary of State for Environment, Food and Rural Affairs, is listening – he who
seriously seems to believe (article here) that we don't need artificial fertilisers because there is enough manure and digestate in the country to sufficiently fertilise all of our crops.
With this sweeping statement, he is implying:
1. that we have been wasting fertiliser all these years because we never actually needed it, and
2. we must have millions of tons of farmyard manure hiding somewhere that we accidently haven't been using.
The fact is that we already use 48 million tons of manures on our crops in the UK every year, plus one million tons of nitrogen fertiliser, which contains approximately 33 times as much nutrient as there is in a ton of manure. To think this is replaceable with manure is simply ridiculous – we have nowhere near enough animals. (and we keep being told that animals are bad for the climate, but that's a story for another day).
I have tried to convince myself that public money for public goods will really make sense when we see what
it means, that Environmental Land Management Schemes (ELMS – the primary mechanism for distributing the funding previously paid under common agricultural policy (CAP), ELMS will pay farmers for undertaking actions to improve the environment) will eventually arrive just as BPS expires, with an administrative system that works first time, complete with a functioning mapping system.
I'm sure that the disconnect between Farming Rules for Water and creating healthier soils will also be mended.
NFU president Minette Batters has said the Environment Agency's (EA) interpretation of the Farming Rules for Water effectively banned farmers from spreading organic manures on land in the autumn. This is contrary to government aims to improve soil health under the forthcoming Sustainable Farming Incentive scheme. Spreading organic manures in early autumn was better than spreading onto bare soils in February, she added. I generally try to be a 'glass half full' person, but when faced with such ignorance as has been
shared recently I find myself really struggling to remain calm.
To save, or not to save
Rocketing input prices and yo- yoing grain prices leave farmers with a very high risk of making bad decisions. Fertiliser is in the spotlight, not only because of price, but because of supply – how many
will go short this year? Some well-resourced farmers are in the habit of buying their nitrogen requirement almost a year before they need it, and those who did so last year should be feeling very smug right now. Prices have risen by a factor of four.
But should they be using all that fertiliser this year, or should they save half of it for next year? We are
often reminded that 50% of the nitrogen applied to a crop gives up to 80% of the yield, NIAB (the National Institute of Agricultural Botany) has many graphs demonstrating that the last bit of fertiliser, which we have in the past often applied 'just in case', barely pays for itself in more years than when it does.
So is this a time for experimentation, to see what we can get away with and still grow a profitable crop?
Headline yield is not what we need to pay the rent, it is the margin over costs that really matters, and right now we need to do our sums really carefully.
On top of fertiliser woes, we have a huge headache over fuel price and availability; without fuel we can't spread fertiliser even if we have any. And let's be honest, something will grow even if it gets no fertiliser
at all, but without fuel, we won't be able to harvest what has grown, so I know which I consider the more
important. Having said that, for red diesel to be costing more than DERV does at the local pumps once the 47p per litre difference in fuel duty has been taken into account, someone's doing nicely.
UPDATE:
As we go to press, the Government has announced steps (see details here) to assist farmers with the availability of fertilisers for the coming growing season to help address uncertainty among growers and
keep farmer's costs down.
With agricultural commodities closely linked to global gas prices, farmers are facing rising costs for inputs including manufactured fertiliser, due to the process depending on gas. Environment Secretary, George Eustice has announced that changes to the use of urea fertiliser will be delayed by at least a year.
In a move to further support farmers, revised and improved statutory guidance has been published on how farmers should limit the use of slurry and other farmyard manure at certain times of year. This will provide clarity to farmers on how they can use slurry and other manures during autumn and winter to meet agronomic needs. This guidance will provide more clarity and has been developed with farmers and farming bodies.
Environment Secretary, George Eustice, said:
"The significant rise in the cost of fertiliser is a reminder that we need to reduce our dependence on manufacturing processes dependent on gas. Many of the challenges we face in agriculture will require a fusion of new technology with conventional principles of good farm husbandry. The measures are not the whole solution but will help farmers manage their nitrogen needs in the year ahead."
NFU President Minette Batters said:
"Many of the measures today, particularly the updated guidance on the Farming Rules for Water which will allow autumn manure spreading, are positive for farmers. This is what the NFU has been asking for and
I'd like to thank government for making these changes."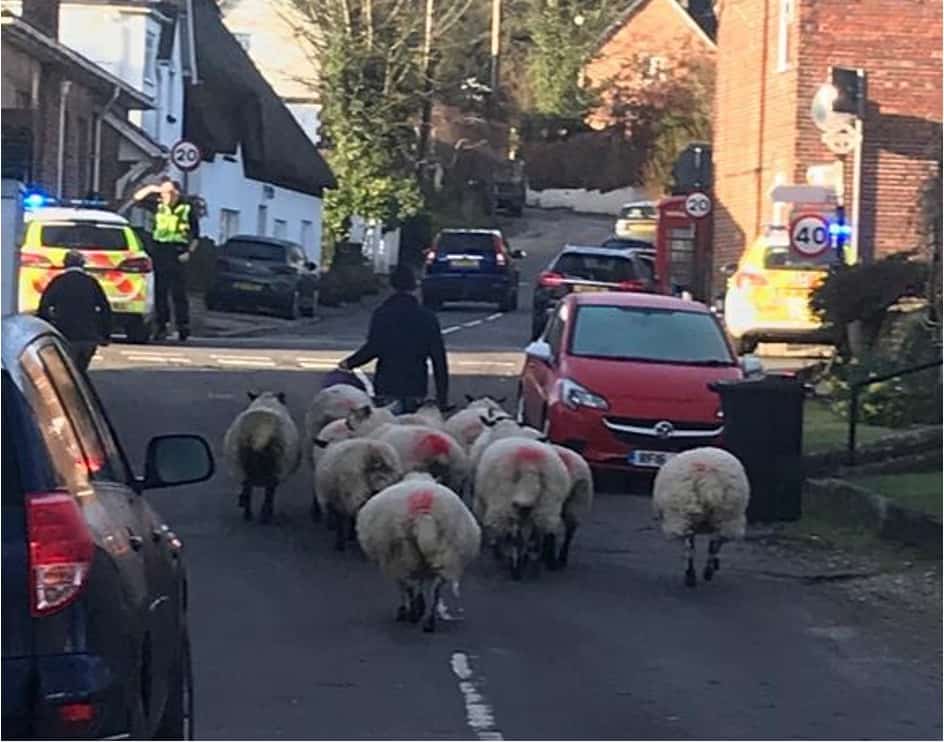 Finally – a police escort
A small bunch of sheep went walkabout in the village recently. By the time we caught up with them, a couple of police cars had joined the chase, careering into the village with sirens wailing and blue lights flashing. It was the usual problem of someone leaving a footpath gate open, so the sheep enjoyed a few hours of freedom, caught on one resident's hedgehog webcam and a neighbour filmed them wandering around their
garden nibbling bits of this and that, before being escorted back to the field under the eye of the law.
by George Hosford NFU County Chair
Sponsored by: Trethowans – Law as it should be