This month we've been chatting to Chris and John Henson-Ball, the new landlords of the Ye Olde Two Brewers almost at the bottom of Gold Hill in Shaftesbury. It's a pub with a view.
How did you end up at Ye Olde Two Brewers?
We have been here since September 2020. We had been talking to the landlord earlier, but illness got in the way. Once we got it, we planned to stay.
How big is your team?
There are ten staff members at present. We do employ up to 16 in the summer as it is busier. One lady came across to us from the previous landlord, but we have built the team up.
What's your favourite local place to visit on an afternoon off?
Well, if you're talking pubs, we like The Mitre. We'd also recommend a walk on Castle Hill with its wildlife and views. And we can't forget Gold Hill of course.
What's been your biggest challenge since taking over?
Our recent license review was a significant challenge. It was quite a complex issue around outdoor music which ran on for some time. We are happy with a fair outcome for everyone, and we now have outside entertainment every other weekend.
Another challenge has been the cost of staff to meet catering requirements for events. There is a lot more table service now.
Do you have a pub pet?
We have five!
We're very dog friendly (no kidding with five dogs!). There's Charlie, Jazz, Hollie the Collie, Bentley, and Teddy.
We have always been pet-friendly and have rescued several dogs.
What are you most proud of so far?
Since we arrived, we have worked so hard. We've been right through the pub decorating, and have re-done the gardens.
We're now working on the skittle alley and its dining area, which looks like an American diner. We're also getting busier. Our Sunday lunches are making themselves known – last week we had 20 bookings, but did 81 covers.
We're slowly changing the pub – putting our own stamp on it, we're keen to make it more appealing to families, with good food and of course always the live music.
What part of the building is your absolute favourite?
Without a doubt, the snug. It has lower level seating and tables near the fire. It's the best place to chill out.
And then there's the view from the garden in summer.
Which meal is your most popular? What do people drive from afar to come specifically to you for?
Our Sunday lunch! It's very popular, and we serve loads of fresh vegetables.
Obviously our pizzas, steaks, and burgers are also good, though… We're trying to develop our steak menu at the moment. Another area we think we are good is special dietary requirements such as vegan menus.
What's next?
There are lots of plans in the broadest sense – we've already made quite a big impact in the garden, which will obviously come into its own as the weather improves!
The skittle alley is being used, but we have more work to do there. And we have a small annexe that we're just trying to decide what to do with.
For the pub itself, we're tryinng to build our appeal to families. We've had the lawns relaid and extended the garden. People can now get to the hedge and look at that amazing view.
But in the short term, a lot is happening!
In January, we have a Burns Night theme on the 29th, and Project 17 a Pop Rock Covers Band from Gillingham are coming. On Valentine's Day we're creating a special menu, and there will be live music. We're also planning a special event for Mother's Day.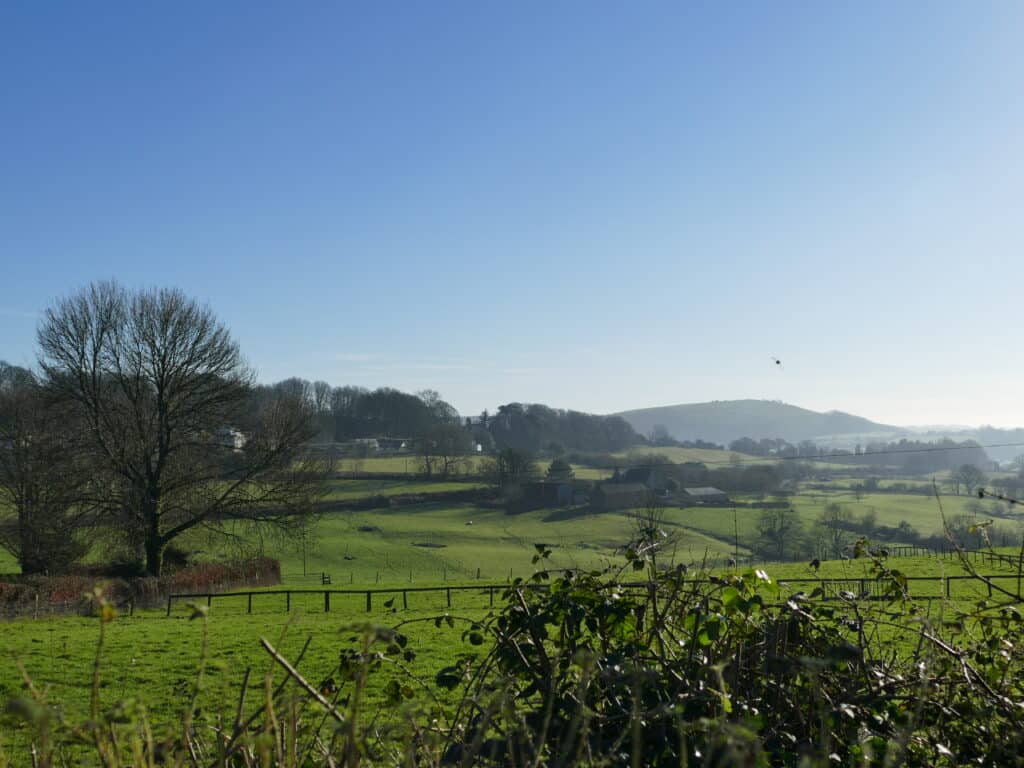 Ye Olde Two Brewers are open Tuesday – Saturday 12-10pm and Sunday 12-6pm. Food is served 12-2pm and 6-8pm, and 12-3 on Sundays. https://www.2brewers.co.uk/
By: Rachael Rowe