None can now claim ignorance of the effect our human behaviours are having on our climate – and chief amongst these is our driving consumerism. Rachael Rowe has been searching for the best eco-shopping in North Dorset, where you can shop with a guilt-free conscience.
Whether it is an inspirational speech from Sir David Attenborough or the increased adverse weather conditions that spark a conversation, climate change is a major issue. All of us have a role to play. A simple thing we can all do is to make a few swaps to reduce the use of plastic and fossil fuels in our daily lives. Researching and writing this article was a fascinating insight into how local retailers have made sustainable changes and how each product has a story of the way it minimises the impact on the environment. If you are looking at reducing your carbon footprint, take a look at these ideas from local indie retailers.
Bouquets from Bright Blooms
Flowers are popular gifts in the festive season and for celebrations year round. I spoke to florist Esther Biggs about the changes she has made at Bright Blooms in Shaftesbury to reduce plastic. "There is no floral foam in the shop. I looked into sustainable versions but even those shed microplastics. Today, we use moss or a glass vase which can be reused by the customer." The shop does not use cellophane either and any packaging is reused within bouquets and arrangements.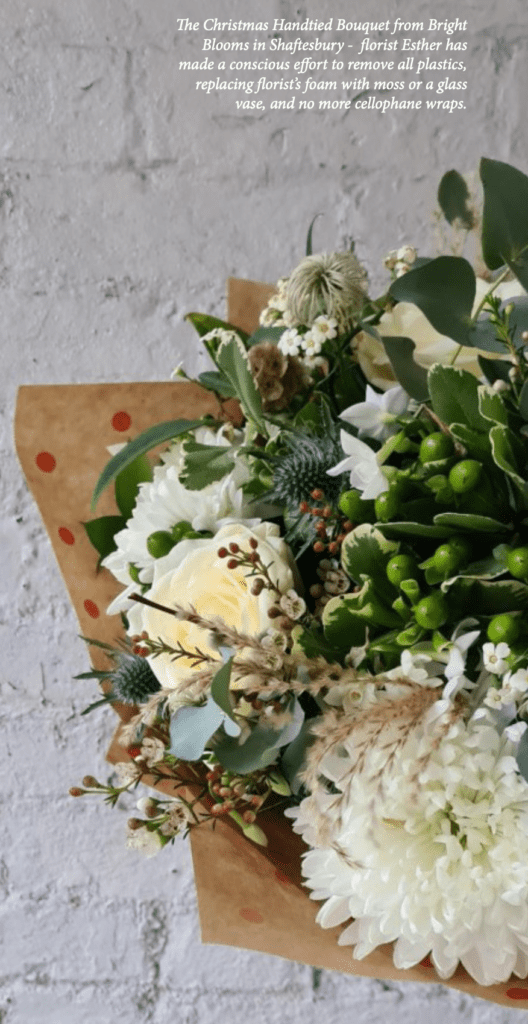 Swap Paraffin Candles for Soy Wax

It's that time of the year for candles and they also make great gifts. Traditional candles are usually made from paraffin wax which is a byproduct of the oil refining process, and has toxic properties. Soy wax candles are made from soya beans and are more environmentally sustainable. There's a wonderful range at the Botanical Candle Company in Shaftesbury which are made in the town, cutting down transport costs. It's such a shame the Blackmore Vale doesn't do scratch and sniff pages because the scents are a delight, especially their seasonal ranges.
Refillable waste-free food
The amount of plastic in the home is frightening but there are some practical ways to swap a few things and be more sustainable.
The new Eco Market in Sturminster Newton has a range of spices and foods without plastic packaging for your festive cooking. Bring a container to fill up or use one of their recycled jars. There are beeswax wraps and recycled foil as well for storing your food in a more sustainable way.
Homewares also contain a lot of plastics. At Coconut and Cotton in Shaftesbury you'll find lots of inspiring ways to make those household swaps. There are wrapper-free Marseilles soaps, fluffy ostrich feather dusters (from certified and sustainable sources), and natural sponges. You'll also discover new ways to clean and cook with plastic free brushes and utensils.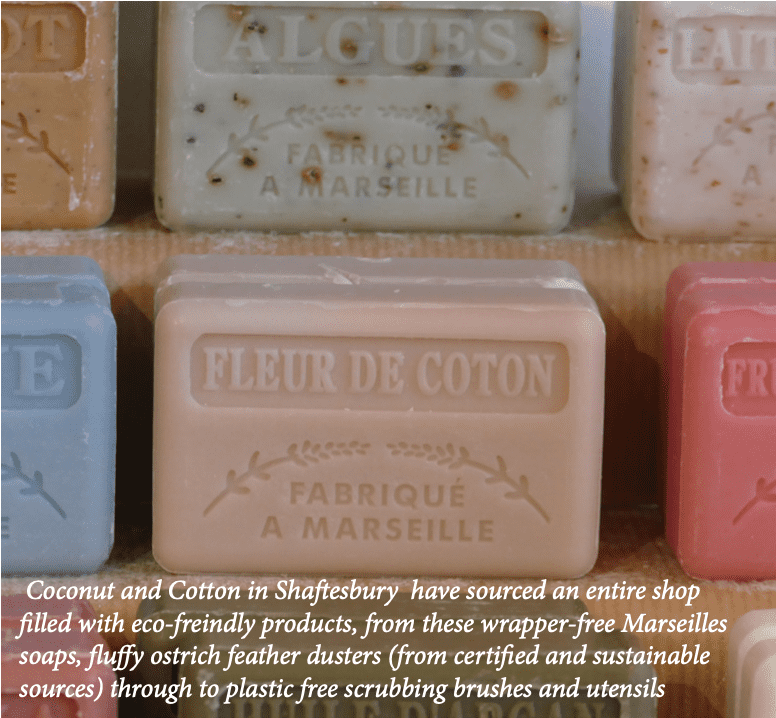 More Environmentally Friendly Gifts
At Folde in Shaftesbury there are locally made willow baskets and a range of books about nature and the environment.
Charity shops also have a great selection of unwanted items suitable for rehoming. Check out the famous Emporium in Sturminster Newton where there are eclectic ideas and all manner of festive-themed items suitable for gifts.
Gifts for the Gardener
If you are looking to make a few changes in gardening habits or are looking for gifts, there
are several environmentally friendly ideas. I loved Coconut and Cotton's plantable seed greetings cards. Recycled crushed whelk shells are perfect for the gardener who has everything. They come from a sustainable fishing centre in Wales and are used as ground cover – you'll find them in the Botanical Candle Co (£4.95 for a bag). At Alweston, the Elm Yard Gallery is the place to find Martin Galbavy's garden ornaments made from redundant old tools.
It just takes one or two small changes but we can all start to make a difference to our impact on the environment by thoughtful buying – and checking out our local shops for inspiration.
By Rachael Rowe