Olives Et Al have been on the main road just outside Sturminster Newton for almost 20 years – and yet, locals still stop by for the first time, surprised at what they find inside…
Christmas at Olives Et Al has long been something of a secret one stumbles across. Having been slap bang next to the A357 just outside of Sturminster Newton for nearly 20 years, the most heard saying the first time people visit is, "I've been driving past for years and always meant to stop." This is usually followed by, "Wow, I never expected you to have so much or for it to be so lovely."
Stocked for the festivities
Visit anytime in the run up to the Festive Season and you'll be met by a truly wonderful mix of local and British Brands along with a real eclectic mix of authentic continental favorites from Panettone to Amaretti Biscuits, Cheese to Charcuterie, Crackers and Biscuits as well as the entire Olives Et Al range of Olives, Antipasti, Sauce, Dressing and Snacks. You can even stop by daily for breakfast, lunch and a superb cup of coffee.
"I've only been with the business a short while but I can't believe the amount of genuine love and affection I've experienced from customers for everything we do here since I've joined," says Dani Morris a recently addition to the team. "I really love seeing the faces on customers as they discover another treasure, or something they simply haven't been able to find anywhere else."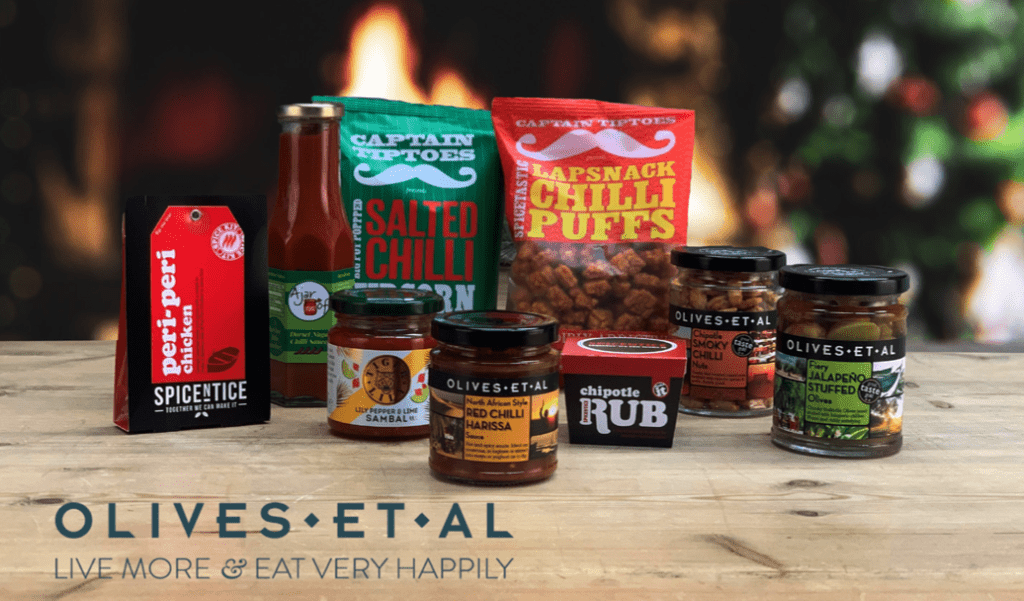 Hampers and foodie gifts for all
The small but perfectly formed shop was a lifeline for many during the recent lockdowns and offered a local and nationwide delivery of all manner of groceries from yeast to loo roll, eggs to butter, bacon to cheese as well as all the normal Olives Et Al goodies. This has now developed into a superb range of hampers and gift bundles comprising not just Olives Et
Al products but selected from everything else this fantastic little Deli on seeming steroids has to offer.
8ish to 5ish
Open Monday to Saturday – as they say: 8ish to 5ish with Late Night Shopping until 8pm every Wednesday in the run up to Christmas.
See you there!