Breeding stock sales, tracking horses and the glory that is the matchless Honeysuckle – Lucy Procter reflects on November at the Glanvilles Stud.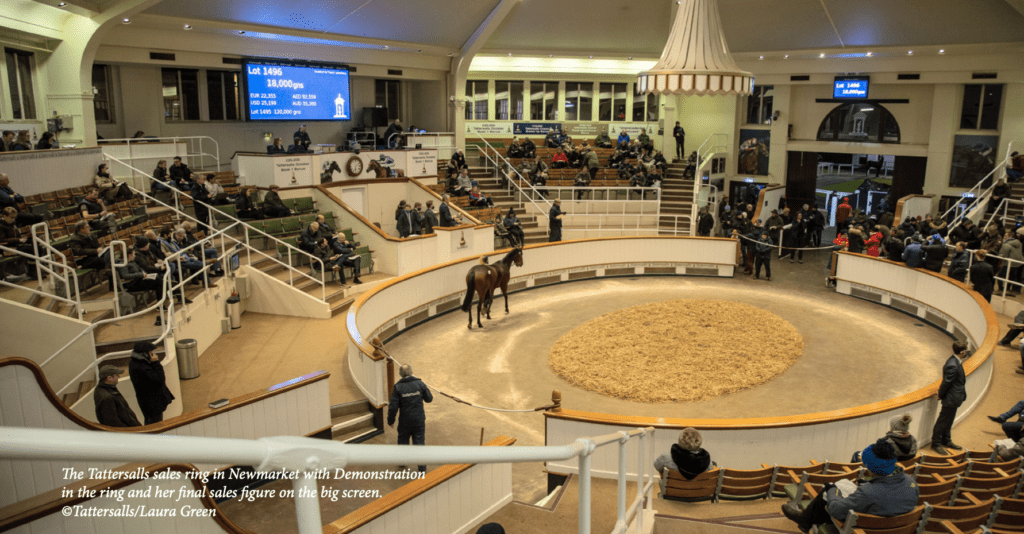 Here on the stud, we're still enjoying the dry autumn as we can keep our later foaling mares living out on grass, day and night. As the in-foal mares enter the last three months of their pregnancy, we bring them into individual stables overnight so we can give them more food, as this is when the foal inside them does the majority of its growing. Once winter proper arrives and the land gets wet, the rest of the mares will also come in at night to limit the damage to our paddocks.
Tattersalls December is in November
Our focus this month has been preparing Demonstration, a three-year-old French flat-bred filly from a strong German family, to be sold in Newmarket at the Tattersalls December Mares Sales – which is, perversely, usually at the end of November as it was this year!
Breeding stock sales are the start of the whole breeding process; where fillies retiring from racing are sold as
broodmare prospects, and in-foal mares change hands as breeders adjust their broodmare bands. Demonstration arrived with us from France just five weeks before the sale, straight out of racing, and she needed plenty of feeding to get more weight on her in a very short space of time. As well as daily turnout, we built her fitness on the horse walker, and the girls spent many hours grooming her to help build muscle and improve the condition of her coat.
At the sales earlier this week, the hammer fell at 18,000 guineas (a guinea is £1.05), making a modest profit and keeping everyone happy. But if the Tattersalls sales ring is where the breeding dream begins, the winner's enclosure for a Group/Grade 1 race is the ultimate destination.
Our girl Honeysuckle
We were all delighted that our TGS-bred wonder-mare, Honeysuckle, managed to reach this ultimate destination for the ninth time on Sunday, when winning the Hatton's Grace Hurdle at Fairyhouse in Ireland for the third year on the trot. Including those nine Grade 1 races, at the start of her fourth season under rules, Honeysuckle has 13 wins to her name from 13 runs.
There is little that hasn't already been written about her and her partnership with her equally indomitable jockey, Rachel Blackmore.
But the really hot news is that Honeysuckle's win on Sunday makes her record equal to that of Bula's from the 1970s – 13 consecutive wins from debut under rules.
Indeed, if you include her point- to-point win, which doesn't count as under rules, she has technically already surpassed his record with 14 wins from debut! How much further can this mare go?
And can her full brother, Last Royal, due to make his seasonal debut soon, after over a year's absence from the racecourse due to injury, prove himself worthy of her?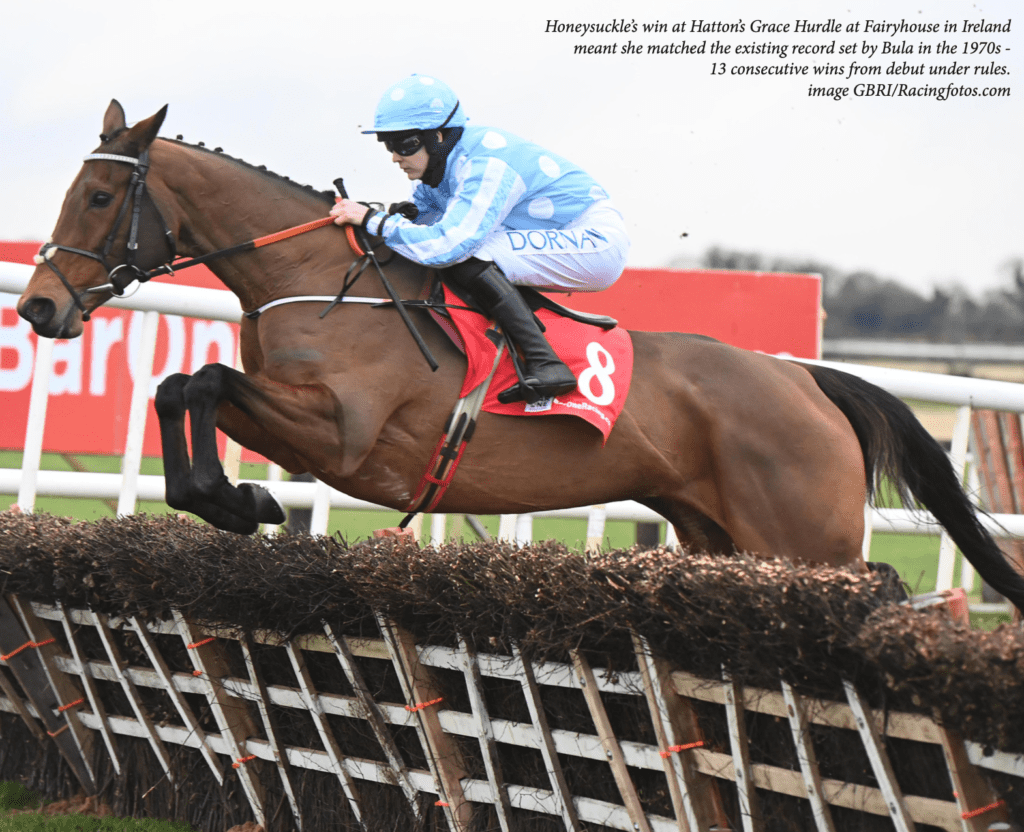 Tracking the best of the rest
There are plenty of other TGS- bred runners for the coming season and, as our Racing Post horse tracker shows (right), it is starting to get jolly busy out there on the racecourse.
Some of these racehorses we are following with particular interest as we are still breeding from their dams. Any good performances on the track from them will help improve the sales potential of their younger siblings.
Could one of these TGS-bred racehorses scale the heights to glory and be our next Grade 1 winner?
by Lucy Procter, co-owner of the Glanvilles Stud