Oxford's Bakery was established by Frank Oxford in 1911 at Alweston, near Sherborne. For this month's A Country Living, Rachael Rowe spoke with Steve Oxford, the families fourth generation baker to be working the same 100 year old oven.
When I arrive at Oxford's Bakery in Alweston, owner Steve Oxford is showing two baking students how to check for a sticky bottom on a Dorset lardy cake. He's also reminding them about a dirty underpants test and other top baking tips (you need to book a course to find out the answers). It's the end of the day for Peter and Penny who are busy packing up bags and trays of scones, fruit bread, cottage rolls and more after enjoying themselves on the traditional baking course. But there's a lot more to the work at Oxford's Bakery as I find out after asking Steve.
How did you get into the baking business?
"Ever since an Oxford could reach the bench here, we have been baking things. I started making cottage rolls when I was six. I didn't think I would get into this, but I helped at places like the Dorset Steam Fair. In the 90's it was not cool to be a baker. I was a DJ at the time and lived in Bournemouth. I had a choice of working in Abu Dhabi or helping Dad in the bakery. I went to Wareham Farmers market, and people there said how they would love to have a bakery. I realised that I could add value by using quality. Within six months I turned Oxford's Bakery into a limited company."
The old way
The bakery was formed in 1911 when Frank Oxford moved from Sturminster Marshall to Alweston and took the lease. He married the same year "Two of the most expensive things he did," says Steve with a grin.
The 1921 oven is still used today – and the baking tins are 75 years old. The bakery has used Stoate & Sons flour, from Cann Mill in Shaftesbury, for over 100 years. Steve still makes bread with just the basic four ingredients – flour, salt, water and yeast.
What's an average day like at Oxford's Bakery?
"Since the pandemic, this bakery works 22 hours a day. The night bakers set the doughs using a traditional sponge and dough method. They use pre-ferments made 24 hours earlier. Night bakers bake all the goods. The day bakers set the doughs
for the night bakers. At 6am there is another set of people such as the pastry chef They also do a lot of prepping for the next day."
So you have three shifts?
"There are essentially three shifts. We spread out the staff, which avoids all of us having to isolate at once. We started this system in the pandemic."
The impact of lockdown
I saw a look in Steve's eyes as he recalled the early days of the pandemic. "Before they even started talking about furlough and lockdown we knew we'd keep going. Rather than shut down I put out a video on social media that said we would keep baking. This oven never stops – apart from Christmas Day. I said we will provide bread to whoever needs it. We delivered it for free. Sixty five thousand people saw that video. "We went from having five shops and a bakery to being a Dorset-wide call centre. We got supplies of local eggs and cheese as all the delis were shut. Butter was scarce. We ran a delivery service using local taxi drivers and even students.
And on the day after the prime minister made his lockdown speech I had 521 messages on my phone. It was the only time I cried after work. It was the adrenaline and a sense of relief. "I recall going into Sturminster Newton with a load of bread for the bakery.
The people of Stur were queued up outside all masked up. And they all cheered and clapped. I'm so humbled by the people of Sturminster Newton and how they have supported us. It makes getting up in the morning worthwhile.
In the pandemic, people changed their shopping habits. They took an interest in local producers. We now have more people just buying a loaf of bread from us."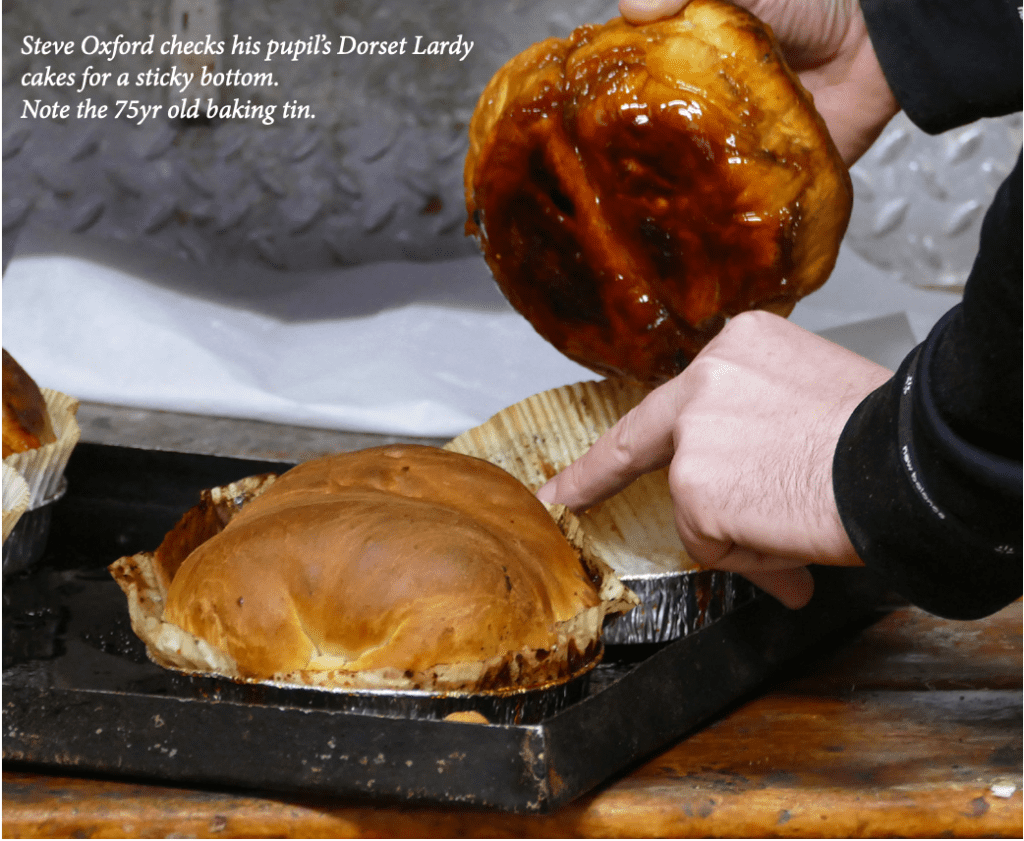 When is your busiest time?
Well Christmas is our third busiest time of year. The busiest is the summer holidays. We have shops in places like Canford Cliffs and Dorchester that get lots of tourists. And festivals are important to us and a big part
of our business. I could go from selling a Dorset lardy cake at the Steam Fair to an oat milk latte and vegan sausage roll at Larmer Tree."
What one item from your range at Oxford's Bakery would you recommend?
"Without a doubt an Oxford's sourdough (in our Random 19 feature, Masterchef winner and local chef Mat Follas named Oxford's as the shop he can't pass without going in, purely for the sourdough – Ed). And that's down to Dave the Bread, our excellent head baker. If I was on a desert island, I'd go for the Eccles cake and a Dorset lardy cake."
What would you advise anyone wanting to come into the bakery industry?
"Lots of people want to come into the business – they see it is really busy. But you always need to be on top of the quality. If you put an effort into the ingredients you source, it shines through into your products. There's an old saying: 'Happy Baker – happy bread'
If you could change the Bake Off, what would you do?
(Steve gives me a look). "I don't really watch it! But a real baker would need to be able to produce those creations 300 days a year and be consistent. The key to being a professional baker is consistency. I wouldn't really change that programme. What I would do is get some really knowledgeable people with years of experience to share their knowledge with the public. It's the difference between a personal brand and skills."
What has been the highlight of your career?
"Oh Man, I've done a few things! I have baked the world's largest Victoria sponge. I have also been to Darjeeling and Nepal, teaching local hotels how to make a traditional English afternoon tea. However… without a doubt the highlight has been being able to work with my family. And to work with the people I love."
If you're interested in gifting one of Steve's courses for Christmas, or are keen to book one for yourself, at time of publishing Steve promised he was 'just about to' update the website with new 2022 dates: https://www.oxfordsbakery.co.uk/
by Rachael Rowe