It's that time of year when you're probably wondering what to get friends and family, the difficult to buy for, or the far-away loved ones. We've found a range of North Dorset foodie gifts that can all be mailed (most direct from the producer to save you a job) and will undoubtedly be welcome. Take a look at our top picks for the festive season.
What Better Than a Wedge – of Dorset Blue Vinny
Last year I sent a box of Blue Vinny to my sister. It was a hit (and didn't last long). Dorset Blue have a lovely Blue Vinny Gift Box (£20.50, see opposite page) that they mail out across the country. It's just the thing to spruce up a cheeseboard and… well – you can never have too much Blue Vinny.
Letterbox Sized Charcuterie Hampers
A selection of Dorset Real Cure Charcuterie will go down a treat at any festive meal. There's a great selection of gifts to choose from with a decent shelf life. They even have letterbox-sized gift packs (£32, see image below) that are ideal for posting.
Greetings from Gritchie Brew
The Ashmore based Gritchie Brewing Company, owned by Guy Ritchie, produces beer made from their local barley. If you haven't tasted a pint yet, you are in for a treat. Their online shop has a range of gift packs; (see above) EXCLUSIVE preview of the canned beer and Gritchie t shirts coming this month. What's not to like?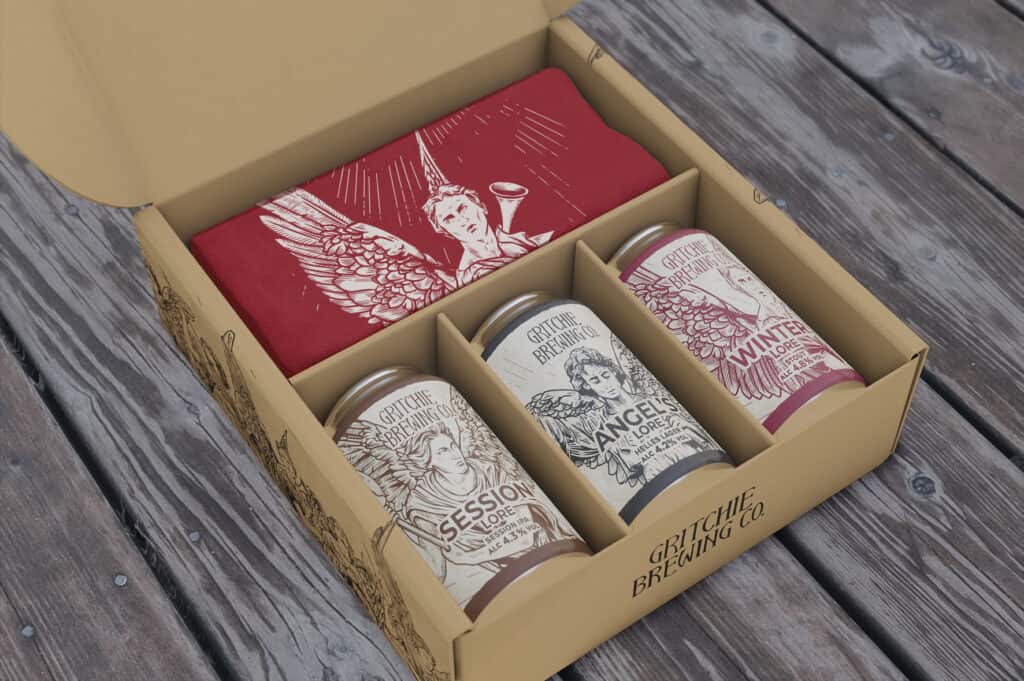 Send a Selection of Dorset Goodies
Sometimes there are so many Dorset food treats to choose from that you can't quite make up your mind. That's where Winterborne Whitechurch-based Cherry Picked Hampers comes in.
Their range of Dorset food is presented in a beautiful hamper (see the 'Christmas Feast' hamper, £96, on opposite page) and mailed to the recipient. Treat your loved ones with any of the hampers in the range.
Tea in a Tin
Are you shopping for someone with special dietary requirements? Holwell-based Honeybuns specialises in gorgeous gluten free, dairy free and vegan friendly cakes. Treat someone with a Tea Party in a Tin (£22, below left), or one of the famous Honeybuns cookbooks.
A Foraging Taster Course
Local award-winning chef Mat Follas runs a half day workshop highlighting edible plants in the Dorset countryside – and the difference between what can be nibbled and what will kill you. I have been on one of Mat's courses, and trust me, you will never look at a hedge the same way again.
Your morning forage is followed by a three course lunch at his restaurant Brambles in Sherborne. Check out the special £70 deal on foraging courses here – a voucher is a great gift.
Mail a bar – or two…
Sherborne-based Solkiki make some of the best quality organic vegan bars of chocolate in Britain. They source from small producers and create delicious award winning bars of chocolate which are perfect for posting to someone (from £8, image top right). Choose from their best selling Gran Nativo or a selection of bars here.
Say it With Olives
A North Dorset favourite, Olives Et Al have a tempting range of olives and other snacks that are perfect at a party. Their Everything But the Turkey Hamper is just the gift to get friends and family celebrating over the festive season. And there's always room for one more olive.
Support a Local Pub or Restaurant
Several pubs and restaurants in the Blackmore Vale do gift vouchers which can be spent on a meal, a stay, or a drink in the bar. Some of the best include The Fontmell in Fontmell Magna, The Grosvenor Arms in Shaftesbury, and Plumber Manor at Sturminster Newton – or browse Meet Your Local.