Nigel Hewish, Head Gardener at Kingston Maurward, is responsible for over 2,000 trees, acres of lawn running to a five acre Georgian lake, three large ornamental gardens including an Elizabethan walled garden, a kilometre of formal hedging, huge herbaceous borders and two National Plant Collections.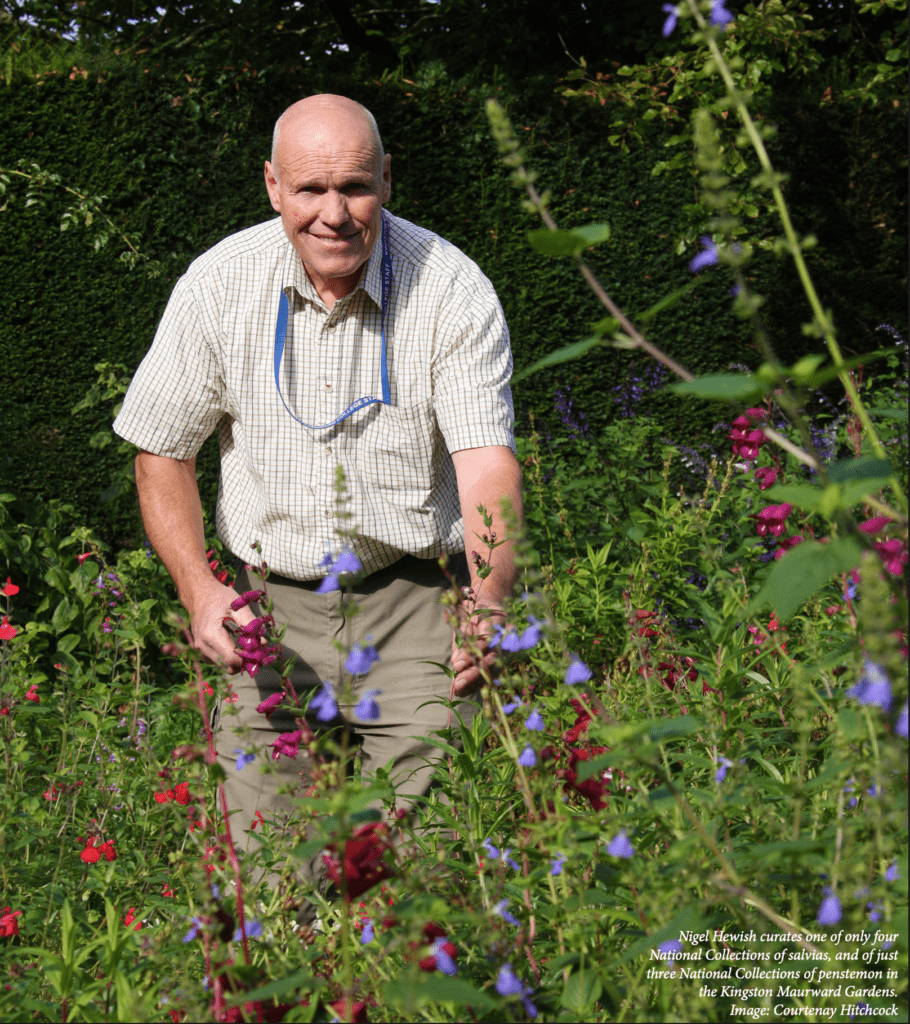 Nigel Hewish has done five hours of his working day – and it's only 10am. Responsible for over 2000 trees, acres of lawn, three large ornamental gardens, a kilometre of formal hedging, huge herbaceous borders and two National Plant Collections, it's no surprise this man is up with the lark!
Added to his challenge is managing all this around numerous events; no-one wants a noisy mower disrupting their marriage ceremony!
Nigel is Head Gardener at Dorchester's renowned Kingston Maurward, a land-based college and events venue; he's been tending this stunning landscape for 30 years.
Early beginninngs
His love of gardening was inspired by his father, a trained forester and groundsman gardener. Nigel recalls: "We'd go for a picnic and as soon as the Thermos was empty, Dad would fill it with seeds and saplings, keeping them fresh to grow on at home."
Starting as an apprentice gardener at Millfield School in Street, where he hails from, Nigel studied horticulture
at Cannington (now part of Bridgewater College), returning to Millfield to take charge of its glasshouses. Before moving to Dorset, he was Head Gardener at the 12th century Berkeley Castle in Gloucestershire.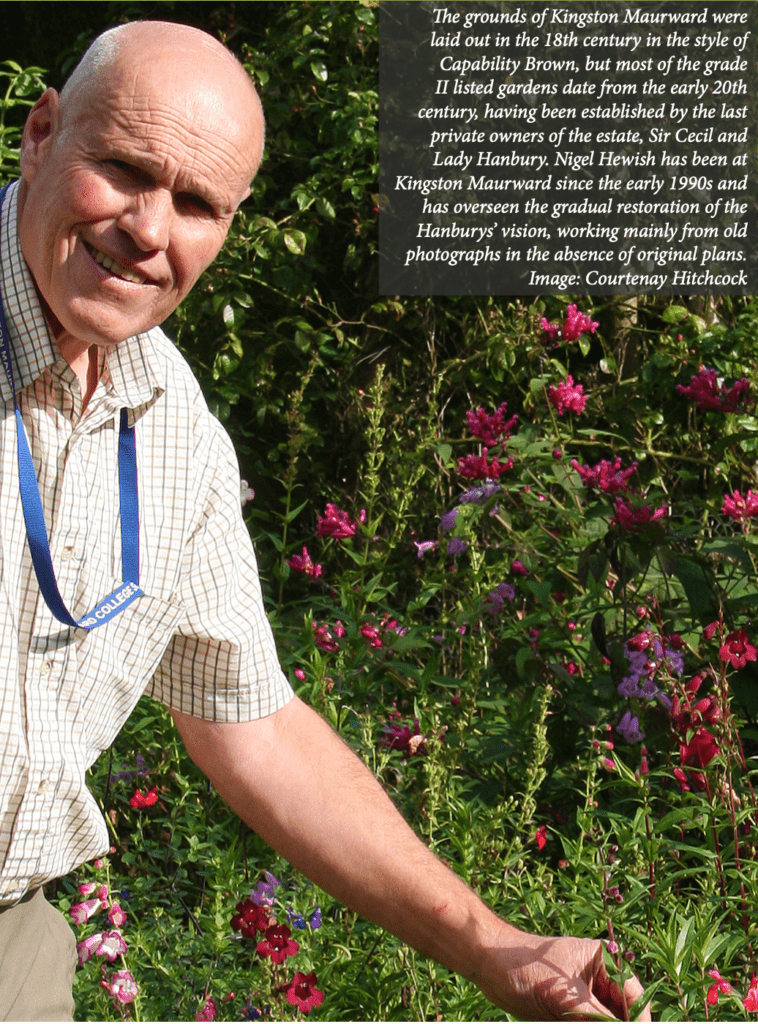 A living classroom
As he shows me round Kingston Maurward, it's an historical trip through garden fashions. Kingston Maurward Gardens are laid out in the Jardin Anglais style popularised by Capability Brown in the 18th Century, with a matrix of themed small gardens, lakeside walks and a walled garden. The front of the 18th century manor house has a sweeping Georgian-inspired landscape spotted with elegant trees. Back lawns tumble down to a 5-acre Georgian lake. To the side is a stunning Elizabethan walled garden which sits happily alongside twentieth century "garden rooms."
With a nod to royalty, the Crown Garden has hedges cleverly shaped like crown points, with diamond gaps revealing beautiful vistas. In another garden room a temple stands proud, the pillars and floor a four-year collaboration by stonemason students from Weymouth college and the striking cupola created by Kingston Maurward's blacksmiths. "The gardens are a living classroom," explains Nigel. "It's a brilliant resource for students to learn practical skills. We involve them in projects and offer work experience. Visit any garden in Dorset and you're likely to find someone who studied at Kingston Maurward. Two of my team of five gardeners were apprentices. They've both got degrees in other subjects but say that horticultural training is much harder."
Long Latin names roll off his tongue and his skill in identifying hundreds of plants is evident. This disarming man is a walking plant encyclopaedia and a role model for trainee gardeners. He's living proof that life in horticulture can mean a successful and rewarding career. In Nigel's case – a house on the estate is part of the package too. When asked what he least likes about his job, he struggles for an answer. After a long pause, he settles for paperwork.
"I'm not a great one for being sat in the office doing admin. It's ok if it's plant records but I'm not so keen on doing finances."
Penstemons and Salvias
Nigel's proudest achievement is curating the stunning National Collections of Salvias and Penstemons – two of his favourite flowers.
These elegant herbaceous plants not only look beautiful and flower through the summer,
but also attract pollinators and wildlife. The National Collections are preserving endangered heritage species – at Kingston Maurward there are
Even with a huge workload, Nigel found time to support
the college's show garden at
the prestigious Chelsea Flower Show 2019 which gained a coveted silver gilt medal. He was responsible for growing and presenting some of the plants, which needed to be perfect for the eagle-eyed RHS judges. The college is planning to enter again in 2022.
And Nigel carries on learning. "Nature still astounds me. Every day there's a plant that surprises me – even after 30 years.''
Kingston Maurward Gardens open 10-4pm daily. Group garden tours can be arranged. Tel: 01305 215000.
Kingston Maurward College offers horticultural, agricultural, arboriculture, conservation and farming courses plus many more. New for 2022 are Business Studies and Travel and Tourism in response to industry demand.
Nigel's Quick Fire Round:
Tool you can't live without? In my pocket is a folding Silky pruning saw. Its blade is only six inches but it can cut branches six inches thick. Expensive but invaluable! We trial equipment for Which? Gardening magazine and the cheaper models are rarely as good.
Best gardens to visit in Dorset? Abbotsbury with its tropical feel. The spring display at Minterne Gardens is magnificent too.
What book is on your beside table? None – I fall asleep as soon as I hit the pillow. When I get a chance, I'm reading 'A Trillion Trees – a way to reforest the world.' My books are always about nature, conservation or trees.
Top tip? Be patient. Not everything comes up as quickly or as easily at it seems on gardening programmes.
by Tracie Beardsley