With landmark global announcements protecting forests, acceleration of green technologies and methane pledges this UN Climate Change conference is focusing on the shift from ambition to action.
COP26 is rightly dominating the headlines at this moment. Pre-COP26 70% of the world's economy was covered by a net zero target and with Australis and India laying out their targets in Glasgow, it is a vital step in limiting global warming.
So how about our industry?
There is plenty in the press about agriculture's impact but let's
look a bit closer. NFU President Minette Batters set a target for the British farming industry to become net zero by 2040, this is our contribution towards the UK's ambition of net zero for 2050. Agriculture is uniquely placed to be part of the solution, as both an emissions source and sink. As farmers, we can protect and enhance the carbon reserves already in our soils and vegetation, by modifying some farm practices and better managing out hedgerows and trees.
"…at the same time as reducing our impact on the climate, we must not reduce our ability to feed the UK with high quality, affordable British food"
In addition to these 'nature- based' climate solutions, we can help to capture more carbon by growing the raw materials for bioenergy alongside our food production. That food production element mustn't be forgotten: because at the same time as reducing our impact on the climate, we should not reduce our capacity to feed UK consumers with high quality, affordable British food. Nor should we achieve our climate change ambitions by exporting UK production – or our greenhouse gas emissions – to other countries.
So, there is no single answer to this climate problem; agriculture has to manage a real balancing act.
How much of an impact is our food production having on the climate anyway?
There is much talk about reducing your red meat intake to help climate change. But British cattle and sheep only account for 5.7% of the UK's greenhouse gas emissions, and greenhouse gas emissions from UK beef are less than half the global average. We also mustn't forget the role that our livestock play in maintaining wildlife habitats, soil quality and the beautiful landscapes we treasure, both here in North Dorset and further afield. There are several
activities that would make more of an impact than reducing meat and dairy – green energy, or driving a more efficient car for example, especially as 27% of UK greenhouse gas emissions comes from transport.
Regenerative farming
We have always known this would not be an easy task but as I work across the County it has been incredible to see
the innovative and diverse range of measures farmers have employed to make their businesses more sustainable. Regenerative farming has been in the headlines within our industry for some time; the over-arching principle is working hand in hand with the environment and that starts with the soil, all whilst producing high quality food.
I see many farmers embracing this approach, but it is important to remember that a farmer can make just one change within their farming system and still make a huge difference.
For example, when arable farmers grow cover crops after harvest, or chop their straw rather than bale it, these
actions capture carbon, draw it down and lock it into the soil at the same time as improving soil nutrients and
biodiversity – a simple and easy win!
Grassland management is at the heart of any livestock farmer's plans. Allowing species of deeper rooting rye grass and clover to flourish helps improve soil health and increases nutrient cycling, fixing nitrogen in the soil and reducing the need for artificial fertiliser use. This will also help improve the health and productivity of a herd by reducing the worm burden.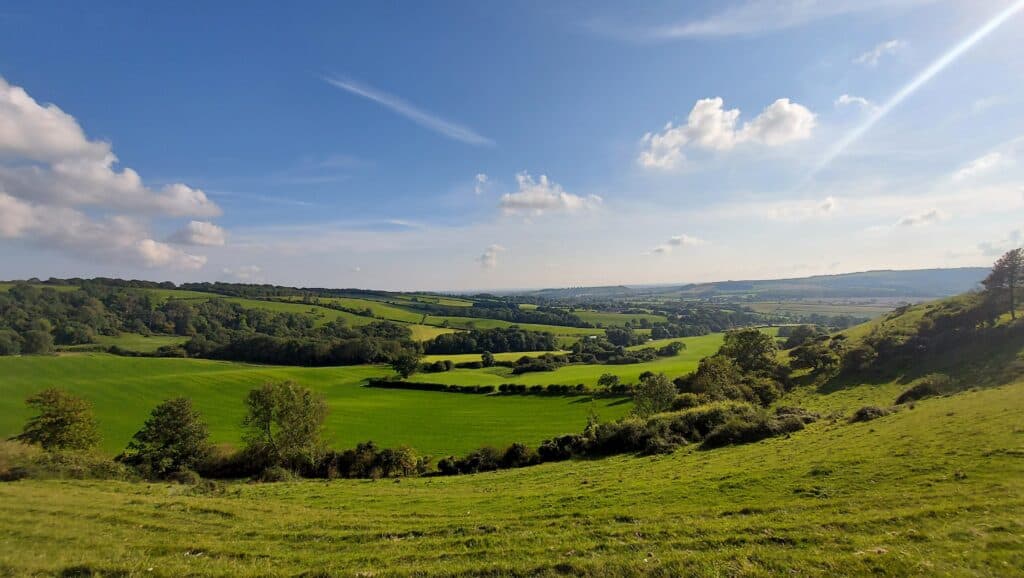 With rotational grazing regimes, the cattle graze a small area for a short period of time and then move on, allowing the grass a chance to replenish and put sufficient energy back into the roots. This can improve the soil organic matter and biodiversity.
But with every farm being different, even to their neighbours, its important each farmer choose options and farming practices that suit their own system. Herbal leys for example do need planting every few years so there is a cost implication. Making changes to a farming system takes time; soil biology takes time to make up any difference from removing chemical inputs.
Making changes to get to net zero is a journey.
Finally, with the COP26 methane pledge in mind, there is a seaweed food supplement to reduce methane emissions from dairy herds being trialled through the University of Nottingham; watch this space to see what our iconic Blackmore Vale dairy herds will be munching on in the future!
As you walk the footpaths across Dorset farmland, there is often more happening around you tackling climate change than you might first realise. Farmers are showing how they are adapting their businesses to reduce agricultural emissions and capture and store more carbon on farmland, all while providing climate-friendly, nutritious and affordable food for people at home and abroad.
Louise Stratton NFU Dorset County Adviser
Sponsored by Trethowans – Law as it should be