This month we've been chatting to Geoff and Emma Dunne who run the Swan Inn, Sturminster Newton.
How did you end up at The Swan Inn?

Emma and I originally applied to take on the Upton Inn at Upton Cheyney in the Cotswolds, but coincidentally that is where our predecessors have moved to and it was already a done deal; which in turn made The Swan Inn available. So here we are!
What's your favourite local place to visit on an afternoon off?

Our favourite has got to be the delightful Bank House Brasserie here in Stur, and then maybe walk off all those calories up at Bullbarrow Hill or Okeford Hill with our Westie called Monty. We are so spoilt for choice with walks here, from just walking out of the pub and along the river bank to Fiddleford Mill, Hambledon Hill or Emma's all-time favourite (and Monty's) Piddles wood.
Tell us about your pandemic?

Well – what an introduction to the world of publicans! We took over on July 1st; took three weeks to get ourselves
together and we re- opened the pub on July 27th 2020. In August the Eat Out to Help Out' campaign really got our restaurant off to a flying start – we had diners from all over Dorset enjoying our fine dining a la carte menu. Restrictions were quickly imposed – table service only, masks and social distancing all put a lot of people off and
it went very quiet very quickly until the second lockdown in November. Then of course the third one in late December so Christmas Parties didn't happen, and likewise New Year.

The whole winter season impact of COVID19 hurt pubs and restaurants in particular, and we were no exception.
Government grants and the Furlough scheme helped but we still had considerable costs and cashflow was a major concern.

We were lucky though – unlike many we had considerable support from Hall & Woodhouse, the family-owned Dorset brewer, but even so it was a long and hard enforced closure.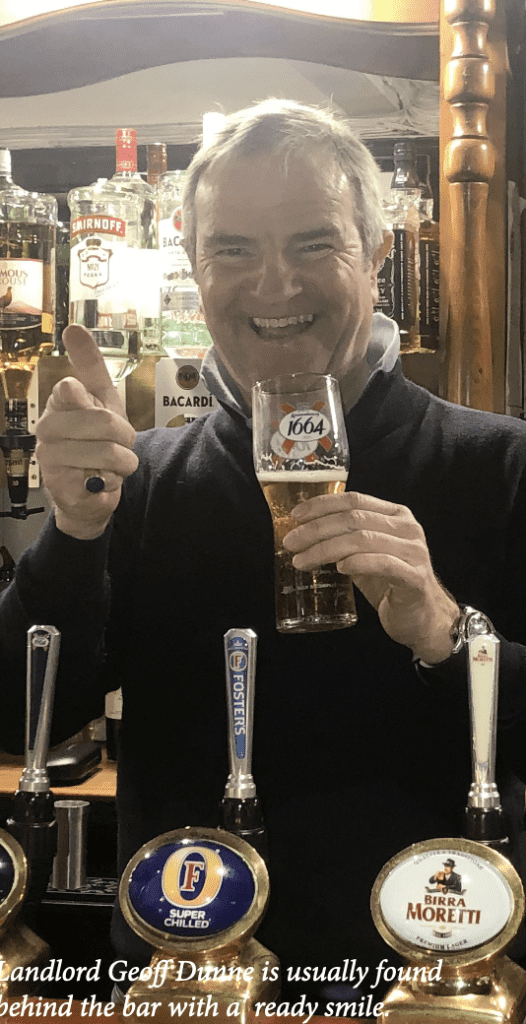 What's been your biggest challenge since taking over? What are you proud of?

Our biggest challenge (after Covid of course) has been recruitment. Covid and (allegedly) Brexit have wreaked havoc on the hospitality sector and nowhere more so than with kitchen staff. It is proving very very difficult to recruit quality Chefs and support staff – where are you all?!
I think there are two things I'm deeply proud of; one is the work Emma carried out in our now- amazing garden, and second is quite simply surviving the lockdowns and still being here at the end (we hope this is the end…).

What part of the pub is your absolute favourite?

Obviously I love the whole building – it has such a rich history and you can feel that wherever you are. But… for me
this has to be out in the garden. Even though it's late summer now (did we have summer? I might have blinked and missed it…) and most of the flowers and shrubs have had their better days, it's still brims with some very pretty flowers, and there's nowhere better in my view to sit and enjoy a glass of wine in a quiet moment.

Which dish is your most popular?

Without a doubt our Sunday roasts. It is the most booked up meal time of the week and hugely popular, a very substantial meal and enjoyed universally both for price and quality.

So what's next – do you have big plans on the horizon?

We did have big plans for our restaurant but these have been shelved whilst we consolidate following the financial hit of the various lockdowns and trading restrictions. Right now it's really a matter of building our business; the food, the beers and our very well appointed accommodation, recruiting another chef and aking our food offer to 7 days and perhaps expanding the menu. Quiz night has returned and is now every Monday night (we were amazed at how many Quizzlers there in and around Stur!). We have Jason and the Alco-Noughts performing live on Saturday 18th at 8:00pm. We've four teams planned for the local Dart league (recommencing in October) as well as our own Darts Knockout Competition due to take place in September.
Finally, we hope, an amazing Christmas and New Year to make up for last year's washout!