Summer Prints and Drawings Show
Before the television series Broadchurch was filmed in West Bay, the little harbour near Bridport barely featured on the tourist trail – though locals have always claimed that the best fish and chips in Dorset could be enjoyed by the quay.
However, it was buzzing with holidaymakers on the sunny morning of my visit to Sladers Yard Gallery. Housed in the historic Georgian rope warehouse, its flower-filled courtyard is also home to the delicious Café Sladers. The Gallery itself opened in 2006 and has flourished under the ownership of Norwegian furniture designer Petter Southall and his wife, Anna Powell.
Anna's parents were both artists and although she is now curator and gallery director, initially she took up book publishing. She met Petter when he was studying sustainable design in wood at John Makepeace's Hooke Park College. Over the years they have developed a reputation which means their work is sold worldwide: their customers return regularly and Anna has built up a close relationship with her stable of artists. Her enthusiasm and motivation have never wavered from the moment she saw a customer fall in love with a painting, make a connection and become transfixed.
Their Summer Prints and Drawings Show (which runs until 12th September), now brings together seven acclaimed local artists and aims to explore the economy and discipline of the printing and drawing processes: Sally McLaren's drypoint, aquatint and carborundum monoprints and Julian Bailey's drypoint prints join Martyn Brewster's silkscreen, linocuts, etchings and pen and ink drawings, Michael Fairclough's aquatint prints, Vanessa Gardiner's pencil drawings, Janette Kerr's mixed media drawings and Alex Lowery's drawings with pencil, gouache and acrylic. The warehouse setting is an appropriate location for their works which are set off by stunning examples of Petter's furniture.
The atmospheric building was built in 1805 as a warehouse for Georgian merchants who were importing flax from Russia for the rope and twine trade in Bridport. The wooden pulley wheel has been restored by Petter with hemp ropes to lift examples of his furniture up to the first and second floors. Under the timber ceiling on the ground floor, my eye was immediately drawn to the brilliant colours of leading British print-maker Sally McLaren's Rock Surge. An artist who has become even more connected to the landscape through the recent lockdowns and subsequent release, her most recent prints are celebratory, exploratory, light in touch and brilliant in colour.
Surrounded by customers enjoying coffee and delicious cakes, we viewed Julian Bailey's greatly loved landscapes, particularly of the Dorset coast. These are in private and public collections throughout Britain including those of HRH The Prince of Wales. Julian studied art at the Ruskin School while attending New College, Oxford, followed by the Royal Academy Schools where he was awarded the Turner Gold Medal and later the Landseer Scholarship.
Over the last three or four years, Julian has been developing his life drawing in Drypoint etching. "I am so very excited to be giving a selected number of these Drypoints their first outing at Sladers Yard this Summer." He has produced a new hardcover book, "Hold the Pose", to coincide with the exhibition. I loved the sensitive expression in 'Mermaid on a West Country shore', which is based on a family friend, and set at Ringstead Bay. The viewer is left to fathom out the mythical overtones for themselves.
We negotiated the narrow stair case to the upper gallery floor where I was immediately drawn to two huge dramatic black and white mixed media works, beautifully lit on an end wall. 'The Ebb and Flow That Goes on Forever' almost exudes the salt and thrilling sublime essence of the waves. West Country artist Janette Kerr is the ultimate painter of the fierce power of the sea: her bold, expressive work is so exciting. To gain a real understanding of her subject matter, Janette begins on location (recently in the Shetlands and in Svalbard, Norway), responding directly to the elements, with the sea heaving and crashing around her, the wilder the better. She talks to meteorologists, scientists and with the locals, looking for the stories of people who have lived, fished, explored or even died there.
Vanessa Gardiner is a well-established Charmouth painter who has been working as a professional artist for many years. She paints in a dramatically contoured style enlivened with lyrical curving lines. The vibrant cobalt turquoise of the sea is glimpsed in inlets through the rocks. I also loved her series of Headlands study pencil drawings which explore the raw beauty of these particular places. Vanessa initially draws on site so always stays true to the harsh, barren landscape as she sees it. Typical of her respectful attitude to the natural world, this discipline keeps her work fresh and vital.
Martyn Brewster is one of Dorset's major artists. Inspired by the natural landscape and sea on the Dorset coast where he lives, his atmospheric, abstract paintings combine seductive combinations of colour with vigorous lyrical compositions exploring the coastal light. He has developed his own silkscreen techniques which set colours against one another in abstract compositions.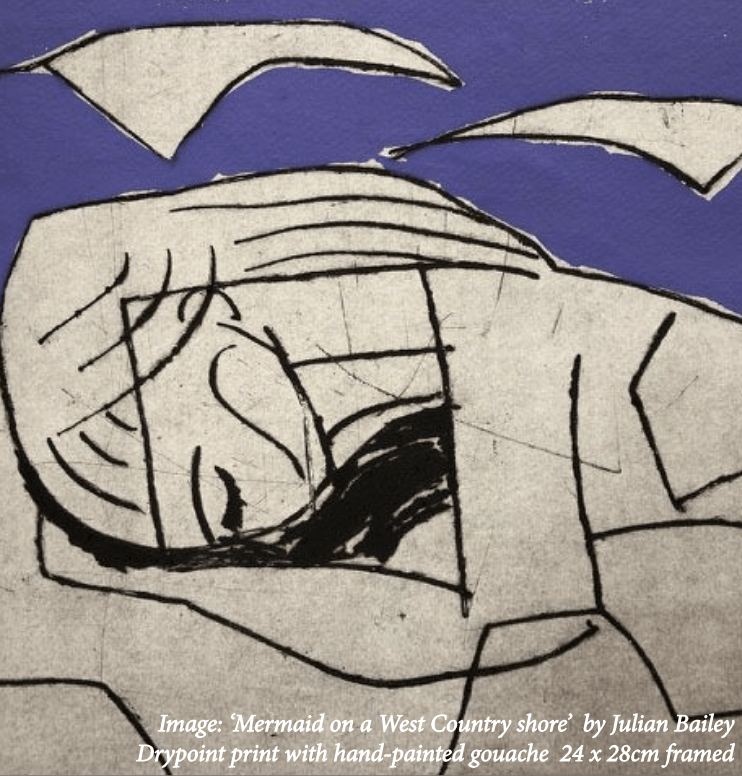 Michael Fairclough's subtly coloured aquatint prints explore the immensity of sun, sky and sea. He masterfully portrays the effects of light emerging from clouds and playing on the water. In Lyme Bay II – Burton Cliff he captures the wonder of nature as the colours of the sky and sandstone cliffs fade with the setting sun. 'To me painting is about glimmering reflections of sea and wet rock or colossal shafts of light through clouds – and always, always changing texture, structure, rhythm and light. The texture and structure are in the paintings. The rhythms are those of the wind and the waves, of bird wings and calls, drawn out and slow or sharp and frenetic like the music of Donegal. The light is all-pervading.'
Alex Lowery's strong, distinctive gouache studies of Portland and West Bay show the marching patchwork of rooflines against the lyrical contours of cliffs stretching away in the background. In the charcoal study of Wynford Eagle, the use of this medium to control the light as it falls across the contours of the West Dorset village is superb. The manor house and chapel nestle into woodland while the sloping contours of ploughed fields and ancient strip lynchets fall away below the winding lane reaching into the distance.
With a little more freedom to roam this summer it will be well worth a trip down to the sea to visit this iconic gallery and exhibition – and of course enjoy wonderful seafood, coffee and cake in the courtyard!
Gallery open: Wednesday – Saturday 10 – 4.30pm
CAFÉ SLADERS open: Wednesday – Sunday 10am – 4.30pm
www.sladersyard.co.uk email: gallery@sladersyard.co.uk
Dates for your diary! Child Okeford Art Trail on Fri 27th Aug – Mon 30th Aug
11 am to 4 pm.
There are 15 artists taking part in venues throughout the village. Free admission. Art Trail leaflets available in local shops. Refreshments available at Gold Hill Café.
By: Edwina Baines