Dorset Community Foundation have been providing support and grants to grass roots groups throughout Dorset during the pandemic. They have released a report into their response to the coronavirus crisis. The report opens with a summary from Jeremy Mills, Chair of Dorset Community Foundation.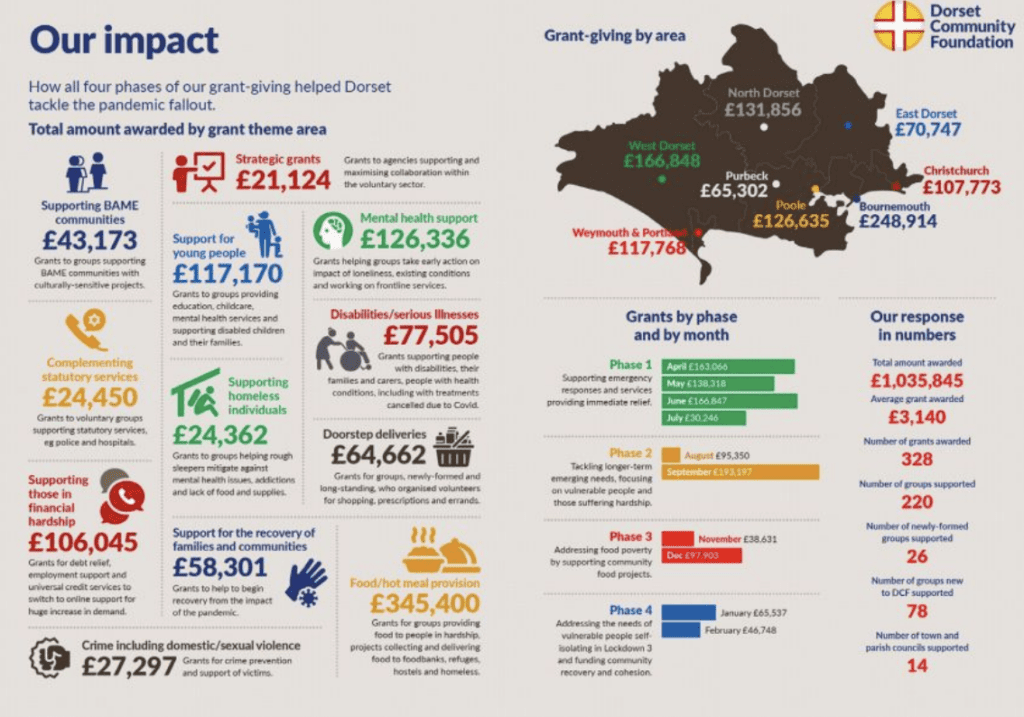 These last 12 months have, without doubt, been a time of uncertainty, anxiety, sadness and disruption never seen on such a scale in this country outside of wartime.
However they have also brought out the very best in us as a people and in Dorset we have seen charities and voluntary groups step up despite losing staff and revenue, people who would never have imagined themselves volunteering coming forward to help their communities and new groups materialising to meet the need on their doorstep.
I am proud that Dorset Community Foundation has stood squarely at the forefront of this effort. It was impressive to see not just the extent of the response from the voluntary sector but the speed at which it happened. The Dorset Coronavirus Community Fund was launched in March 2020 just as the pandemic took its grip and ever since, it has provided the essential funds the groups asked for – at the pace they needed them.
For the past 21 years Dorset Community Foundation has shown that it is highly adept at empowering the grass roots groups who do so much for this county. In a typical year 70 per cent of the groups it funds have an income of less than £100,000 and 55 per cent under £50,000. So it was no surprise to see the bulk of the more than £1 million it has allocated over four phases going to these smaller groups, who have been magnificent. We have been able to look at the impact of phase one and we know that almost 45,000 people have benefitted from the first £500,000 of grant awards.
This represents a phenomenal effort from our small staff of just four, as well as its trustees and supporters, who have worked tirelessly to streamline processes to assess and approve applications quickly. When we eventually look back at this tumultuous time, we will remember the heroism and dedication of our frontline workers who stood firm and steadfast in the teeth of this crisis. The voluntary sector deserves to be heralded alongside them.
You can read the full report on the Dorset Community Foundation website at https://www.dorsetcommunityfoundation.org/about/reports-and-publications/
Sponsored by Ward Goodman