For some people it is the vultures, and for others it is the metal cowboy that makes them slow down on the A3030 at North Wootton. Many people will have seen the recent cow sculpture funded by a community fundraiser in Sturminster Newton, and the giant metal soldier that got national attention.  Now there's another excuse to take a break, park up and visit the delightful Elm Yard Gallery.
A unique door looking like something from Lord of the Rings leads into the bright art gallery that opened just before Christmas last year, and closed swiftly again with lockdown. The door is the handiwork of on site sculptor Martin Galbavy. Owners Chris and Nicky Hannam have filled the space with work from local artists to complement the unique metal sculptures from partner Dorset Forge & Fabrication. The Elms Farmhouse Kitchen is the third business on site, providing light meals and refreshments.
Nicky tells me she selects artists for the gallery and is about to choose more. There are paintings by Laurence Belbin and Caundle Marsh based artist Sam Dodd. Sam uses acrylics and has recently added gold leaf to give an extra dimension to her nature designs.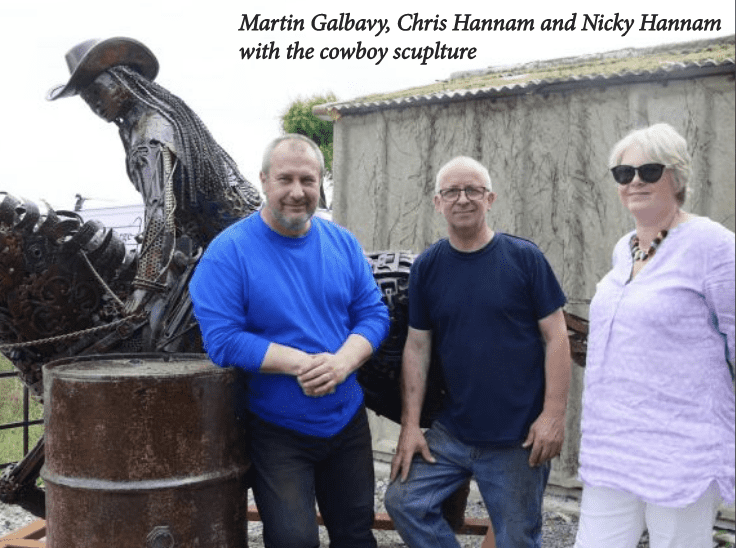 Glass art by Claire Waters is strikingly beautiful, and just when I think the gallery has a nature theme, the fun camper vans in artwork by James Frames change that assumption. There are colourful ceramics as well as Martin Galbavy's iconic metal creations.
All of us have probably stood in a gallery like this at some time and either not been inspired to buy a thing or found it beyond our budget. What is striking about Elm Yard is the amount of art that is tasteful and affordable- and would look good in the average home. Nicky points to the armchair and laughs: "It's very easy to sit in that chair, look at a piece, and fall in love with it."
Martin Galbavy is originally from Slovakia and was Coppersmith of the Year in his country. He sources his metal from reclaim yards and car boots, but during lockdown, people brought old tools they thought he could use. Martin also sculpts items from the old tools of people who have died so their family has something to remember them by. That's something I wish I had known when clearing Dad's "might come in handy one day" tool collection.
People sometimes assume the yard only creates massive metal sculptures but there is so much more to the forge. Many smaller pieces are displayed in the gallery and are compelling to look at with their intricate welded metal fragments. They are popular. An intricate metal horse head and child sculpture sold within three hours of being placed on social media recently. Martin Galbavy points out the colossal hulk in the yard. I had passed the imposing monster countless times from the road, but who knew it was made from 140,000 ball bearings all individually welded together? "The supplier double checked we really wanted that amount," laughs Chris Hannam.
In the Hulk's hand is a metal spiky coronavirus.
Nicky explained: "Martin's idea is that all of us want to fight this coronavirus; so he was inspired to make the hulk."
It took him four months as a lockdown project see it as our jigsaw this month on p.93.
Elm Yard is a fantastic example of businesses working together and creating inspirational art. Next time you are on the A3030, stop off at North Wootton to take a closer look at the dramatic metal sculptures and visit Elm Yard Gallery.
Elm Yard Gallery is open from Wednesdays to Saturday. https://www.facebook.com/ElmYardGallery/
Elm Yard, North Wootton, Sherborne DT9 5JW