HEALTH AND VEG FOR ALL
When a police car drove up to the Big Yellow Bus Garden Project (BYBG), alongside the North Dorset Trailway between Blandford and Sturminster Newton, project co-ordinator Paul Williams panicked. It was lockdown. His community space was allowed to be open but could he find his letter of authority? The uniformed officer got out. "I'm on a break. I just need time out for myself," he explained. With that, he rolled up his sleeves and spent 20 minutes happily weeding.
Paul Williams recalls: "With the added pressures of Covid on top of his daily duties, he just needed something to take his mind off work. This sums up the value of this project perfectly."
BYBG covers four acres of land split into three areas. The formal landscape garden offers a chance to wander and relax under beautiful crab apple trees or by the pond. One acre is given over to a communal growing space. Rather than individual allotments, anyone can grab a spade and help grow fruit and veg. Whether or not you've worked the area, everyone can take advantage of the produce. "We put excess produce on the trailway to give away," Paul Williams explains, "and also dispatch it to five sites locally for people to help themselves." Flower fans enjoy the large cut flower area. Secateurs are on site so you can cut your own bouquet of flowers – again free of charge.
The last acre is a wildflower meadow, with four beehives to help pollinate and produce honey with plans for this to be sold locally with profits being reinvested into the project. "As well as the community benefitting from BYBG, we're giving nature a hand too," says Paul Williams. "We're pesticide-free and have a wildlife pond, bird boxes and hedgehog houses – you name it we're doing it."
The project grew out of Paul Williams' hugely successful education mentoring service in Sturminster Newton, supporting young people at risk of becoming NEETS (not in education, employment or training). He rescued an old yellow bus and converted it into a classroom, offering the chance to learn skills in catering, car mechanics, forestry, construction and horticulture. Paul Williams noticed the young people who migrated towards horticulture were of a more nervous disposition and faced mental health challenges including self-harming and suicidal tendencies.
When funding for the project stopped (and the bus rusted away), the opportunity to take over the abandoned site was too good to miss. Paul Williams: "I thought, why not open it up as a health and well-being space for the wider community so everyone can benefit?"
Suzie Rancourt joined BYBG during the third lockdown. "Already a keen, albeit, novice gardener, I was attracted by learning more as well as an activity to share with my twelve year-old daughter," she says.
"It has been an unequivocal life saver. As a single parent and key worker, circumstances have not been easy. The BYBG has been a genuine solace from the outside world. It has been so validating to watch not only the change in what we're helping to create, but also the positive effect it has on those that visit it. ''
Looking at the site now, it's hard to believe that just two years ago it was an overgrown mass of weeds and brambles. Paul Williams and dedicated volunteers waded through knee high thistles and hawthorn. Today you'll see people enjoying the space and volunteers of all ages working together. These include the troubled youngsters that Paul supports in his "real job" in association with Dorset Council.
"Some young people, challenged by their mental health, come here to work with me. When you're planting lettuces alongside someone, it's far easier for them to open up and talk without the formality of sitting in a room staring uncomfortably at each other."
He adds: "It's scientifically proven that if you get somebody to nurture something – it nurtures them back. When you get a young person to plant a seed, water it and see it grow, this has a knock-on effect for their own self-esteem."
He also points out the intergenerational benefits of adult volunteers working alongside these youngsters. "Without forcing the issue, you've got someone in their 60's chatting to someone who is fifteen and passing on their wisdom."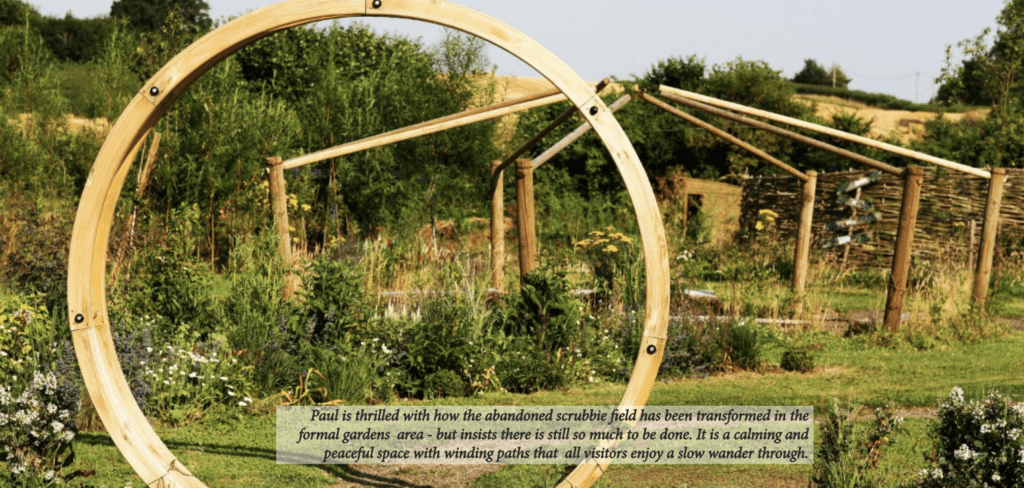 Future plans for BYBG include a garden room/classroom on site and support for dementia sufferers, the elderly and lonely. There's also two pop up Yoga events coming in August and a Picnic by the Pond' on Saturday 21st August, where families can come with a picnic and enjoy free entertainment provided by local musicians
Paul Williams: "I'm so grateful for the support we've already received from local businesses but more funding is always needed and we welcome more volunteers."
Email: paul@eqcic.co.uk or call him on 07850036117 or visit BYGB on Facebook
The Big Yellow Bus Garden Project | Facebook
By: Tracie Beardsley