Every month in the Blackmore Vale Magazine we publish a walk in the beautiful Dorset countryside under the heading 'Take a hike'. Not always in the heart of the Blackmore Vale perhaps, but always within reach for a day's walk.
What is unique about these walks is the fact that we have created and then walked them all ourselves! We always aim to create interesting, unpopulated routes with as little road use as possible and of course as many beautiful views as we can squeeze in.
You can always see the routes we take and follow them yourself via the Outdoor Active App – see all our routes here. – Click on contents tab.
We usually aim for between 10 – 15 miles, although due to many requests and to keep everyone happy we have now added some shorter routes between 5 – 10 miles in length.
Above all, we hope you enjoy reading about the walks that we do and enjoying the pictures of course, but if you are taking them on yourself, we would love to receive your feedback on how you found the individual route and any suggestions you might have. Oh and of course we would love to receive your pictures to share as well!
Wide and easy Tarrant Valley Circular 11.5 miles (or 6.5 miles with a simple shortcut)
Really easy going route with lots of wide views interspersed with beautiful woodland. We walked this two weeks ago – in late Spring the carpets of celandines, bluebells and wood anemones are an absolute picture.
It's mostly wide bridleways or farm tracks, with very little in the way of map reading required. Out of the woodlands the route enjoys expansive views on open chalk downland – in the summer this route gets HOT, so do take plenty of water!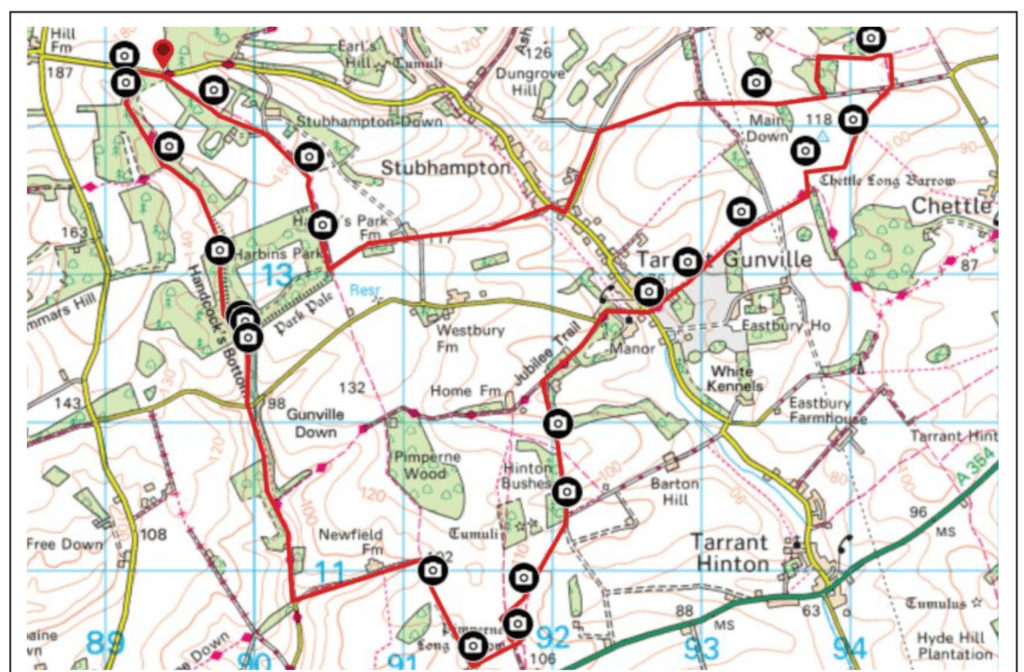 For a shorter 6.5 mile route, simply use the Jubilee Trail from Handcock's Bottom to Tarrant Gunville, and then turn left to follow the path parallel to the road towards Stubhampton.
(I personally recommend the detour on Chettle Common simply to say hello to the ancient trees).
Mostly unpopulated walking, though the couple of miles nearest the back of Blandford Camp across Pimperne Long Barrow was moderately busy on a sunny Sunday.
Harbins Park Estate appear to be doing great work re-installing hedgerows, deciduous forest and wildlife corridors. In the summer the farm is a joy of wildflowers, making up for the current forest of plastic pipes as the new deciduous woodland plantation gets a foothold.
Celandined lined path walking through Hinton Bushes.
I know I'm not alone in loving a giant oak standing proudly in its field, am I? This one is to your right as you leave Hinton Bushes, and approach the Jubilee Trail.
The wide valley view appears behind you as you walk up from Pimperne Barrow
The view to the left of the path in Handcocks Bottom, the dense carpet of celandines disappearing from view.
Bluebells and celandines line the enchanting Handcock's Bottom path