Every month in the Blackmore Vale Magazine we publish a walk in the beautiful Dorset countryside under the heading 'Take a hike'. Not always in the heart of the Blackmore Vale perhaps, but always within reach for a day's walk.
What is unique about these walks is the fact that we have created and then walked them all ourselves! We always aim to create interesting, unpopulated routes with as little road use as possible and of course as many beautiful views as we can squeeze in.
You can always see the routes we take and follow them yourself via the Outdoor Active App – see all our routes here. – Click on contents tab.
We usually aim for between 10 – 15 miles, although due to many requests and to keep everyone happy we have now added some shorter routes between 5 – 10 miles in length.
Above all, we hope you enjoy reading about the walks that we do and enjoying the pictures of course, but if you are taking them on yourself, we would love to receive your feedback on how you found the individual route and any suggestions you might have. Oh and of course we would love to receive your pictures to share as well!
Win Green to Tollard Royal Circular
Win Green Down, the highest point of the Cranborne Chase, is just outside Shaftesbury and always worth a visit; on a clear day you can see The Needles. There are many walks from the top; or simply stick to the Ox Drove itself for constantly spectacular views, it is one of the longest and most ancient routes in the country. But our favourite is to drop off the Drove to create a circular route through the Rushmore Park to come in the back of Tollard Royal and then a stiff climb up from beautifully peaceful Ashcombe Bottom on the Wessex Ridgeway.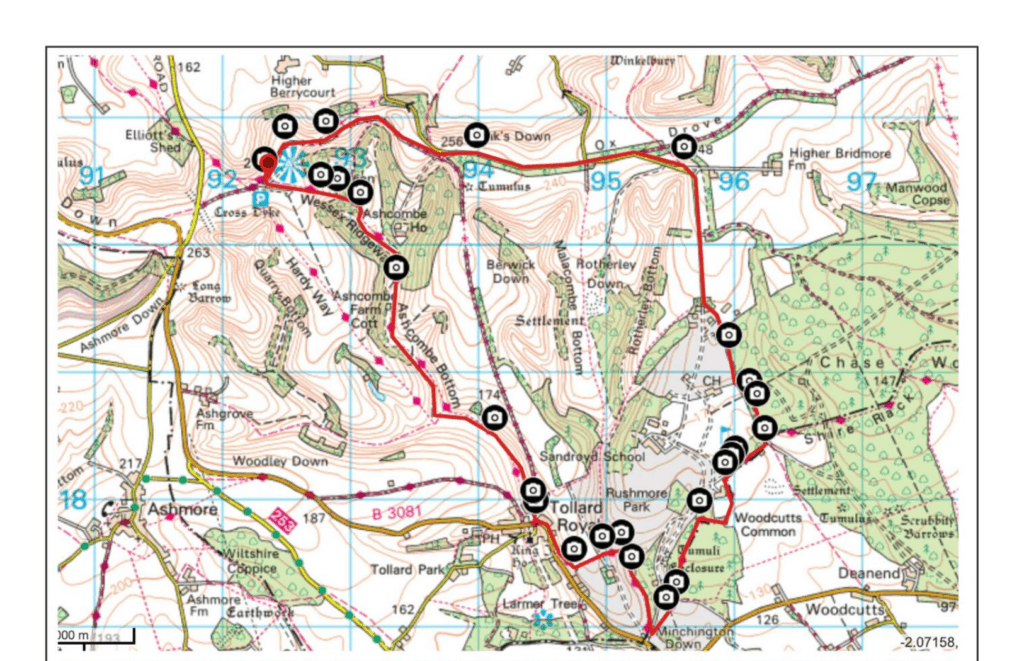 The route is a straightforward loop on well-maintained paths, taking in ancient tracks and the Wessex Ridgeway. Parking is easy on Win Green, but also available at points along the Ox Drove: you could also start at Tollard Royal (finishing with a pint in the King John post-lockdown!), which would mean a downhill finish rather than the sharpest climb at the end. The photos are from a dull March day – it's still a pretty route, but in summer this walk is utterly glorious.
Following the ancient track "down into Tollard Royal (you can just make out the church ahead). There were a lot of Yew trees on this track – am I the only person to greet them with "Hello Yew!" and a gentle pat as I pass? – Ed"
"The quiet airy valleys of the Rushmore Estate are always a pleasure to stroll through, even on a flat grey March day"
"The waymarkers on Rushmore Golf Course are not easily spotted (far right of picture) – check your map and be confident. And simply follow the fence line!"
"The view of Rotherley Bottom from the Ox drove"
"The last climb up from Under Win Green. Yes, C is often that far ahead on the uphill stretches!"