***** THIS COMPETITION IS NOW CLOSED *****
We here at the digital Blackmore Vale magazine are always excited to be working with the canine team at Dogs Dogs Dogs – and we're kicking things off with a giveaway of TWO Ruff and tumble drying coats – depending on the size you need, they're worth up to almost £70 each!
If you win you get to choose the size you need, obviously: if you have a terrier we suggest you don't need the GSD version.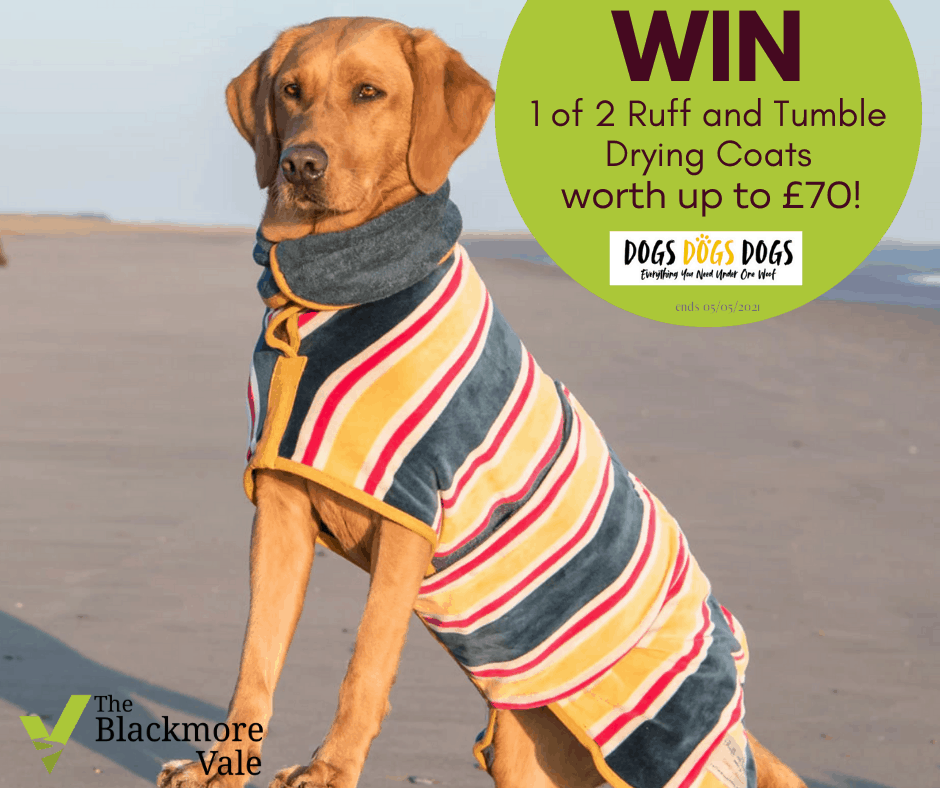 Dogs Dogs Dogs are a local company with a national reputation, with a website which is quite strict on its product range. No, they don't do cat stuff.
And we're thrilled to be giving away TWO dogs drying coats by Ruff and Tumble – one in Beach (the yellow stripe above), and one in Harbour (the blue stripe below).
With one of these drying towels in the car, you can head to the beach or the river without fearing for the car on the way home. Or simply keep it by the back door in the winter – hose them off in the garden when you get home from a long walk, and then wrap them in their own hooded towel just like you would a toddler. The effect is the same – warm, dry and zero mess! It's even designed so that your dog isn't sitting in a chilly damp towel, the dog actually dries before the coat does. It's magic I tell you.
To be in with a chance to win, just answer the first four questions in the widget box below. There are more chances to win by completing the other entry options if you so wish – they're entirely up to you! The closing date for this competition is 5th May 2021 and only entries received on or before that date can be included. The prizes will go to the first two randomly chosen entries. Good luck!
(competition opens when the April issue of the magazine publishes on the 2nd April)
Win 1 of 2 drying coats from Ruff and Tumble worth up to £70