Every month in the Blackmore Vale Magazine we publish a walk in the beautiful Dorset countryside under the heading 'Take a hike'. Not always in the heart of the Blackmore Vale perhaps, but always within reach for a day's walk.
What is unique about these walks is the fact that we have created and then walked them all ourselves! We always aim to create interesting, unpopulated routes with as little road use as possible and of course as many beautiful views as we can squeeze in.
You can always see the routes we take and follow them yourself via the Outdoor Active App – see all our routes here. – Click on contents tab.
We usually aim for between 10 – 15 miles, although due to many requests and to keep everyone happy we have now added some shorter routes between 5 – 10 miles in length.
Above all, we hope you enjoy reading about the walks that we do and enjoying the pictures of course, but if you are taking them on yourself, we would love to receive your feedback on how you found the individual route and any suggestions you might have. Oh and of course we would love to receive your pictures to share as well!
Easygoing Okeford Hill quietly special circular
We're back out walking again (huzzah!), though still on limited mileage – seven miles is Courtenay's knee's limit, it appears. Okeford Hill has been our go-to local walk in this lockdown: our usual routes have been ankle-deep in mud, and the top of the hill has been better ground than most for he-with-a-duff-knee. Thank goodness there is an end to the tightest restrictions in sight, and our horizons will slowly broaden again shortly. Get in touch – editor@theblackmorevale.co.uk – if you'd like to request routes in certain areas, or of particular lengths.
Link to the full route (free to download) on the outdoor Active here: We use the (we think great value) premium paid for subscription (under £2 per month) to gain access to all the full OS maps, however the free version of the app is still excellent.
One of our favourite local short afternoon strolls – the main routes on Okeford Hill get very busy on a weekend afternoon, but this easy circular route soon leaves them behind to explore the quietly peaceful and ancient parts of the forest. Starting at the parking on top of Okeford Hill, there are many paths to choose from – take the one we have outlined and you'll eventually be rewarded by the carved tree trunk before you plunge deeper into the wood on the narrow path, then emerge into the broader brighter tracks later on.
Beautiful carved dead tree sits at the top of the path down into HillCombe Coppice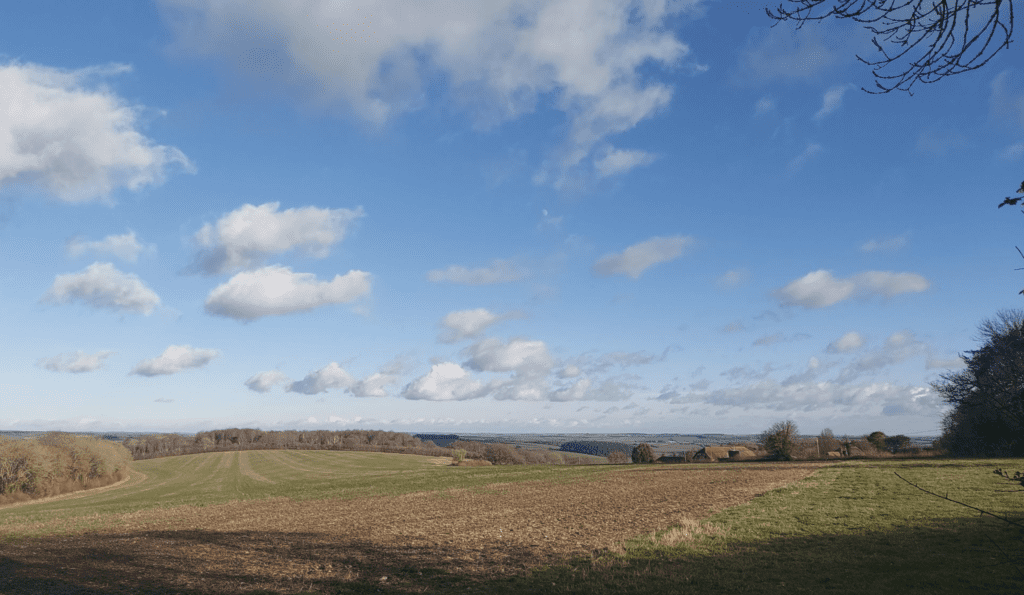 View as you leave Blandford forest looking across to Winterborne Stickland
As you turn right off the main track from Shepherds Corner farm, the going can get a bit sticky in wet weather. As you enter back into Blandford forest, the sticky mud turns into ankle deep puddles for a fairly large stretch, navigate with care!
The early spring sunshine makes such a difference to the forest atmosphere, beautiful.